I searched for accommodation that is closer to Namba station at inexpensive price. And I found this hostel Hostel Base Point Osaka that is located at the center of shopping street in Namba.
It's very close to Namba Grand Kagetsu and I thought I can get to there with easily. Actually, it's very easy to find ! (Though I mistook the exit at the station this time, too…) They have dormitory rooms and private rooms.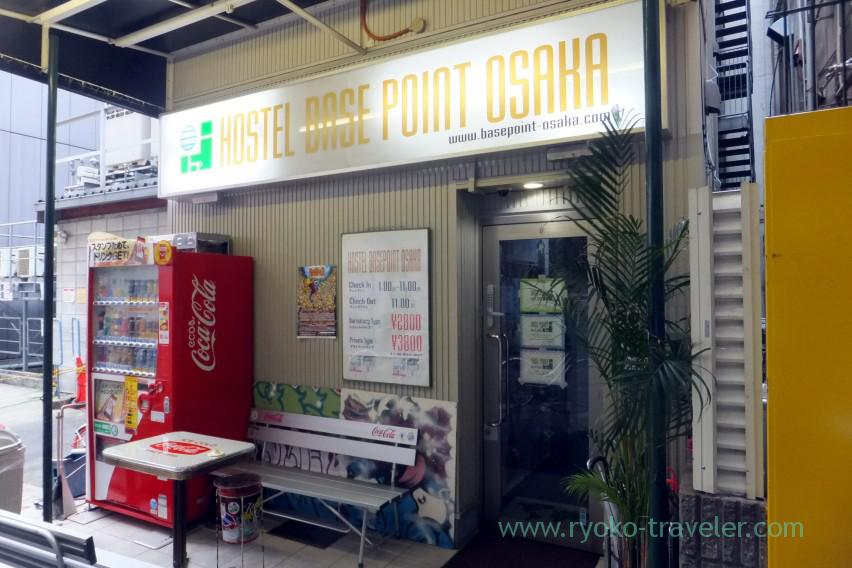 Because I always out for sightseeing and eating at whole day when I visit Osaka, so, I want to save money for my bed as much as possible. So, dormitory is good choice 🙂
Where?
After you get out of Namba station, go straight along Nankai street. And then you meet this sighboard, so turn left. "Ganko zushi (がんこ寿司)" is good sign, too.
* There's not this signboard at night time.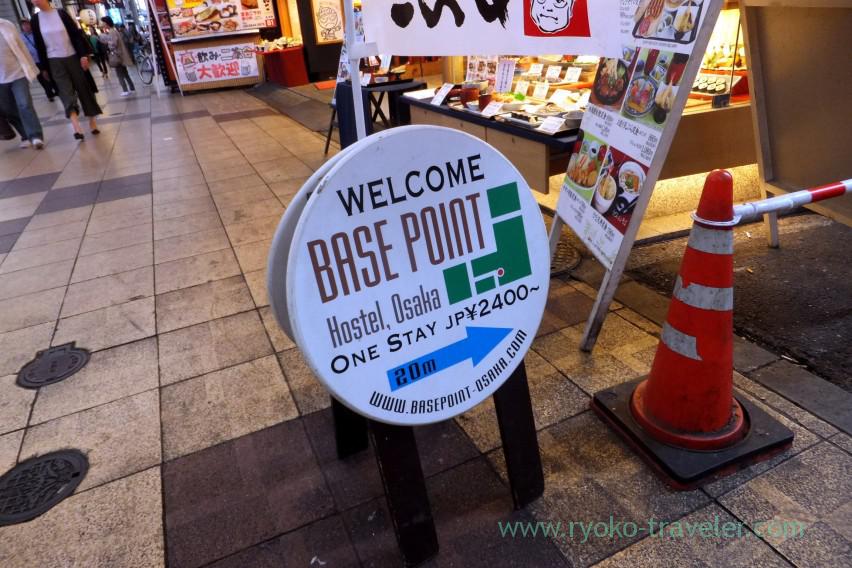 Because it's located close to Namba station, we don't need to worry about shopping and meals. Ah, it's sad thing that we have only stomach each. Nevertheless there are so many delicious foods in Namba !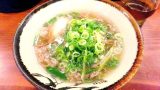 [Osaka] Chitose Bekkan (千とせ べっかん) in Namba Grand Kagetsu
Chitose is one of my longing restaurant in Osaka. But their head shop is very difficult to visit because they are open u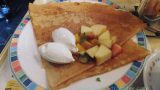 Creperie Alchon (クレープリー・アルション) in Namba
Recently in Japan crepe and pancake is very popular. Of course, in Osaka, too. You know Osaka have already "Konamon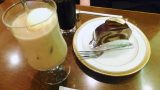 [Namba] Marufuku Coffee-ten Sennichimae Honten (丸福珈琲店 千日前本店)
After we had lunch, we dropped in at Marufuku Coffee-ten Sennichimae Honten (丸福珈琲店 千日前本店) to have dessert. They are head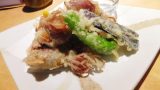 Hidezo (ひでぞう難波店) in Namba
If you want to eat fresh seafood with alcoholic drinks in Namba area, let me recommend you Hidezo ! Hidezo is a izakaya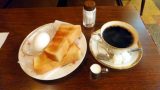 Ibuki Coffee-ten (伊吹珈琲店) in Kuromon Market
One of delight thing in Osaka is having breakfast at kissaten.There're many good kissaten (=Japanese cafe), and esp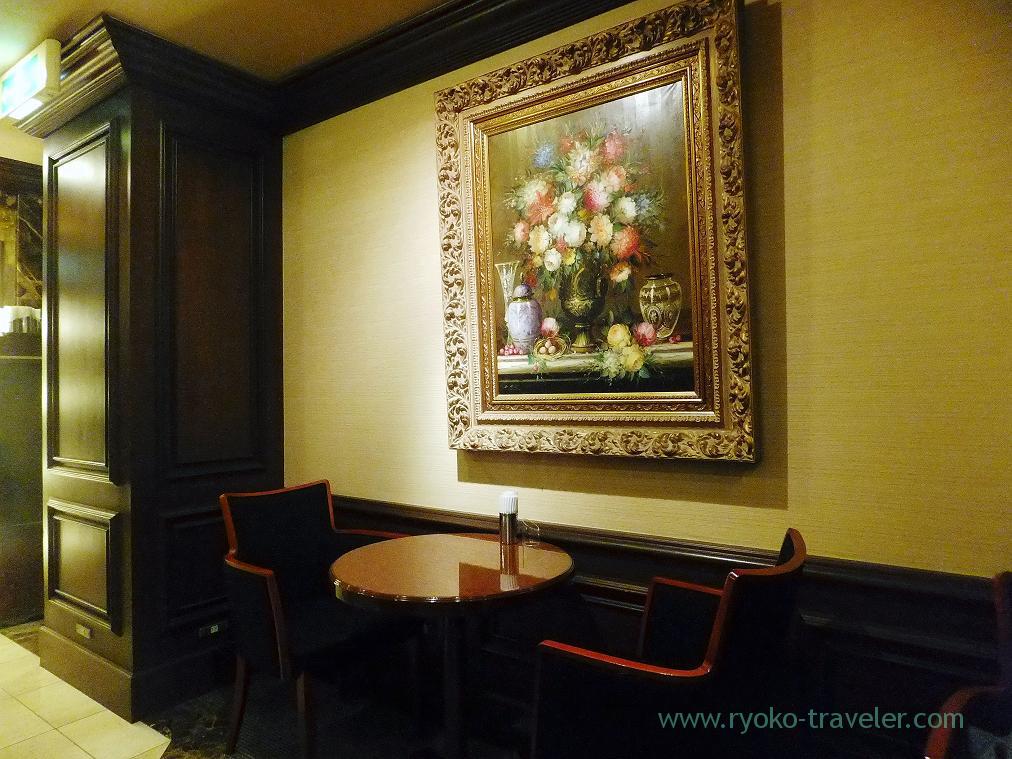 Osaka 2014 (14/15) : Jun-Kissa in Namba (純喫茶)
Many "Jun-Kissa" still remains in Osaka. Today, I'll show you cafe and kissaten that we used during our trip to Osaka :...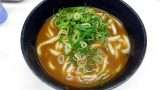 Tenmasa (天政) in Namba
Tenmasa is a udon and soba shop that have counter seats only located at the center of Namba area. My friend who is a foo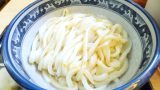 Renewal – [Osaka] Kamatake Udon (釜たけうどん) in Namba
Kamatake Udon closed in 2017 and the manager restarted close to the former shop. The shop's name is Kitatake Udon (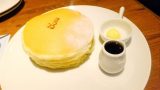 [Osaka] Pancake at Cafe Mog Namba (mog難波店)
When I walked around Namba area, we found this cafe and it attracted us. So, we visited there the next day. Cafe Mog Nam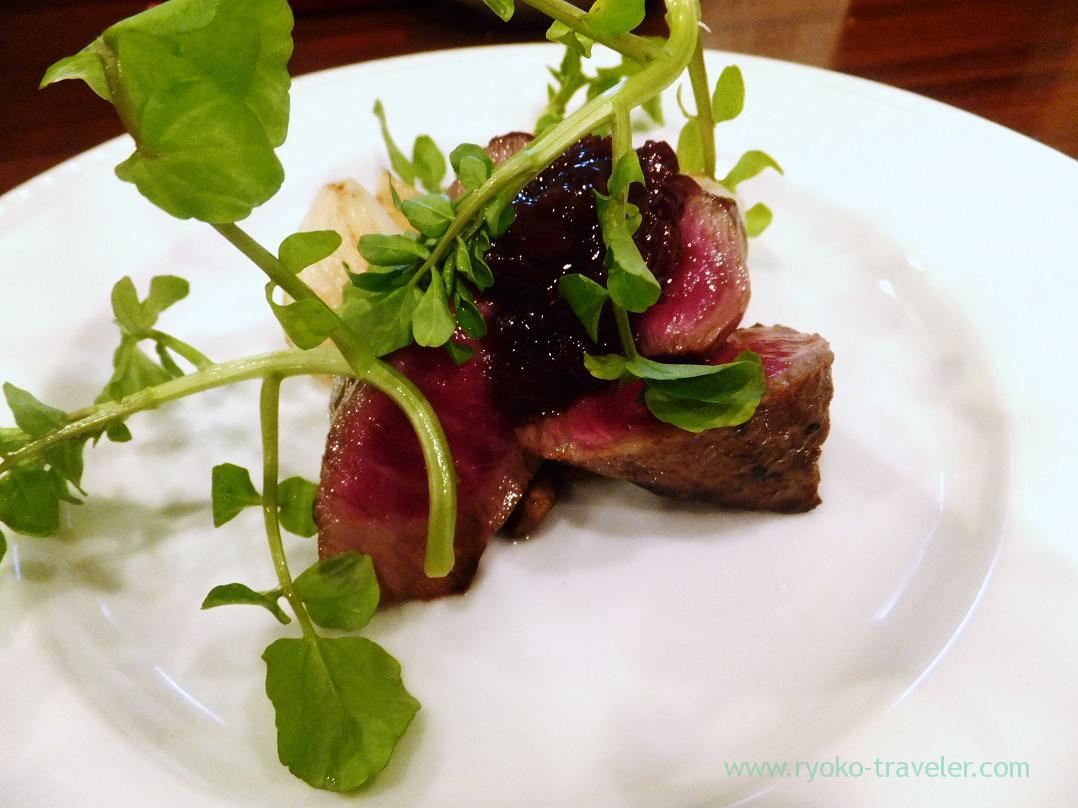 Osaka 2014 (8/15) : Dinner at Naniwa French Begin (なにわフレンチ びぎん)
Naniwa-Style French cuisine dinner The second day's night, we had Naniwa-style French dinner at Naniwa French Begin ...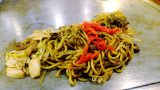 [Osaka] Okonomiyaki at Fukutaro (鉄板焼 福太郎)
We took a night meal here. It is a restaurant of teppanyaki.Speaking of Osaka local foods, okonomiyaki is MUST. There ar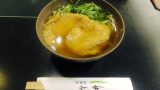 [Osaka] Dotonbori Imai Honten (道頓堀 今井本店)
Dotonbori Imai Honten (道頓堀 今井本店) that is a long-established restaurant is located along busy Dotonbori street. Contrary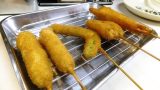 Kushikatsu Daruma (元祖串かつ だるま道頓堀店) in Dotonbori
After we got to Kansai airport, we went to Namba by train.Speaking of Osaka local foods, kushikatsu occur me.So, at firs
It takes about 10 minutes walk to Kuromon Market, too.
And Nankai dentetsu, JR line, subway, bus … you have much means of transportation.
You can go everywhere in Osaka (and Kyoto) from here.
Price and Booking
Price list. Fridays, Extra charge is needed for Saturdays, Sundays and another national holidays.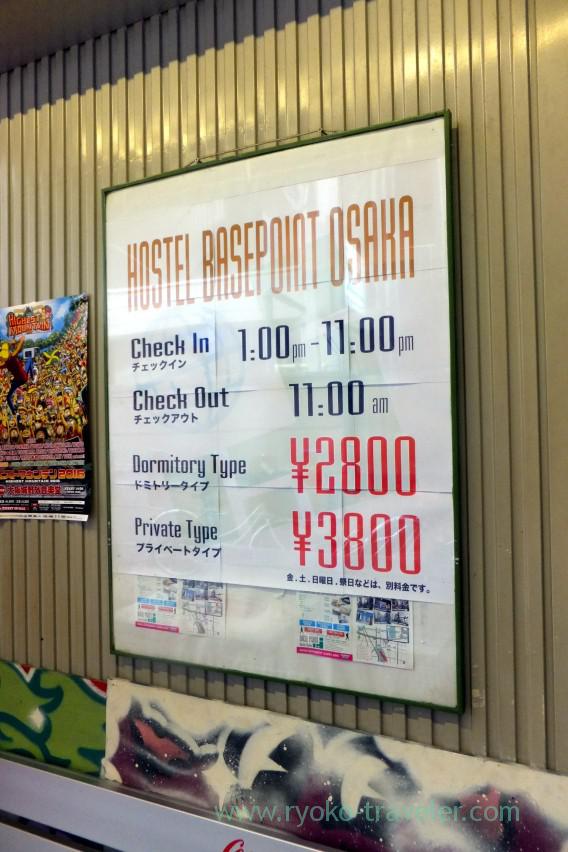 Nevertheless such a location, the price is so inexpensive. Dormitory is 2800 yen. And they accept tourists from various countries. Of course, English is OK. There were some foreign tourists without booking. They could stay at there because there were some vacant beds.
We can reserve at
agoda.com,
Expedia,
Hotels.com and so on.
Prices are mostly same. They don't serve breakfast at all.
Facility
As soon as you open the door, the front desk welcome you. This photo was taken in the morning, so no one was there.  Check-in time is 1 p.m. and Check-out time is 11 a.m. But front desk is open from 11 a.m.
Check-out is simple. You put your key at the box on the desk. That's all. Hair dryer is only at the desk. If you need it, you can lend it (fee required :()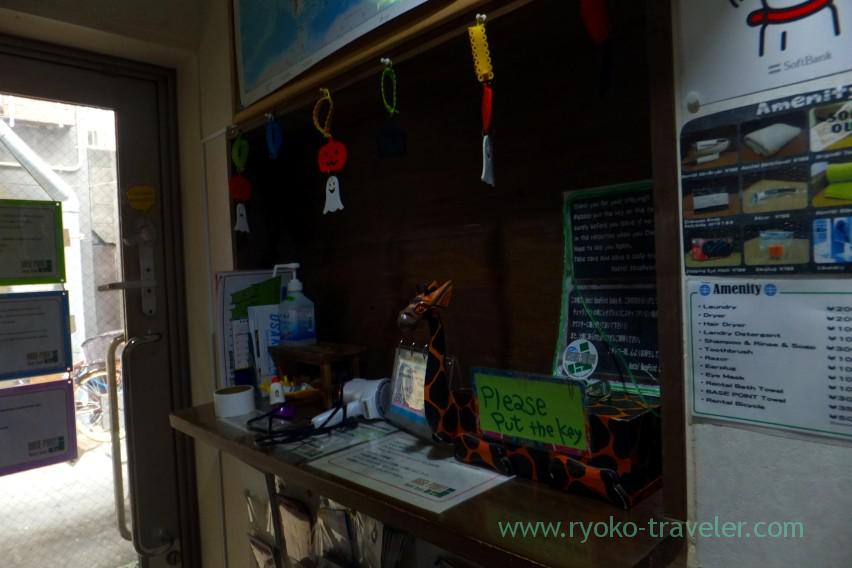 You can leave your baggage before Check-in and after Check-out.
But staffs come after 11 a.m., so if you want to leave before they come, you need to write down on piece of paper that your name and returning time and put it on your baggage on the shelf.
Women's Dormitory room
Women's dormitory room is upstair. Mix dormitory is on 1F. There's no elevator. Only stairs.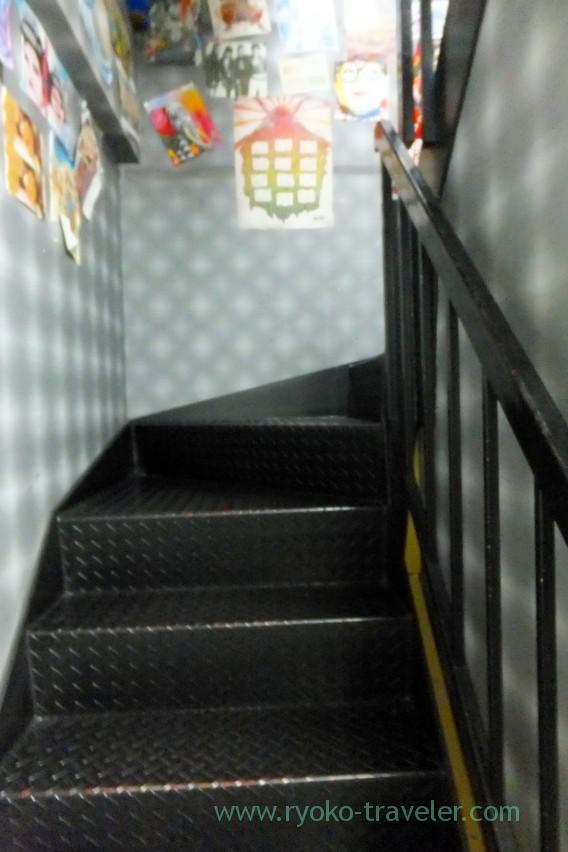 Women's room is always locked and have wash stand, locker, and bed. Rest room and shower room (one each) is outside.
It's Wash stand.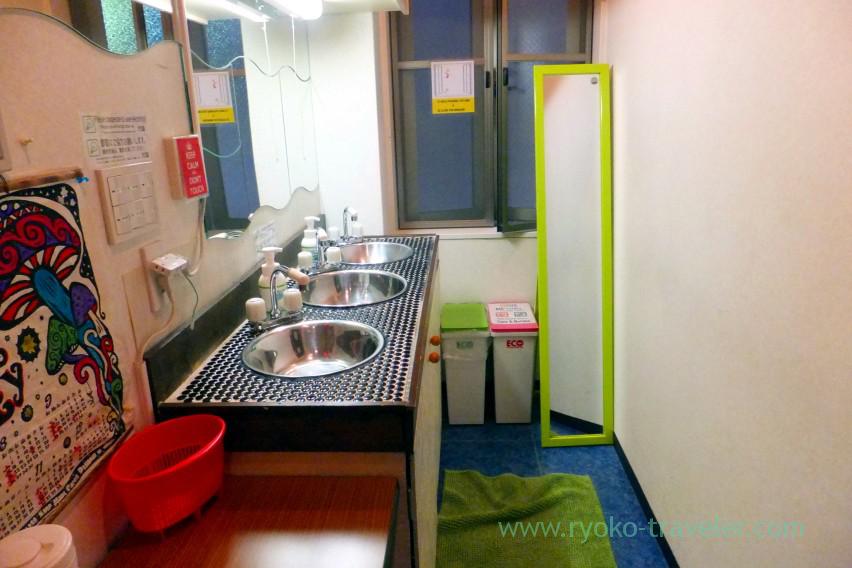 Bunk beds are on both sides. Colorful. Though the room is narrow, there was no problem for me because I stayed in the room for two nights only 🙂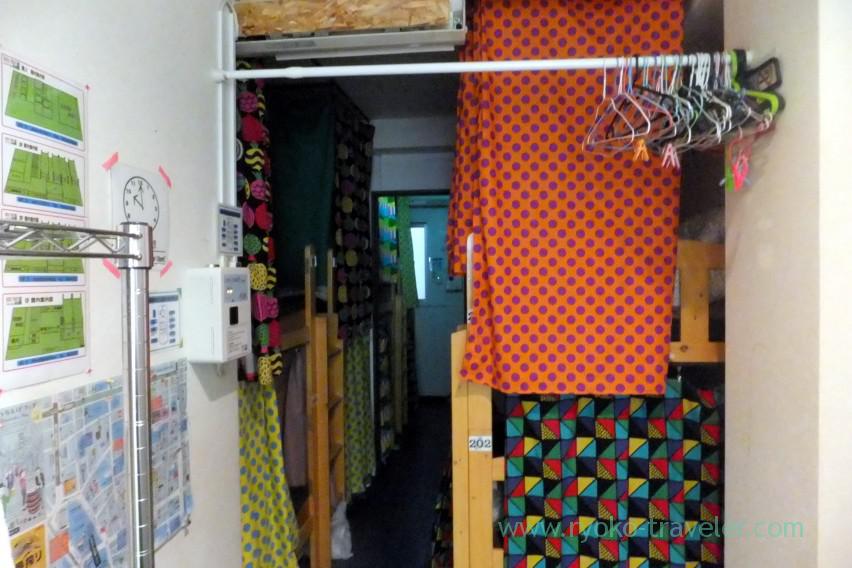 Upper bed. There's a shelf and we can put anything. Two outlets.
My room is used as private room. So, there's large shelf and mirror, too.
(But unfortunately it was messy because a family scattered their things…. So, I didn't take the photo)
I searched for reviews of this accommodation in advance on the internet, but I didn't find much Japanese reviews.Certainly there were much foreign tourists !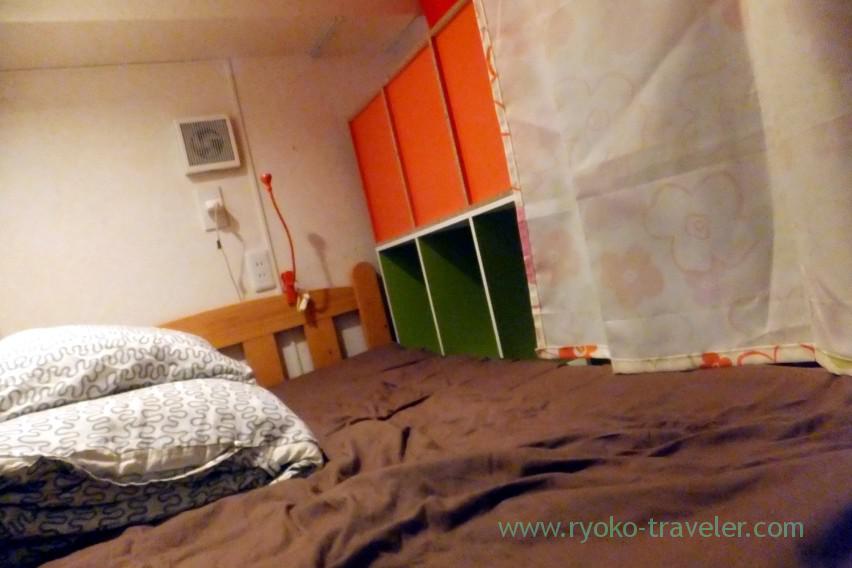 There's refrigerator, TV, kitchen, table, loundry on the ground floor.
And each rooms have free wifi, so everything in minimum what you need is prepared. Amenity and towel is nothing.
As a whole, I felt comfortable. So, I want to stay at this accommodation next time, too. But you know… I also want to try various accommodations :p
About Hostel Base Point Osaka
Address / 2-11-17 Sennichimae, Chuo-ku, Osaka-shi, Osaka
Phone / 06-6644-1810
URL / http://www.basepoint-osaka.com/ (in English)