I'll come again soon, Waikiki !
Last day of my stay in Honolulu. Since the car to the airport was going to pick me up at 10 a.m., I woke up early in the morning and took a walk around Waikiki beach.
Waikiki beach was excellent in the early morning, too.
I thought I was going to buy something limited items, but after all I didn't buy. Those were so cute, but those items didn't attract me.
I want a file folder or handkerchief 🙂
Still, Rilakkuma on vacation is cute ! Everyday is holiday for Rilakkuma, though 😛
I wanted to eat acai bowl at Protea Cafe (1st floor of Outrigger Luana Waikiki) , but to my sorrow !!!
I found it was closed !!!!
I wanted to eat the acai bowl !! –> URL
http://choikaji.exblog.jp/20103398/
Just as I saw it first, I decided to eat it at Waikiki !!! :'(
I walked around the street for breakfast, and after all, I reached Royal Hawaiian Center.
IL Lupino looked good. Its deck seats seemed to be very comfortable 🙂 So, I decided to have breakfast there.
As soon as I got a seat, the waiter asked me my drink. I ordered a cafe latte. After that the waiter brought me water, cafe latte and small chocolate cake.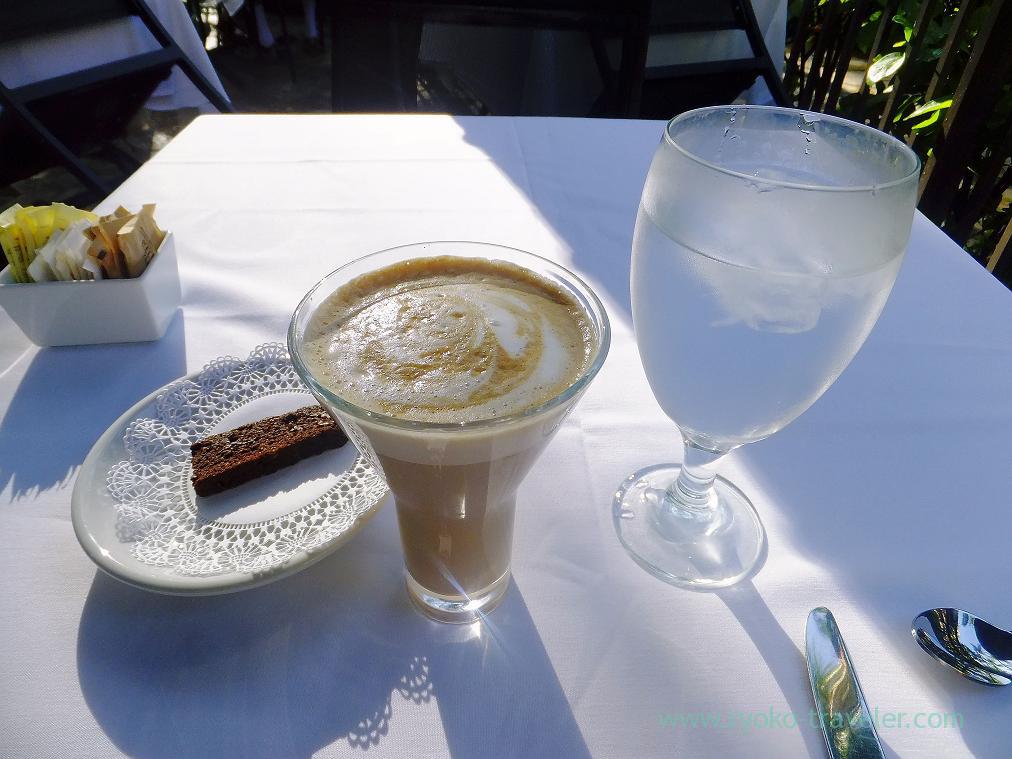 And I ordered a bacon eggs benedict ($16) This was the first time to eat eggs benedict. At first I thought I ordered salmon eggs benedict, but I decided to order standard one.
Well, the difference between two is only whether salmon or bacon 😛
Runny yolk !!!!! Terrific !!!!!
Rich hollandaise sauce and half-boiled egg was excellent !!!! Also those potatoes were tasty, though it was a little bit large for my breakfast 😛
After I got back to my hotel and brought my baggage and went to the front desk to checkout in a hurry.
I stayed at Waikiki Gateway Hotel during my stay in Hawaii that time.
Because Maile sky court that I stayed last time was better, so this hotel looked older and my room was smaller.
My return flight was not so crowded and comfortable 🙂
I took bibimbap at in-flight meal all the same ! Unlike in-flight meals to Hawaii, the rice was warm and vegetables were fresh !
This beef looks thick taste, but not. The fruits were good.
It was short stay, but it was fun !!!
I want to go there again sooner !!!
I hated beach because I can't swim, but beautiful beach is excellent even just looking !
About Il Lupino
Address / Royal Hawaiian Center Bldg. B 1F, 2233 Kalakaua Avenue Suite 110 Honolulu, HI
Website / http://illupino.com/illupino/ (In English, Japanese)

2233 Kalakaua Avenue Suite 110 Honolulu, HI
About Waikiki Gateway Hotel
Address / 2070 Kalakaua Ave Honolulu Hawaii 96815
Website / http://www.waikikigateway.com/
Reservation /
agoda.com,
Expedia,
Hotels.com, Booking.com

2070 Kalakaua Ave Honolulu Hawaii 96815