Beautiful cherry blossoms festival 2011.
I went to Hokekyo-ji temple for the first time in cherry blossoms season of the year before last.
I found the five-storied pagoda behind cherry blossoms was so beautiful and I wanted to go there again.
The last time I went to there, I didn't see the temple itself well, because anyway I wanted to see cherry blossoms that time.
I intended going to see in every nook and corner at the temple this time, with goshuincho.
But cherry blossoms attracted me this time, too. It was so beautiful 😀
I like this temple's cherry festival because the festival don't have much stalls.
There was a tunnel of cherry blossoms along the approach.
5-story pagoda and cherry blossoms.
Soshido hall. It is as main hall.
Beautiful.
White colored cherry blossom.
Cherry blossoms. It is not the halo of Saint Nichiren.
Pink colored cherry blossom.
So cute 😀
This time, I also entered Kishibojindo, back of the ground. And I saw Hokkedo and Shisokumon, too.
The ground is larger than I thought. I couldn't see everything this time, too.
Of course I got a goshuin. I got it at the main temple office.
I heard that I can get another goshuin at Soshi-do hall afterwards. Well, I do want to get it next time 🙂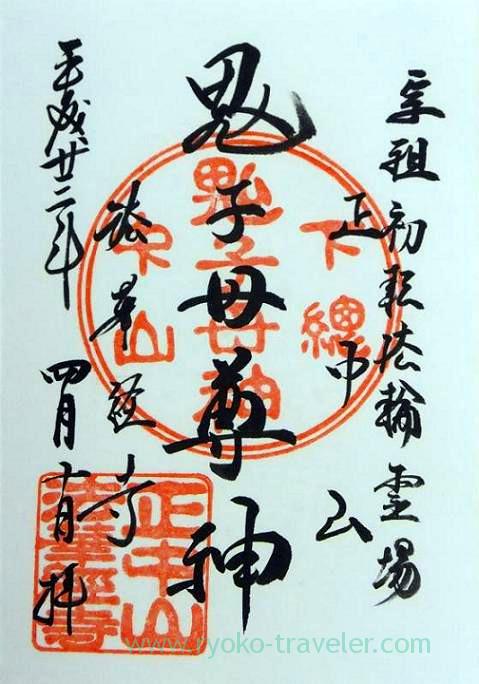 I want to be such a good handwriting 🙁
About Hokekyo-ji temple (法華経寺)
Address / 2-10-1, Nakayama, Ichikawa-shi, Chiba
Station / Keisei Nakayama station (Keisei main line)