View from the sky. Casual and local foods of Osaka
After eating akashiyaki at Bubutei, we enjoyed ferris wheel.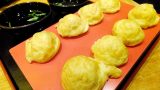 [Osaka] Akashiyaki Bubutei (ぶぶ亭) in Umeda

Speaking of local foods in Kansai region, Akashiyaki is very popular next to Okonomiyaki and takoyaki. But contrary to ...


The ferris wheel is on the top floor of the building that is named Hep Five.
The bright red ferris wheel is conspicuous at a distance.
Well, we got on !!
It took 15 minutes to round.We couldn see entire fine view of Osaka.
Some building are under the construction.
I want to go there again at night. The night view must be wonderful.
After that we walked around Umeda station.
Ikayaki at Hanshin Meibutsu Ikayaki
(152 yen)
Mix juice in front of the ticket barrier.
Hanshin Umeda station juice stand
This shop was so hard to find for us. It can be seen from ticket barrier, but we came from the opposite side and shop is entirely hidden by the wall. So small stand.
It cost us only 140 yen, but I was amazed. I felt mix juice is tasty for the first time. I wanted to have a second helping 😛
Then, we went back to Namba for preparing French dinner.
….. oh ?
Futami no Butaman…. We also ate butaman … !
(180 yen each)
I was anxious that we ate too much before dinner…
At Osaka, there are two major butaman shops. 551 Horai and Futami.
We already had eaten 551 Horai before, so, we tried Futami's butaman that time.
But I don't like the strong sweetness of onions. As a whole I didn't like the cooked onions' sweetness.But Futami's is more popular than 551 Horai's around me.
About Hanshin Meibutsu Ikayaki (阪神名物いか焼き)
Address / Hankyu Department Store Umeda Main store B1F, 1-13-13 Umeda, Kita-ku, Osaka-shi, Osaka
Station / Umeda station (JR, Hankyu), Osaka station (JR)
Open / from 10:00 to 20:30
Closed / No scheduled
Website / http://www.hanshin-dept.jp/hshonten/ikayaki/index.html/(in
Japanese only)
About Hanshin Umeda Station Juice stand (阪神梅田駅ジューススタンド)
Address / Hanshin Umeda station B2F, 1-1 Umeda, Kita-ku,Osaka-shi, Osaka
Station / Umeda station (JR, Hankyu), Osaka station (JR)
Open / from 7:00 to 22:00
Close / No scheduled
About Futami no Butaman (二見の豚まん)
Address / 3-1-19 Nanba, Chuo-ku, Osaka-shi, Osaka
Station / Namba station (JR, Osaka subway, Nankai dentetsu)
Open / from 11:00 to 22:00
Close / Thursdays (In case of national holiday it is open)
Website / http://www.futami-butaman.com/ (in Japanese only)

About HEP FIVE Red ferris wheel (HEP FIVE 赤い観覧車)
Address / 5-15 Tsunoda-cho, Kita-ku, Osaka-shi, Osaka
Station / Umeda station (JR, Hankyu), Osaka station (JR)
Open / from 11:00 to 22:45
Saturdays, Sundays and another national holidays / from 12:00 to 25:00
Close / No scheduled
Admission fee / 500 yen (about 15 minutes)
Website / http://www.hepfive.jp/ferriswheel/(in Japanese Only)