(Notice) This Tsukishima branch of Hajime Sengyo-ten already closed.
Tsukiji head shop is still on business. If you want to eat their seafood curry, please visit there on Fridays lunchtime.
Hajime sengyo-ten is great in 2015, too Recently I usually have lunch at Hajime Sengyo-ten when I go to Tsukiji at workdays' lunchtime. There's no doubt about the quality what Hajime Sengyo-te...
(July 16, 2018)
---
I knew branch of Hajime Sengyo-ten is open in Tsukishima area and had wanted to go there for a long time. But I thought it is too far from my office. I thought it takes more than 60 minutes . So, it was hard for me to decide to go there at lunchtime. But finally, I went to there during my supervisor's day off 😛
Hajime Sengyo-ten Tsukishima branch
Where?
Tsukishima branch of Hajime sengyo-ten is located very close to Tsukishima station. If you are out from Gate 6 of Tsukishima station, you'll get to there soon. But take care. There's a large intersection. You need to get out from Gate 6 or 4. Or it takes much time to across the intersection.
There's signs at the some corners to the shop. It is helpful for stranger around here.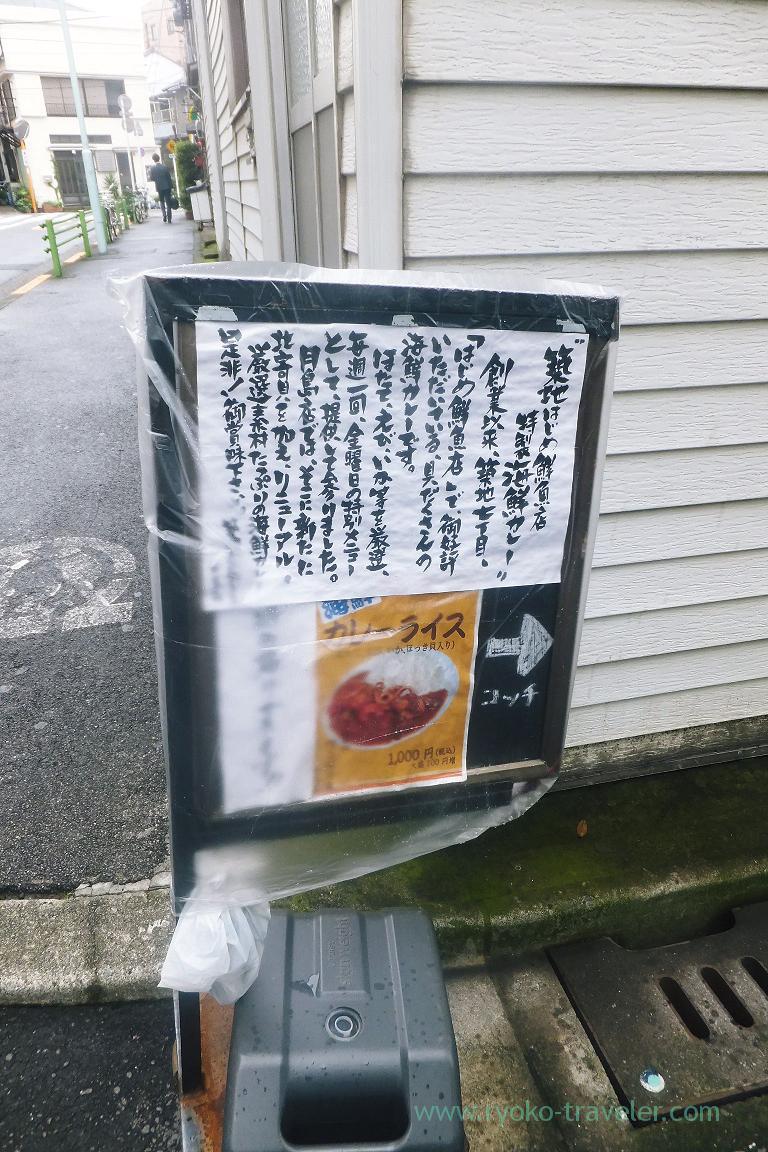 This Tsukishima branch now serve seafood curry and rice only.
We can eat seafood curry and rice that is Friday's special of Tsukiji head shop at this Tsukishima branch every day.
Seafood curry and rice
Seafood Curry and rice (海鮮カレーライス, 1000 yen)
Tsukiji head shop serve seafood curry and rice for 800 yen. So we have to pay more at Tsukishima branch. But Tsukishima branch's curry and rice have more seafood in those quality and quantity.
Scallop, squid, shrimp, surf clam and so on. Though those were tasty, the curry didn't have much taste of seafood.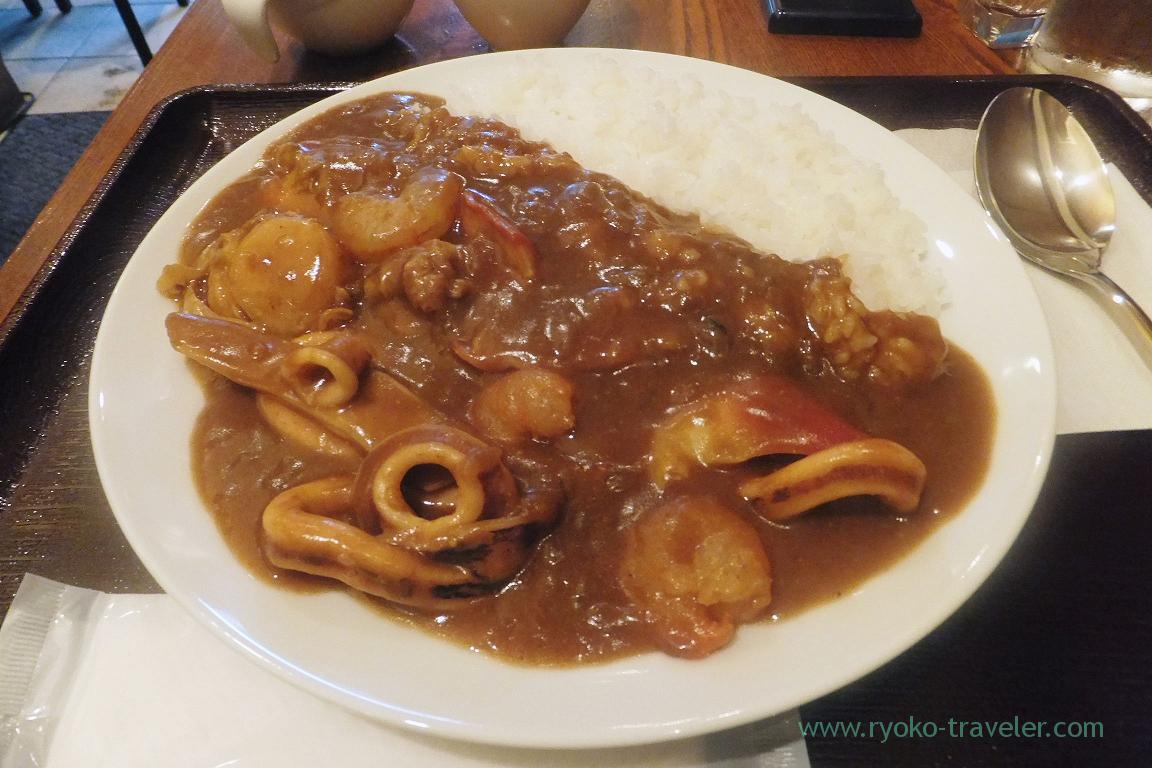 And it was more spicy than Tsukiji head shop.
Umm.I miss Kashigashira's seafood curry. A, Kashigashira's curry is awesome but the price is high (2000 yen)
So this Hajime Sengyo-ten's one is reasonable.
Japanese shallot and fukujinzuke is put on each tables. It's the standard condiments of curry. But I hate fukujinzuke…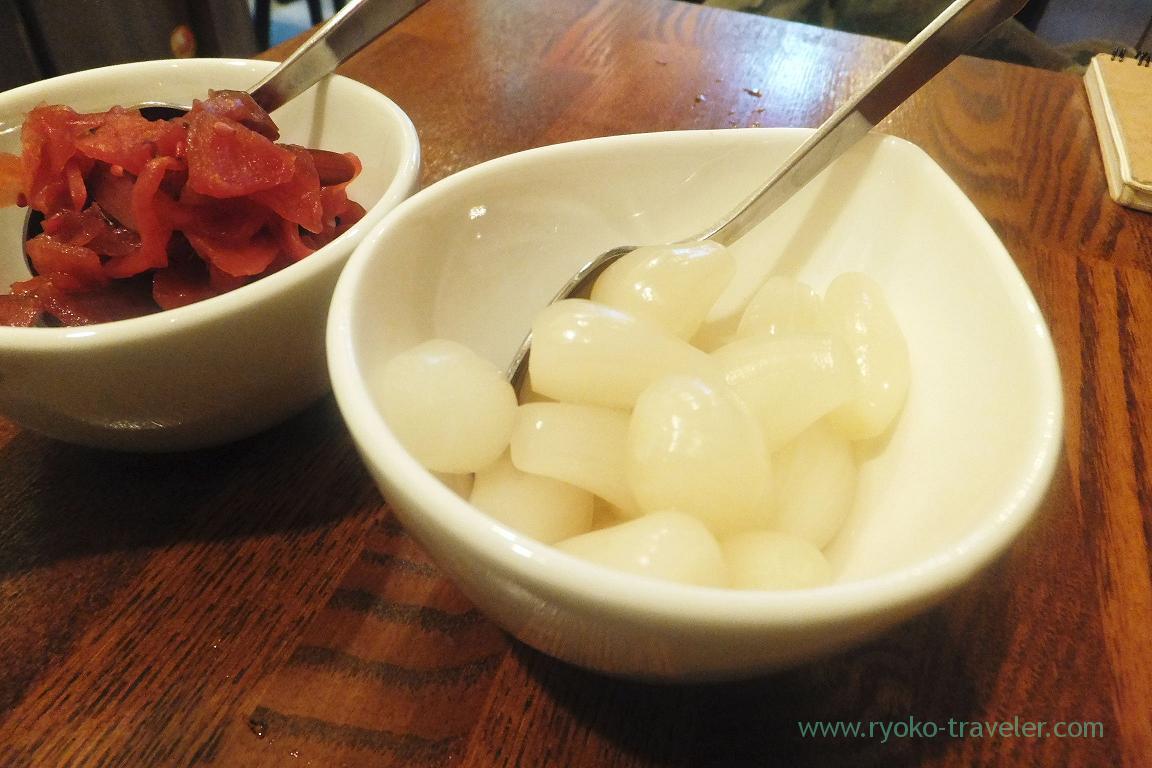 I think they should seal it… (Tsukiji head shop, too)
About Hajime Sengyo-ten Tsukishima branch (はじめ鮮魚店 月島店)
Address / 2-8-5 Tsukuda, Chuo-ku, Tokyo
Open / 11 a.m. – 7 p.m.
Closed / Sundays and another national holidays
Reservation / Unavailable
Credit card / Unavailable
Smoking / Not permitted
Website / http://hajime-sengyo.com/(in Japanese only)