We gathered there again.
We were satisfied with the quality of dishes at  Hachijuro Shoten before, so we went to there with another friend again 😀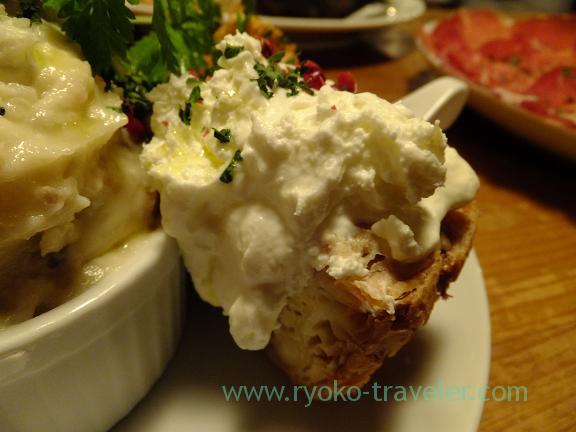 New Spanish bar (Funabashi)
There used to be a dark and gloomy alley in front of Funabashi Station. There also used to be a old izakaya along the al...
Hachijuro shoten standed in the darkness that day, too.
My drink was sparkling mojito (スパークリングモヒート, 580 yen) 😀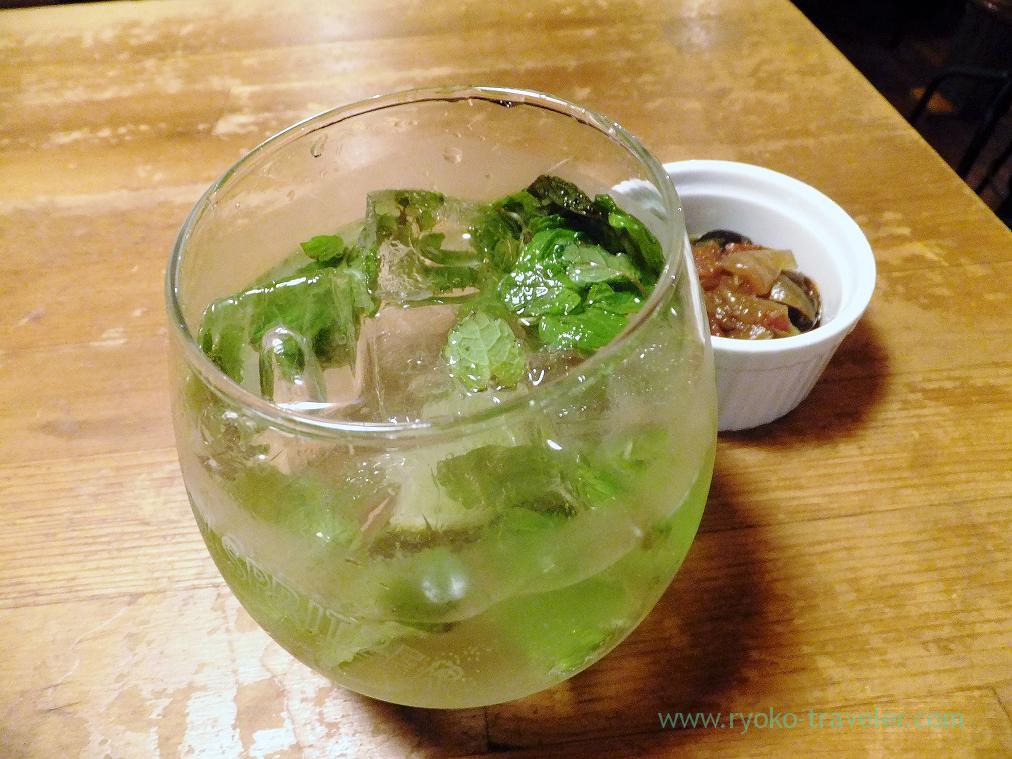 It looked good, but it was difficult to drink because those leaves disturbed me 😛
We were four, so we ordered assorted five kinds of antipasto (前菜5種盛り合わせ, 1480 yen). The pork putty was good.
Salmon had lemongrass on it.  Those were cut thickly 🙂
That day's quiche was with mushrooms and salmon ! Creme cheese on it was good. Potato salads was at the back. I think it is 6th antipasto.
Right is taro with aioli.
Putty.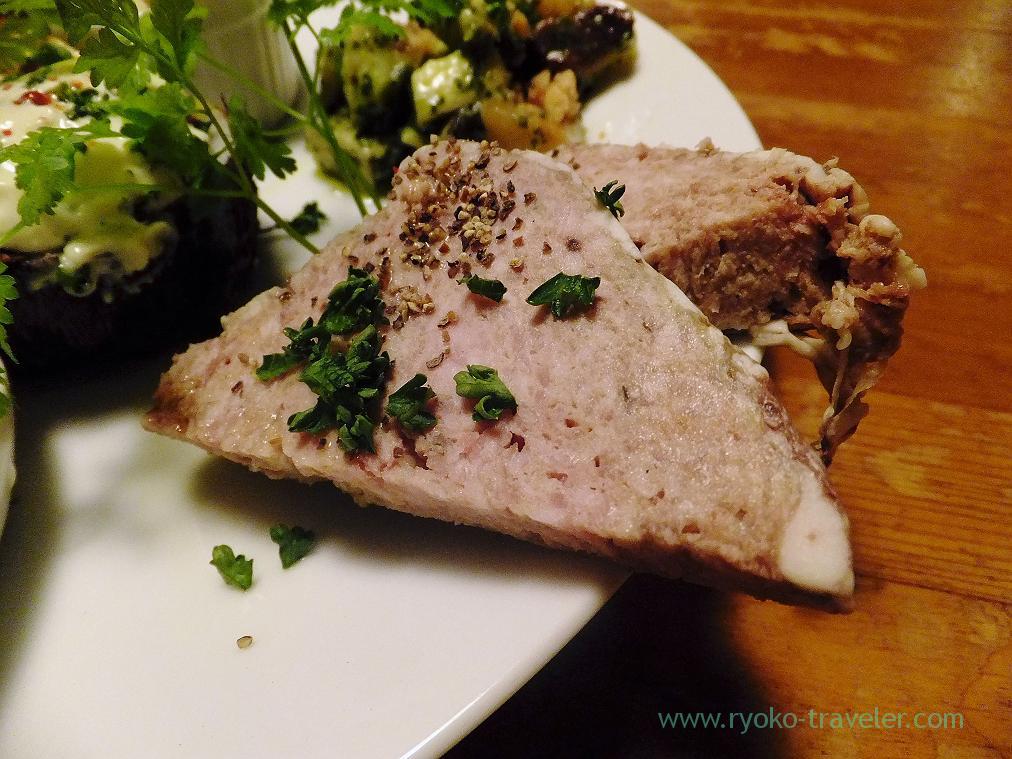 Creme brulee of foie gras (濃厚フォアグラのクレームブリュレ, 580 yen)
As its name, it tasted like sweets ! The bread had much grape.
I ordered another drink. Red wine.
Cousino Macul Cabernet Sauvignon from Chile (コウシーニュ カベルネ, 480 yen)
Wine from Chile is my favorite now.
Gorgonzora and honey coca (ゴルゴンゾーラと蜂蜜のコカ, 580 yen)
Plenty of honeys made it very weet 🙂 I heard it is similar to pizza. But I felt it was quite differ from pizza.
trippa-cooked-in-tomato-japanese-style (トリッパのトマト煮込み 和のスタイルで, 580 yen)
The beef reticulum was simmered in the pot until it becomes soft .
wagyu-cheek-meat-in-red-wine (和牛ほほ肉の赤ワイン煮込み, 1180 yen)
Soooo soft !!! I could cut it by chopsticks easily 😀
I like it best !!!
Sauted anchovy and cabbage (アンチョビとキャベツのソテー, 480 yen)
It was plain looking, but I liked it very much. Those cabbage was dressed with anchovy and garlic sauce well.
Spaghetti with Young sardines and potherb Peperoncini (しらすと香味野菜のペペロンパスタ, 780 yen)
So much young sardines !! It seemed much young sardines than pasta.
About Hachijuro Syoten (八十郎商店)
Address / 5-3-2 Honcho, Funabashi-shi, Chiba
Station / Funabashi station (JR), Keisei-Funabashi station (Keisei main line)
Open / 17:00 – 26:00
Sundays and national holidays / from 17:00 to 23:30
Closed / No scheduled
Website / http://gfield-c.co.jp/business.html (in japanese only)