New ramen shop managed by popular ramen company in Funabashi is open last week.
The shop's name is "Gyu-soba Maruha".
Speaking of Maruha group, I went to Ebi-soba Maruha and Sandaime Maruha Kiwami before. Both is good.
Funabashi : shrimp soba at Ebi-soba Maruha (海老そば まるは)
Because I wasn't satisfied with shrimp ramen at Ebikin before (Of course, it was good as shoyu ramen), I went to shrimp ...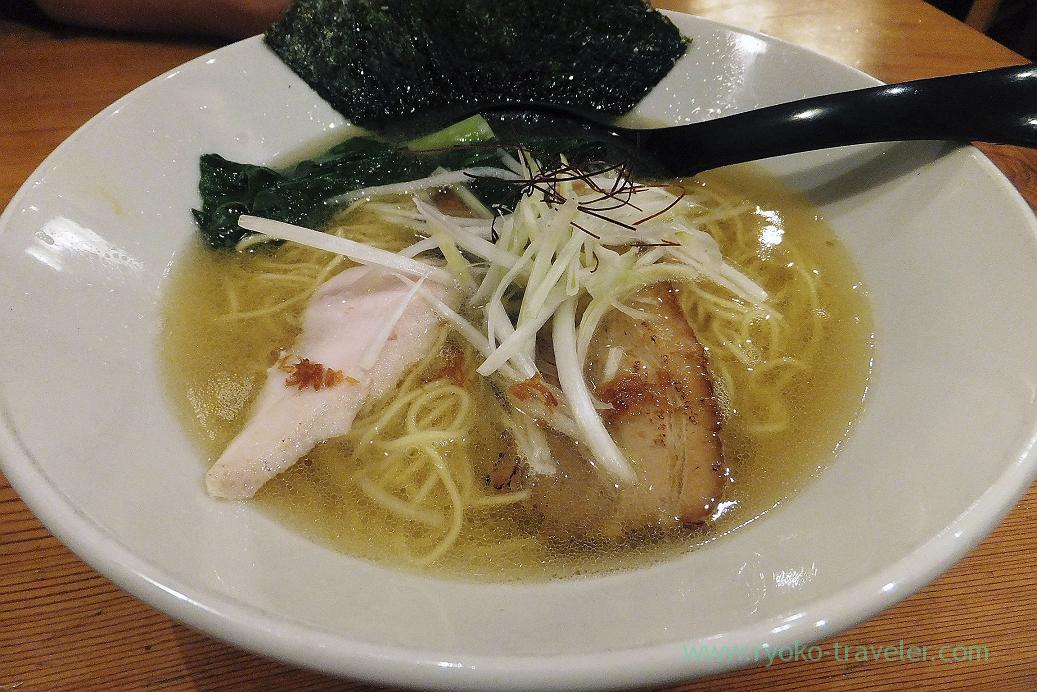 Maruha Kiwami (三代目麺処まるは極) in Funabashi
Ramen having lots of Chiba products. Now I'm crazy about ramen. Hello :p I want to eat ramen twice in a day every da...
Because of just after the starting their business, there are many congratulatory flower in front of the shop.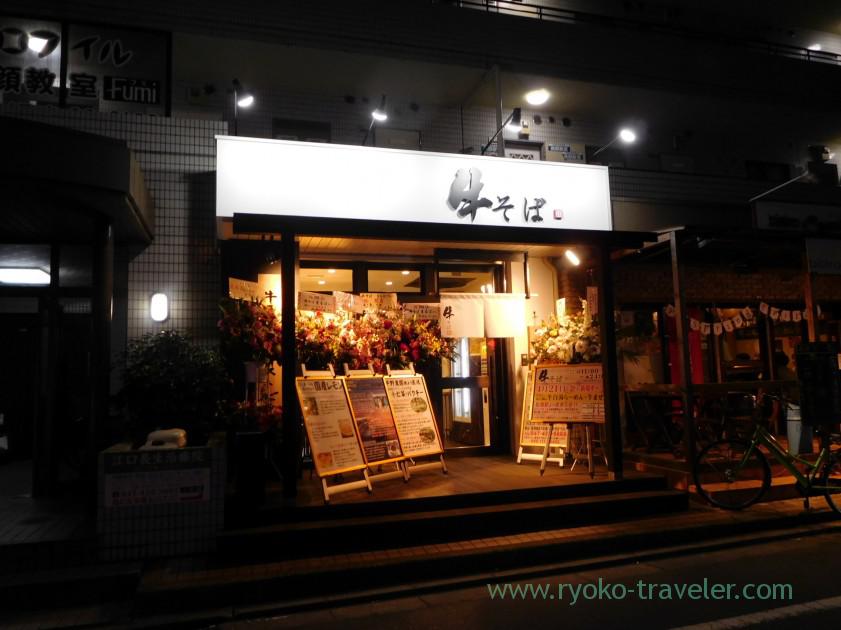 Where?
It takes only 5 minutes walk from Funabashi station.
Ramen having beef soup stock
Their soup is rather novel.
Their soup have beef broth.
Pork, chicken, shrimp, dried sardine and another seafood broth is well-known.
But I didn't find any ramen shops that use beef broth for soup except them.
There's a ticket vending machine at the door and we bought some tickets and handed them to the lady who welcomed us. And we were seated at the counter seats.
They serve four type of noodles. Gyu-soba (ramen), Gyu-tsukemen, Gyu-mazemen (mazesoba) and vermicelli Gyu-soba (vermicelli is used instead of ramen noodles).
I chose Gyu-soba with coriander (パクチー牛そば, 1000 yen).
As well as another shops of Maruha group, Gyu-soba Maruha use high quality ingredients made in Chiba mainly.
Coriander and komatsuna (Japanese mustard spinach) is made in Nishi-Funabashi.
And of course, the laver is caught in Funabashi Sanbanse !
The lemon is made in Awaji-shima island and the staff said to me everything including its peel can be eaten. It was marinated and it wasn't sour. It added the thick soup refreshing tastes. As you see, the soup is quite fatty. And a slice of roast beef !!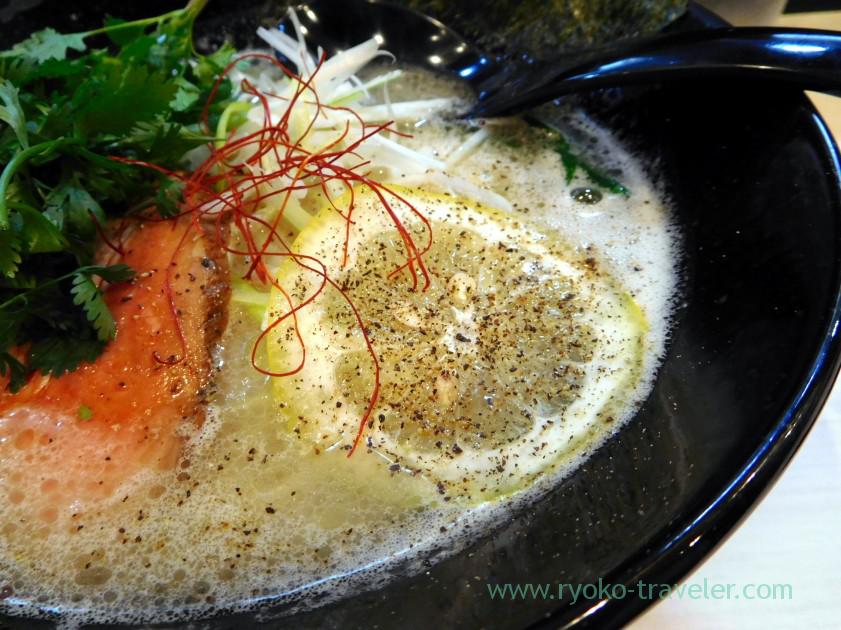 The soup having thick beef broth is fatty and the noodles dressed with the soup is good.
But its soup is monotonous a bit.
So, I tried adding some seasonings on the table.
Grated garlic, spicy powder and fried garlic for changing tastes is prepared at the each tables. I recommend spicy powder 🙂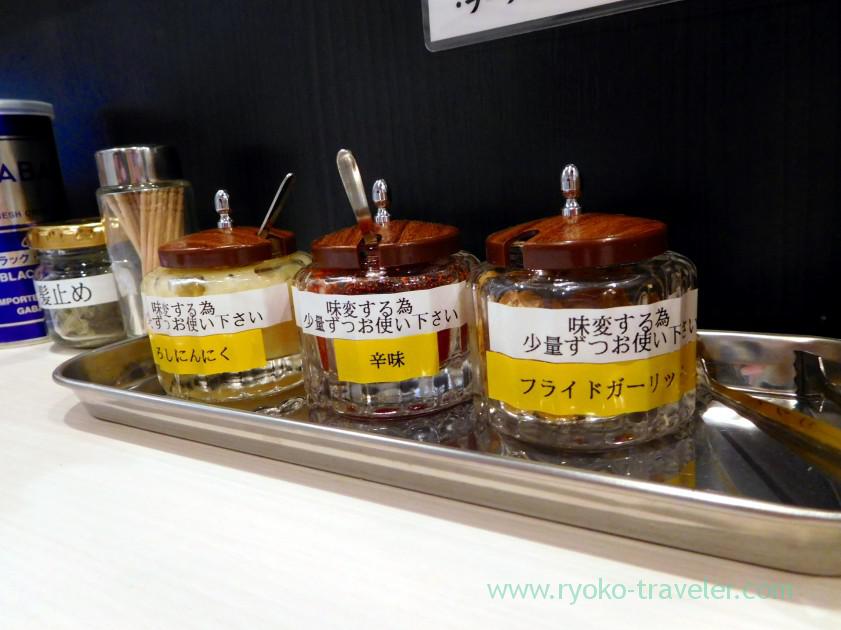 It's Gyu-tsukemen with oimeshi (牛つけ麺追い飯セット, 1000 yen).
With dashi ajitama (seasoned boiled egg with soy sauce / だし味玉, 100 yen) and coriander (パクチー, 100 yen).
Tsukemen have curly noodles. The soup of tsukemen is lighter than gyu-soba. I recommend it if you don't like fatty soup.
This is oimeshi.Oimeshi is rice having beefmeats. It cost us 100 yen only. But as you see, much beefmeats on it 🙂 My friend pour the soup into this bowl and ate it up like porridge. I tasted it. It had refreshing tastes and it was tasty 🙂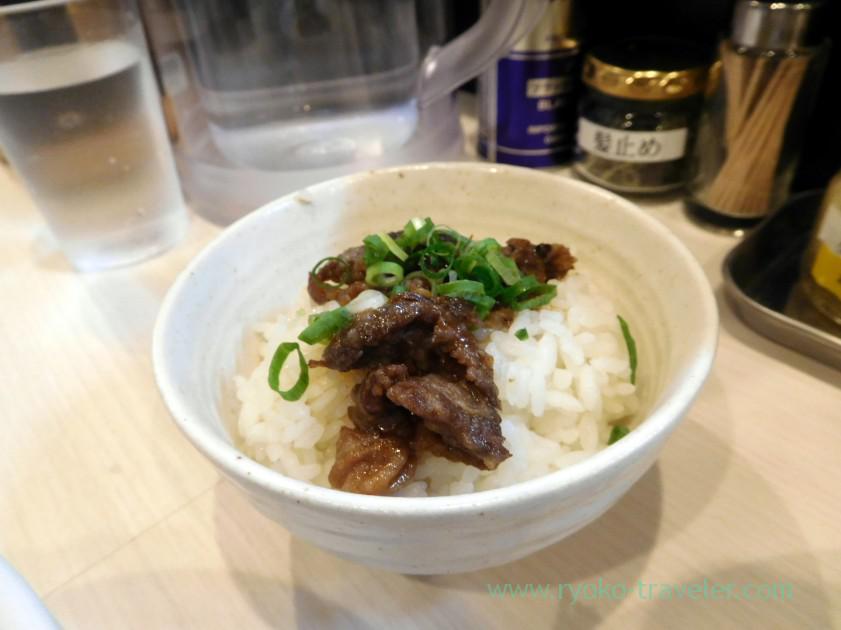 About Gyu-soba Maruha (牛そば まるは)
Address / 4-38-22 Honcho, Funabashi-Shi, Chiba
Open / 11 a.m. – 0 p.m.
Closed / No scheduled
Reservation / Unavailable
Credit card / Unavailable
Smoking / Not permitted