Fruits including mango in Japan is really high. So, if someone ask me why I go to Taipei in muggy summer nevertheless I hate muggy weather, I will say "For mango ! Shaved ice with mango !". Taipei in summer is treasure box of mango. Many sweets shops serve shaved ice with mango. Especially, Goman Mango in Shilin area serve huge shaved ice with mango !
Where?
GOMAN MANGO is very close to Shilin MRT station (Tamsui–Xinyi Line:淡水信義線). Once you get on a train to Tamsui from Taipei station, you don't have to change trains.
Go straight along the railway from EXIT 1 and you'll find such a cute shop having yellow signboard. About 3 minutes walk.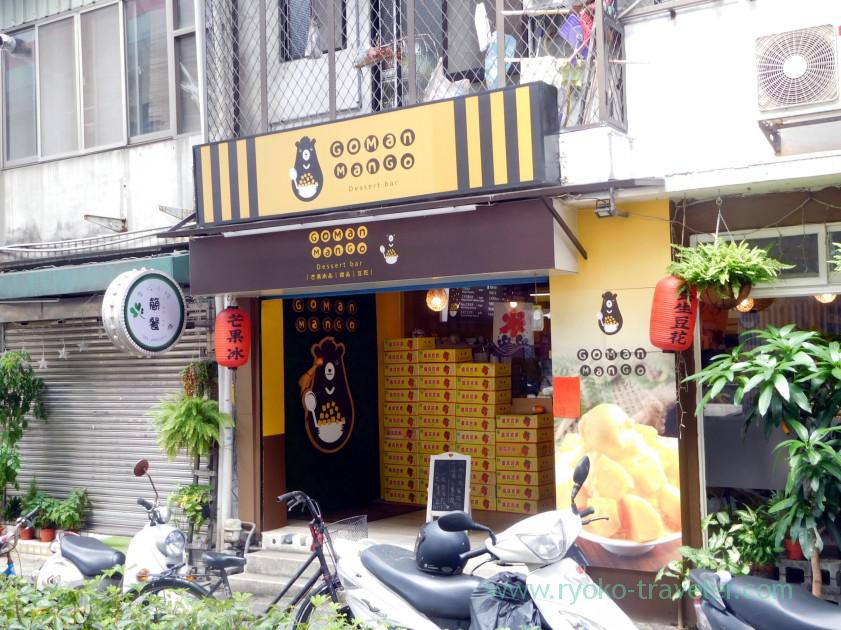 Many Irwin mango boxes are piled up in front of the shop !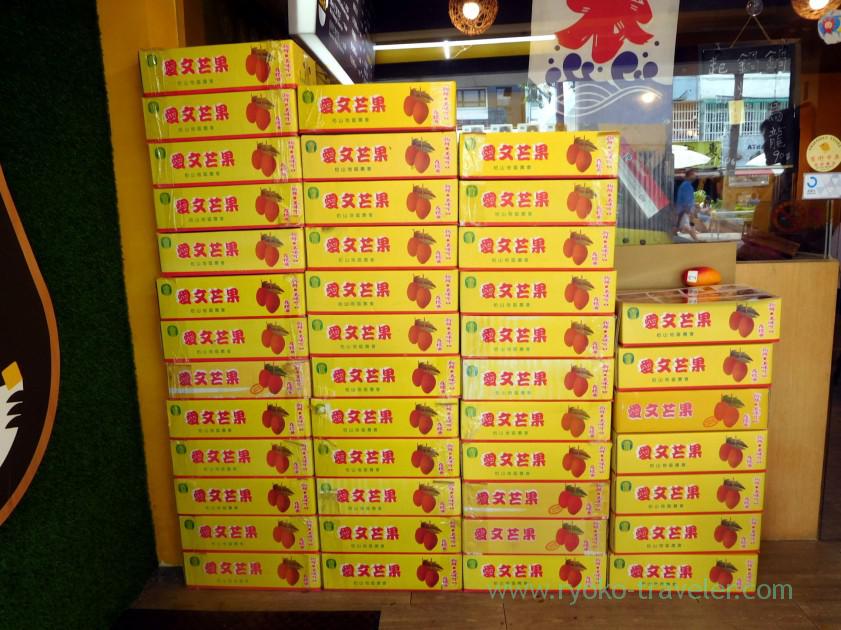 There's a bus stop near the station to National Palace Museum, so there're many tourists.
Irwin mango from Fangshan
There's a word "Doufa (豆花)". This shop was open as Doufa shop named "澎派創意冰館", but they were reopened as mango shop in 2016. As well as Green Bean Suanshami (綠豆蒜啥咪), they serve Irwin mango from Fangshan (枋山) of Pingtung (屏東).
Mostly they serve mango from May to October.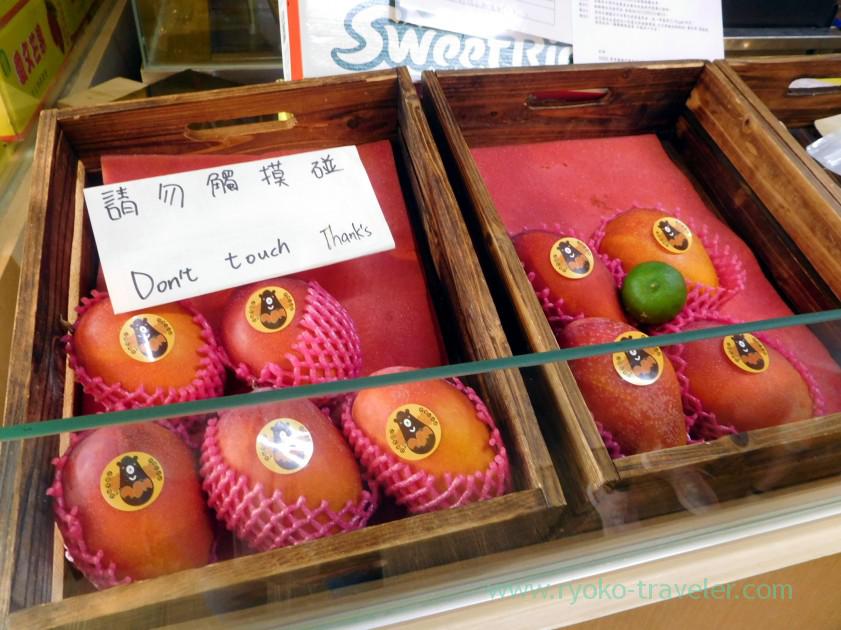 Also they serve meals.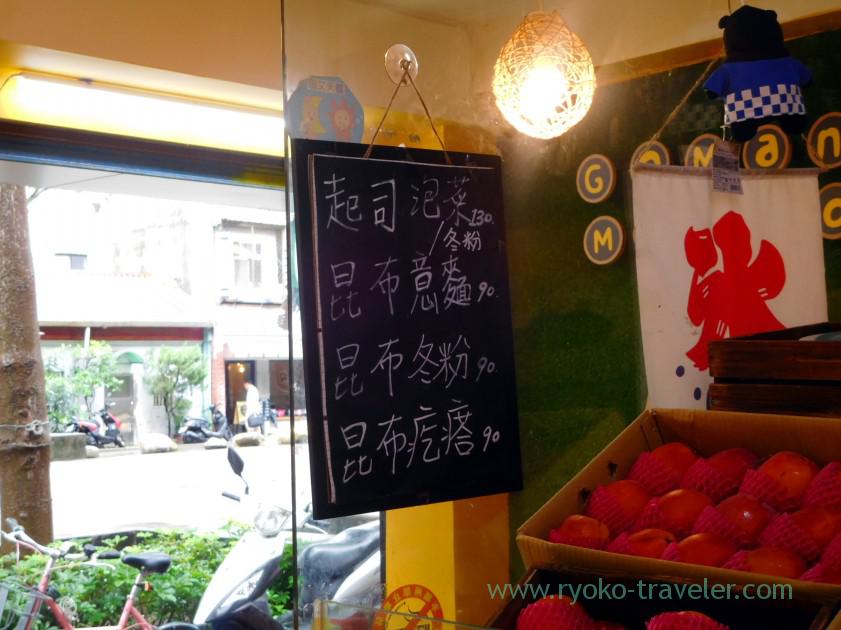 Interior
There're counter seats and tables. It looks like ordinary café. There're not much seats.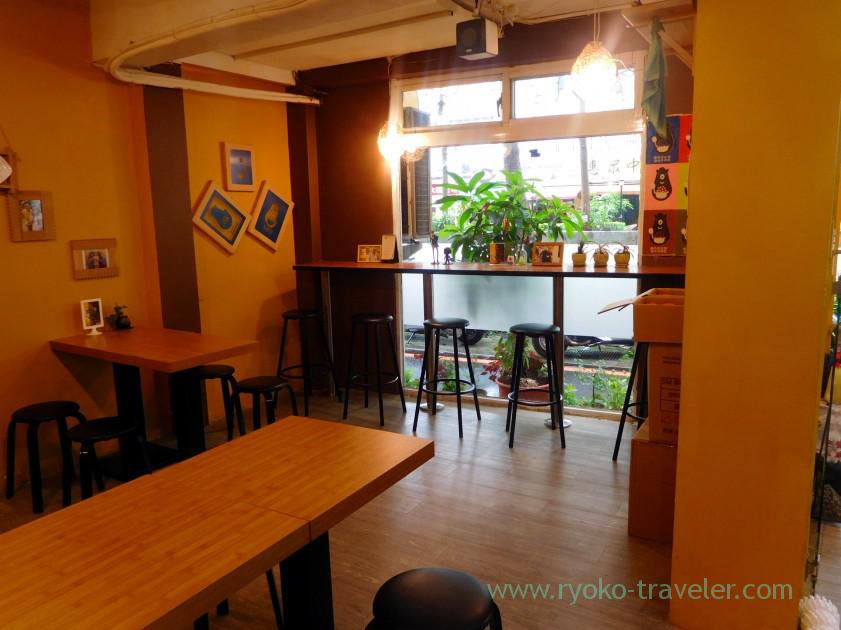 Free water (room temperature).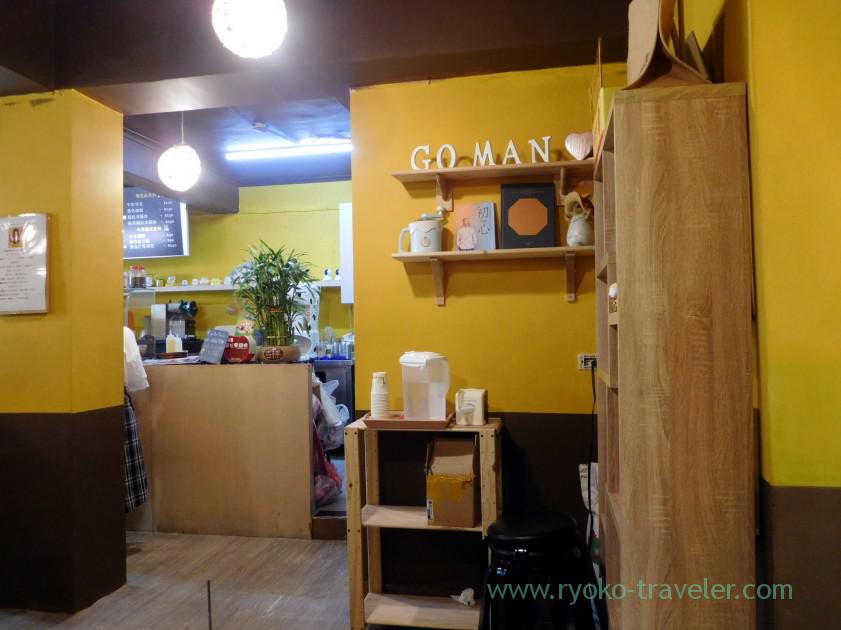 Because they are recently featured by Japanese magazines, TV, blogs and so on, there are so many Japanese tourists. So now the staffs speak simple Japanese ! (They didn't speak Japanese last year at all though)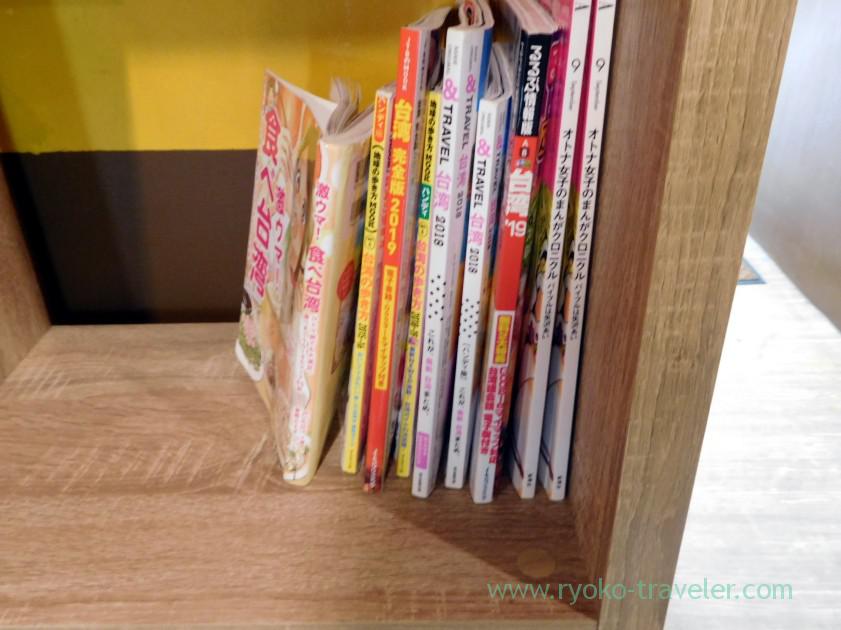 How to order
After you get into the shop, follow the line in front of the cashier. They take your order and you pay. And then they bring you to the seats. Foods are served to your table. If you want to eat doufa, you can choose toppings from the refrigerator.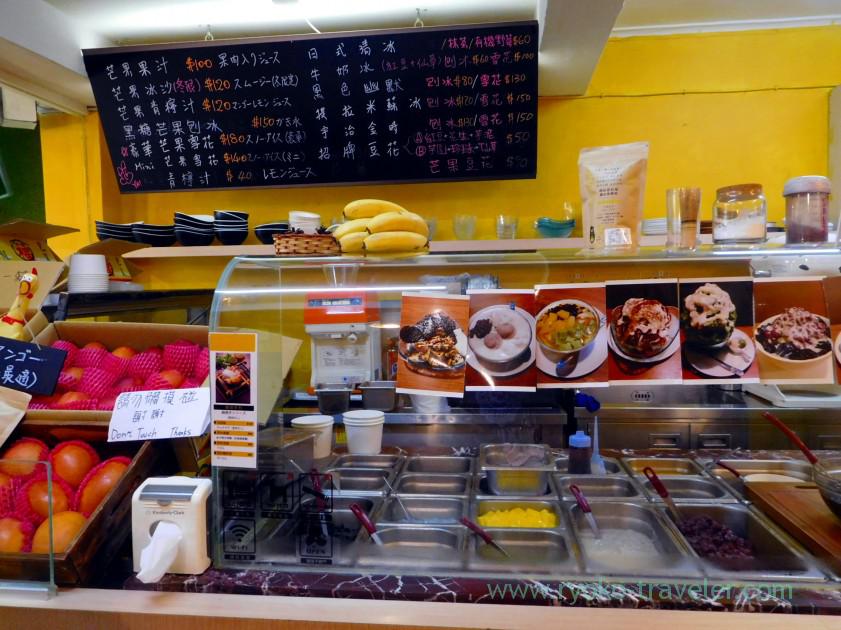 There're only two staffs in the shop at least every time when I visited there in June. So, it takes much time. After they take some order, they can't take order after a while for cooking. As soon as a group entered the shop and secured their seats when I followed the line. But the staff said to them, "We bring everyone in order."
The shop require each guest order one food when you eat inside the shop (except children)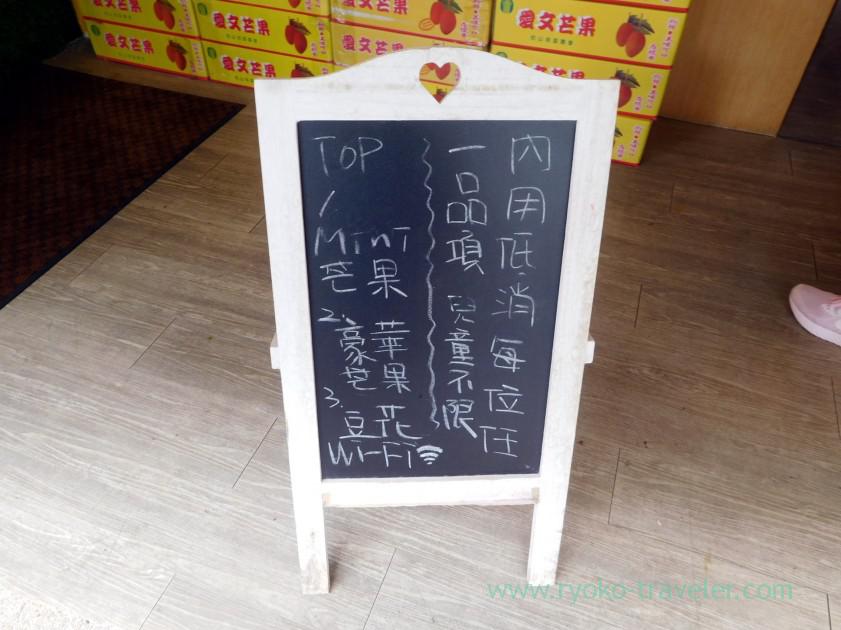 Menu
There are some menus with photos at the cashier. One side is mango menu, and the other side is another menu. Mango doufa, mango smoothie, dried mango, chopped fresh mango…. Mango-centric ! Their No.1 food is this large photo. Gorgeous shaved snow ice with mango (豪華芒果雪花冰, 180 TWD).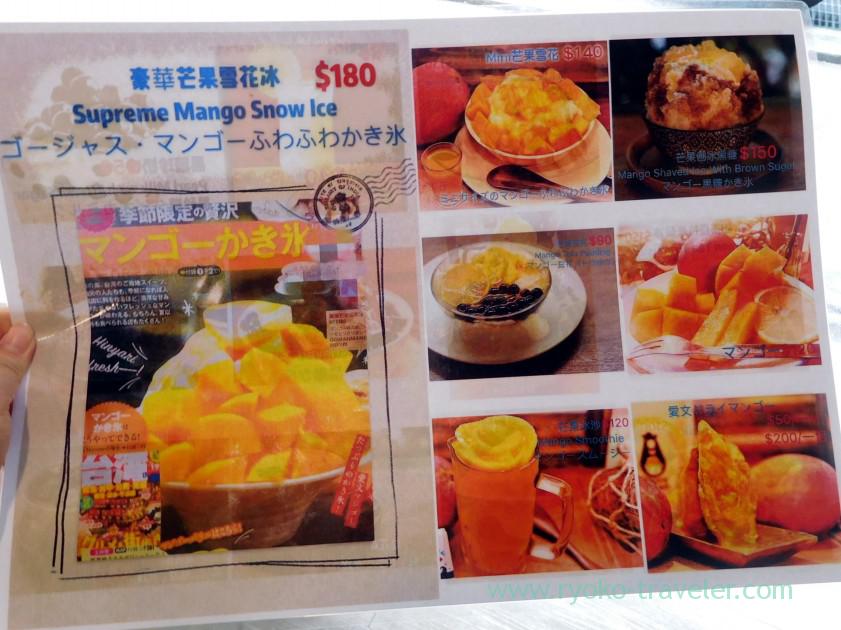 I ate it last time. As its name, it was really gorgeous.
Another there's smaller shaved snow ice with mango (mini芒果雪花冰).
The other side. Another menu like shaved ice, doufa. I awared later. There's shaved ice with fresh mango (芒果紛絲, 180 TWD).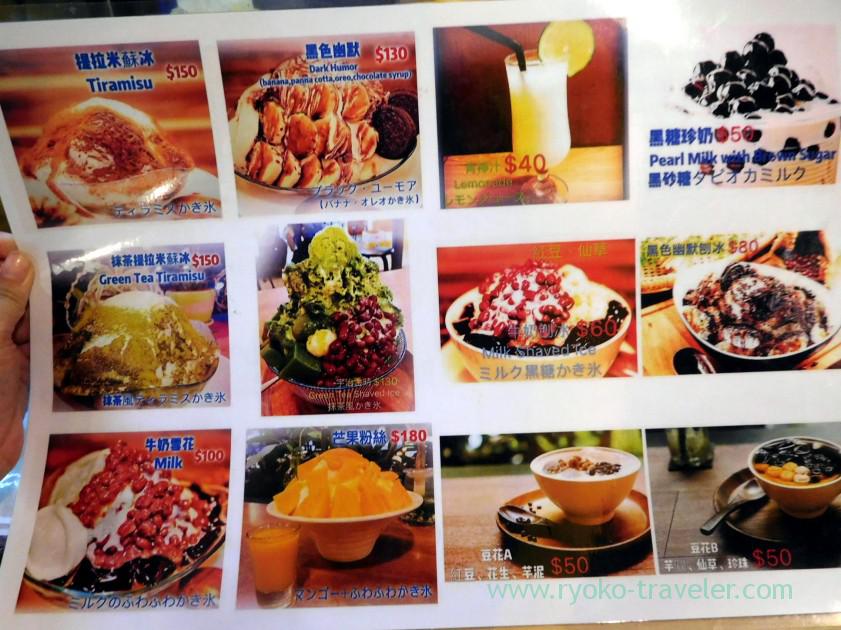 Yummy foods that I had
Gorgeous shave ice with mango
This is the "Gorgeous" shaved snow ice with mango (豪華芒果雪花冰, 180 TWD). It's not normal snow ice. This snow ice have mango flavor !
Though there was no one whose foods weren't served yet when I ordered, I waited for about 10 minutes or so. But I understood. It need much time to be made.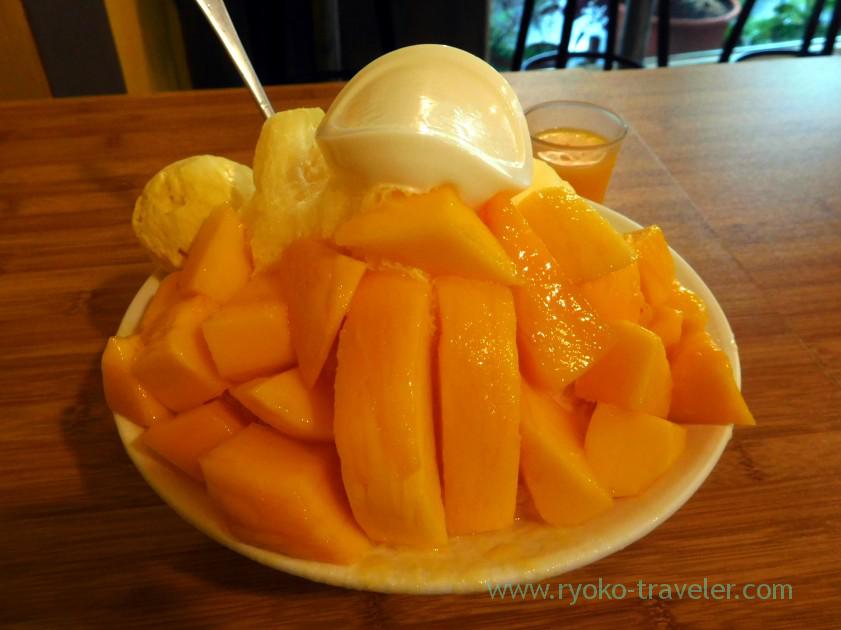 It's elaborate !!! And gorgeous as its name. The mango was so sweet, juicy, soft and tasty. So many chopped mango was on the ice, so it never ends by me alone.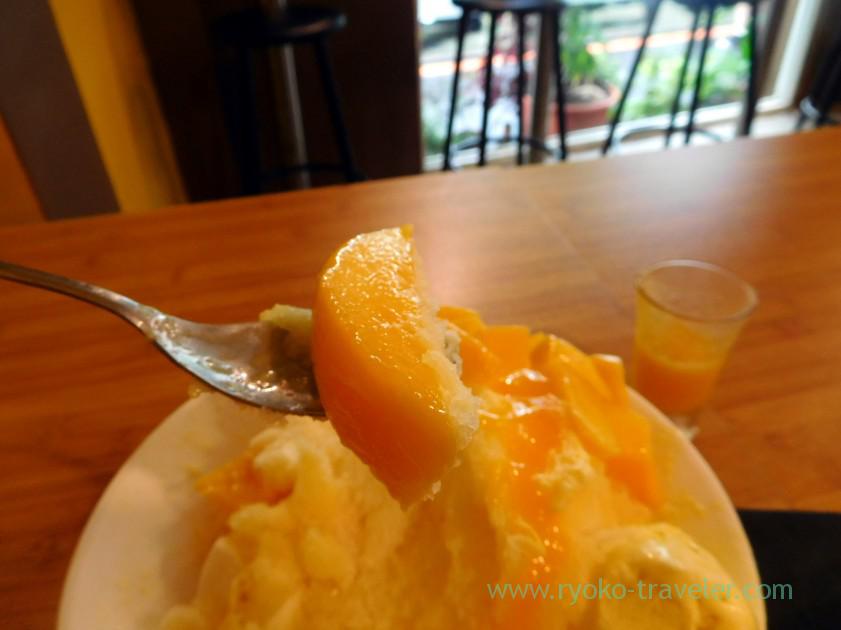 By the way there're many chopped mango from this photo, chopped mango is put on this side only. there's no mango on the other side. So, it's easy to eat shaved ice.
This shaved ice don't have shaved ice and mango only, It also have panna cotta, mango ice cream, mango jelly on it. Mango-centric one !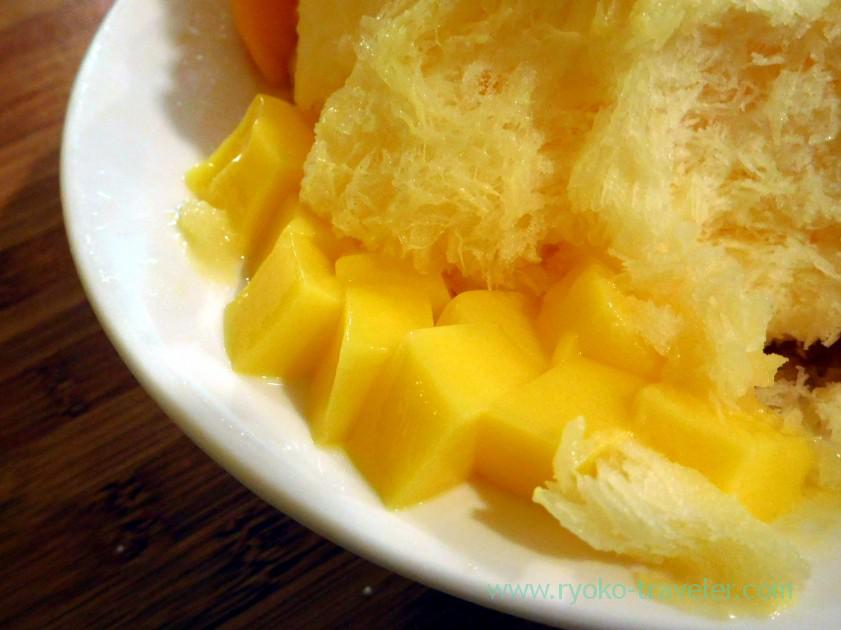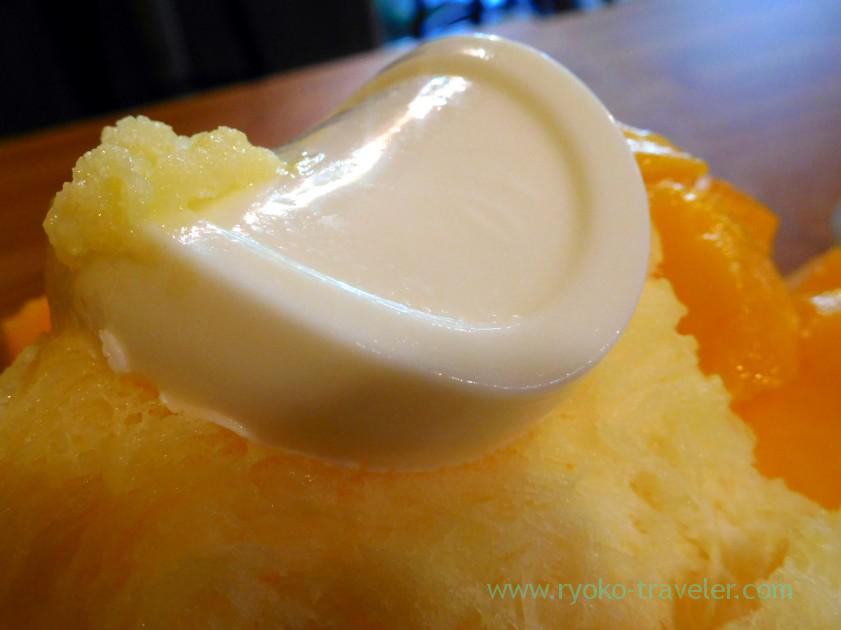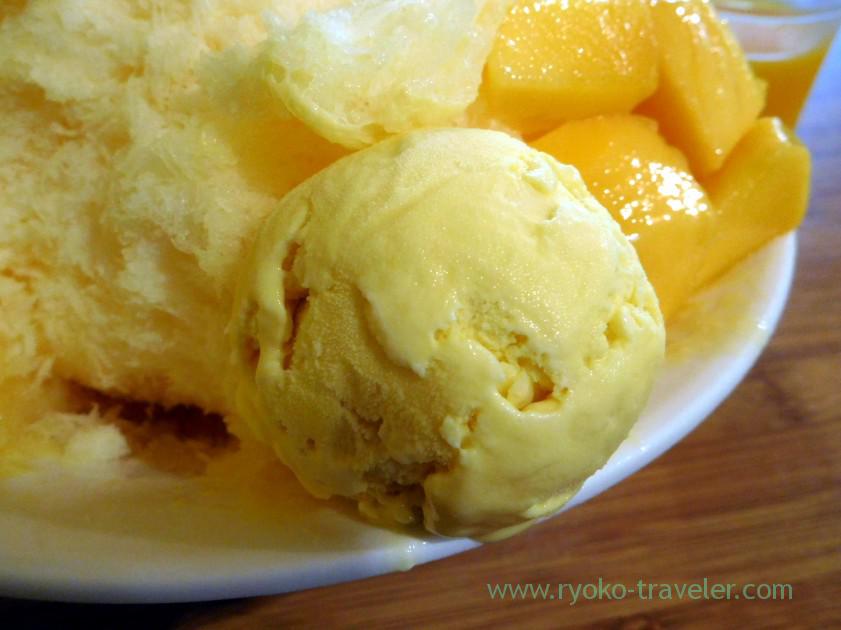 And… and ! mango sauce was served separately.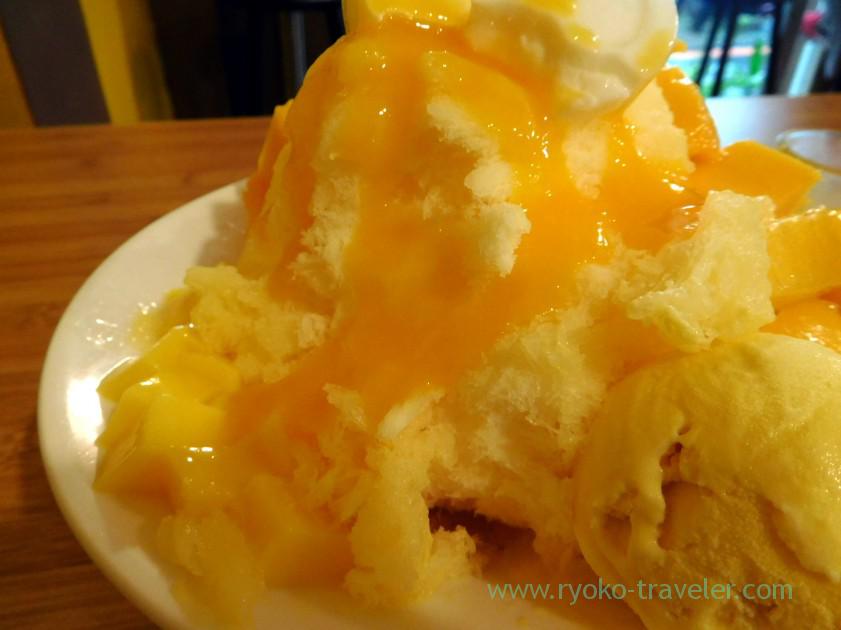 So, I don't recommend if you go to there by yourself. (I ate,though :p) Still if you go to there by yourself and eat it, I recommend you skip meal. I scheduled to have lunch after this shaved ice, I couldn't eat anything.
If you share it with someone, I recommend doufa with mango below for another order. It's not large. Easy to eat it up. Also it's good to order cut mango and add it on the shaved ice. It sounds fun.
Doufa with mango
When you aren't feel like eating shaved ice but want to eat mango, I recommend Doufa with mango (芒果豆花, 90 TWD).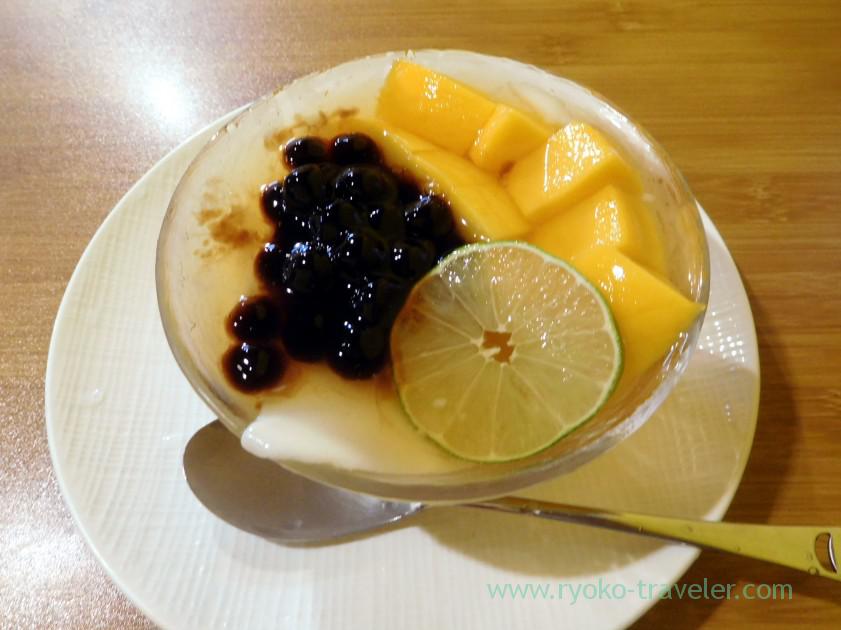 Well, it's pricy compared with ordinary doufa all the same. But it's acceptable because half of the bowl was occupied by mango !
And much black tapioka on it. Sweet syrup, springy tapioka and flavor of mango. So luxury time with it !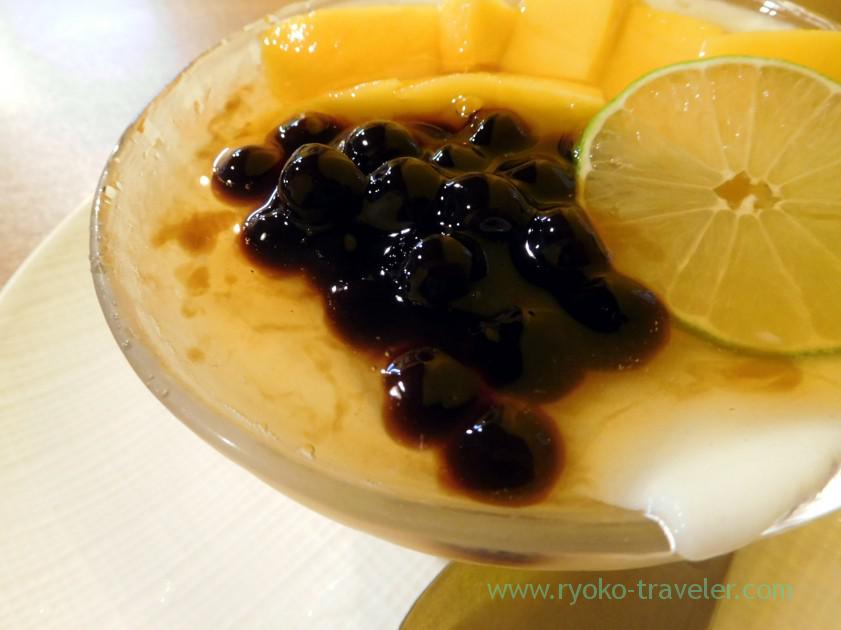 I remembered they were doufa shop when I ate this doufa. Smooth and tasty.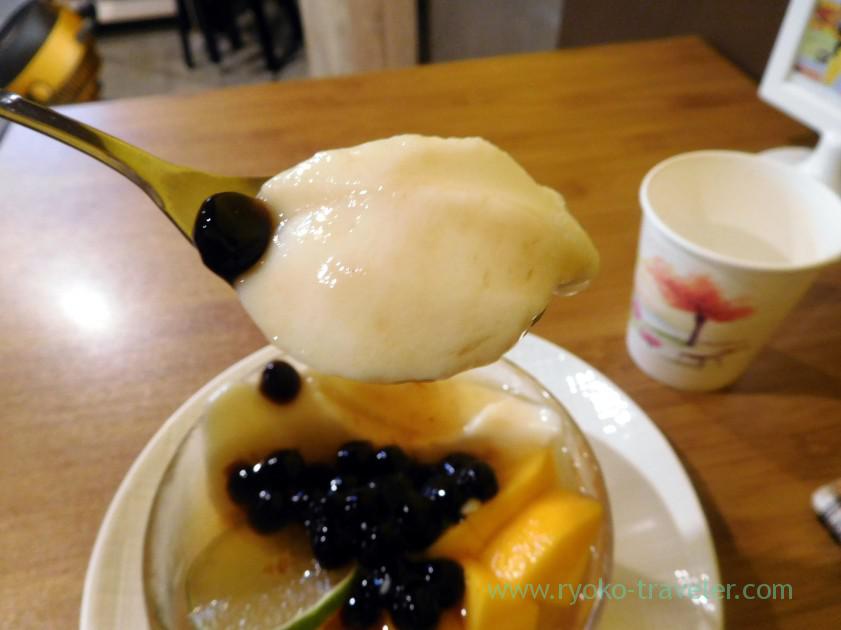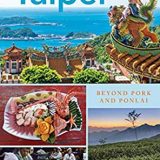 A Culinary History of Taipei: Beyond Pork and Ponlai (Big City Food Biographies) - Kindle edition by Crook, Steven, Hung, Katy Hui-wen. Cookbooks, Food & Wine Kindle eBooks @ Amazon.com.
A Culinary History of Taipei: Beyond Pork and Ponlai (Big City Food Biographies) - Kindle edition by Crook, Steven, Hung, Katy Hui-wen. Download it once and rea...
About the shop
Name in English / Goman Mango
Address / 台北市士林區福壽街9號
Phone / 02-2832-7199
Open / 11:30 a.m. – 9 p.m.
Closed / Mondays
Reservation / Unavailable
Credit card / Unavailable
URL / Facebook, Twitter