Second time to visit Shimada
We visited Ginza Shimada in Ginza area again !
That day, there were no bigger person in our group, so we didn't feel that table was too small like last time 😛
http://www.ryoko-traveler.com/ginza-shimada1/
Wow ! Everyone drunk non-alcoholic drinks except me… !
They don't serve much kinds of drinks, so I ordered a Yamazaki highball in terms of process of elimination.
Yamazaki whisky and soda.
Splendid alfonsino sashimi (金目鯛の刺身) 1000 yen
It was firm and springy. Also fresh.
Boiled firefly squid (ホタルイカ) 500 yen
Those innards were so fresh and tasty 🙂
We ordered those dishes as we did last time 🙂
Snow crabs cream croquette (ズワイガニのクリームコロッケ) 1400 yen
I could take the section of the croquette this time. Last time, I couldn't take the picture well..
It felt much snow crabs than last time 🙂
Kuruma prawn and lily root kakiage(クルマエビと百合根のかき揚げ) 1400 yen
Those lily roots' texture was unsoggy 🙂
Sea urchin with spiny lobster jelly (ウニの伊勢海老ジュレ掛け) 1600 yen
The spiny lobster jelly was delicious. I want to toss of it without thinking !
Grilled tilefish's head (甘鯛の頭焼き) 500 yen
It didn't seems to have much meats to eat, but it had much meats than we expected. Sweet and juicy meat !!
Grilled Japanese black wagyu with flowers of Japanese pepper(黒毛和牛焼き、花山椒) 2000 yen
The meat itself was not better than last time, expecially its thickness. But sharp taste of the Japanese pepper was good.
Grilled ducks meat (鴨炙り) 1000 yen
Shimada's ducks meat was excellent all the same 🙂
Grilled quail with flowers of Japanese pepper named "sansho" (ウズラの山椒焼き) 1200 yen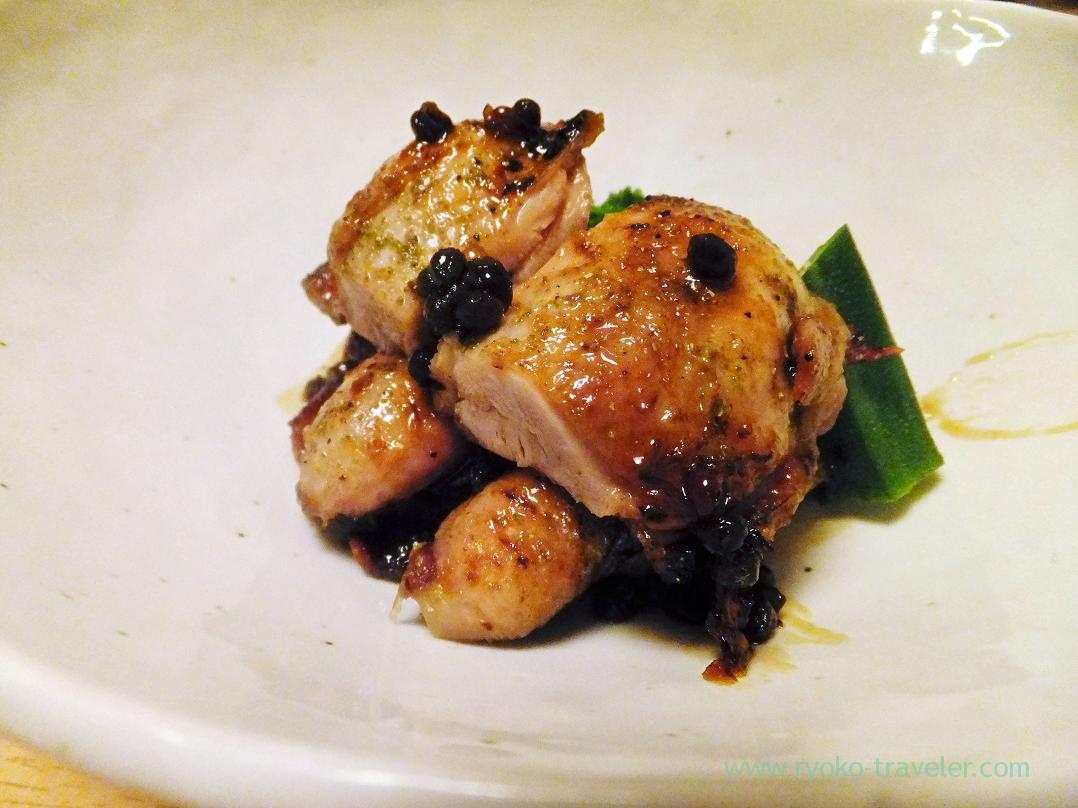 Tamagokake gohan (卵かけごはん) 500 yen
Mixing. It was really tasty as last time though it was simple foods only raw egg, rice, soy sauce and cheese !
Clam and bamboo shoot in a small hotpot (蛤と筍の小鍋) 1200 yen * 2 portions
Well, it is named "small" hotpot, but we ordered two portions, so big hotpot came 😉
As you see the clouded colored soup, the soup had plenty of the taste of clams.The bamboo shoot was similar to corn in its taste.
Our last food at Shimada that time was it, too 😉
Soba with mullet roe (からすみ蕎麦) 1600 yen
My friend already reserved next dinner. I'm very looking forward it !!!!!
About Ginza Shimada (銀座しまだ)
Address / Takasaka Bldg 1F, 8-2-8 Ginza, Chuo-ku, Tokyo
Station /Ginza station (Tokyo metro)
Open / 17:00 – 23:00
Closed / Sundays and another national holidays
Website / http://www.oreno.co.jp/restaurant/shimada/(in Japanese only)