Over two hours trip (one way) for Indian dinner.
I told that there is a fish that named cherry anthias. It is caught in spring, so it is named such a name.
I went to GANESH that stands in front of Nokendai station again. Last time I visited there was oysters season, but the restaurant serves special course twice in a year, spring and autumn.
http://www.ryoko-traveler.com/ganesh1/
Kugenuma Kaigan and Enoshima is so far from my house, but I manage to go Nokendai. Though each was Kanagawa 😛
This time, the restaurant prepared a cherry anthias dish for the spring course (4000 yen). So, I went to there all the way from Chiba 🙂
Seasonal lassi was strawberry ! Of course, I drunk it 🙂
Strawberry lassie (いちごのラッシー) extra charge
Sundal of bamboo shoot and sprouted beans (筍と発芽豆のスンダル)
Crunchy texture of bamboo shoot is a declaration of spring coming…
Spring vagetables and spicy chicken confit (春野菜とスパイシーチキン・コンフィ)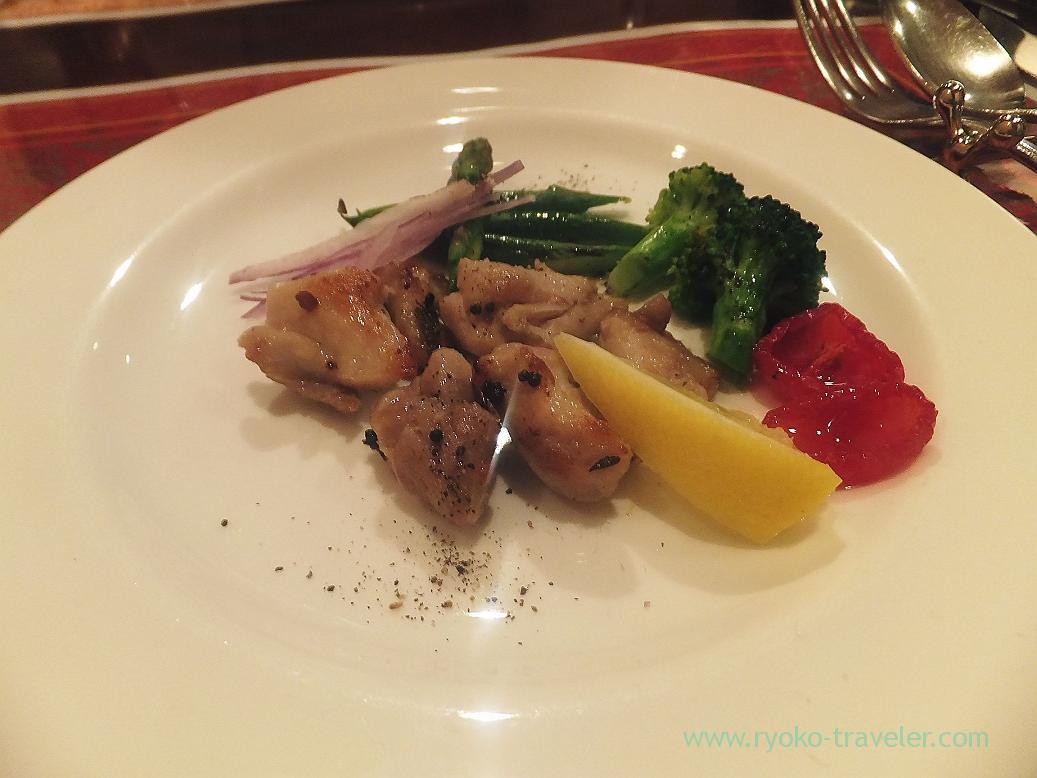 Vegetables were good.
Lemon rassam (レモンのラッサム)
I like it best in all dishes that I had there. As you see, it seems not hot. Certainly, it was not hot, but I felt it is spicy and the sourness of lemon was good.
I heard that the soup had many kinds of spices in.
Shrimp samosa (シュリンプサモサ)
Flavored redbeet raita was lightly sour and tasty 🙂
Well, opening the leaf,
Cherry anthias roasted in the leaf of banana(桜鯛のバナナの皮包焼き)
Curry flavored sauce went white meat fish well.
Goa style chicken curry(ゴア風チキンカレー)
Eating cherry anthias and chicken curry on the basmati rice. (I could take the picture wel, so I don't upload…)
After the meal…
Chai (チャイ) extra charge
As for me, Indian meals never end until drinking chai …. 😛
Dessert.
Carrot rice cake (人参のライスケーキ)
It looks like Chinese sweets. The taste, too.
The dinner course needs a reservation without fail and it is hard to reserve, so I appreciate that my acquaintance took the reservation for us.
About Ganesh (ガネーシュ)
Address / 8-5 Nokendai-dori, Kanazawa-ku, Yokohama-shi, Kanagawa
Station / Nokendai station (Keikyu line)
Open / 11:30 – 14:30, 17:00 to 21:30
Close / Wednesdays
Website / http://www.ganesh.gr.jp/(in Japanese only)