We enjoyed a lot at Uchida
http://www.ryoko-traveler.com/uchida-tateishi1/
And then, we took a rest at Wagashi cafe that is named " Funawa
It is famous as tasty imoyokan. Imoyokan is sweet-potate paste.
It is a branch of Funawa, Asakusa.
As I wrote, it is wagashi cafe… but the cafe serve anything else.
Curry and rice, oden, zoni, spaghetti and … beer.
My friend ordered beer there, too! And the bottle was bigger ! Nevertheless he drunk much at Uchida ! Wow!
Of course I ordered a imoyokan (105 yen). It served warm.
I always eat imoyokan as it is cool. But warm imoyokan is more tasty !
I'll warm imoyokan with microwave from now on.
After taking a rest (Uh..there was someone who didn't take a rest…:P)
We went to Ransyu that is Chinese ramen shop. The shop is popular as boiled dumplings.
I had been wanting to eat the shop's boiled dumplings …I was excited !
Menus on the wall. That's all.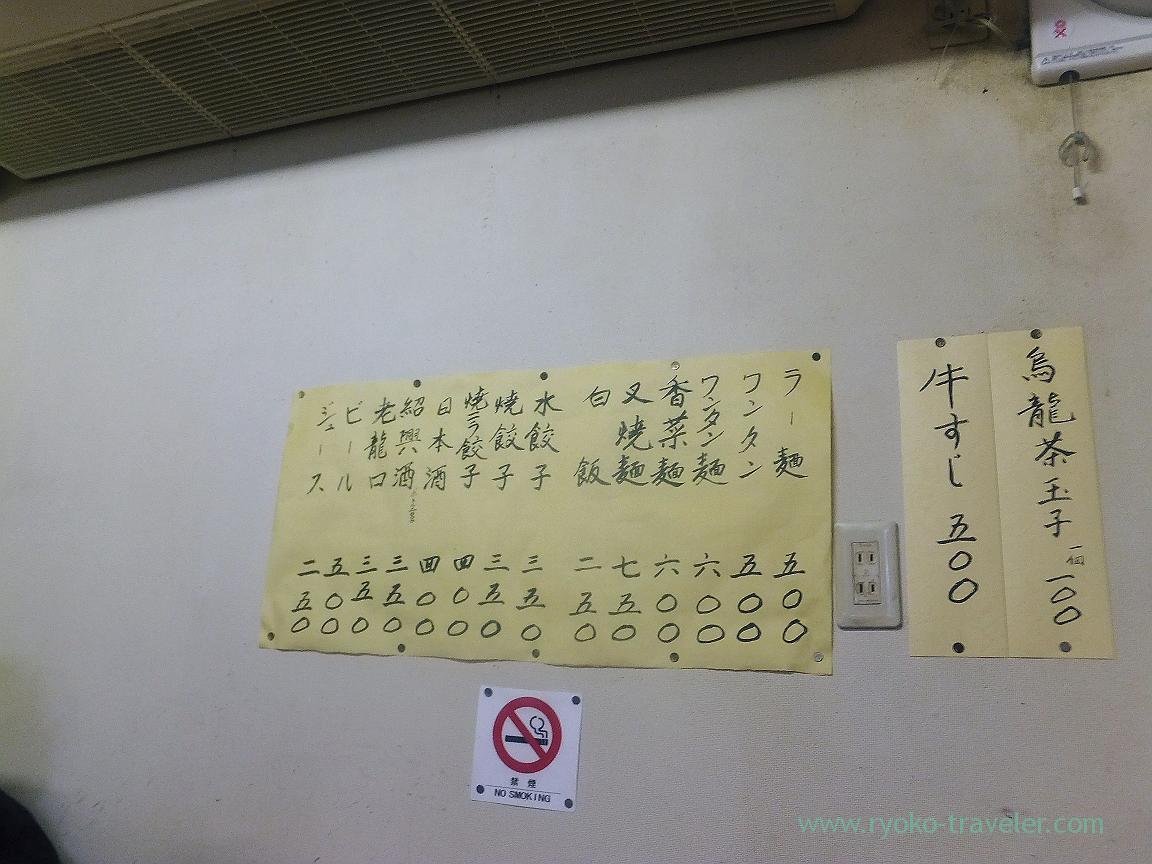 Drunkers ordered shaoxingjiu(紹興酒, 350 yen per one glass) and beef sinew (牛すじ, 600 yen).
I drunk oolong tea here, too.  The beef sinew is added coriander (+100 yen) on it.
Fried dumplings(焼餃子, 350 yen) and fried leek dumplings(焼ニラ餃子, 400 yen).
I found the fried leek dumplings is fried leek and eggs dumplings. Umm. I like ordinary leek dumplings …
Boiled dumplings (水餃子, 350 yen). This is two portion. and coriander (+100 yen) on it.
Its skin was springy. It was so tasty as I had expected ! It was awesome !
By the way, I didn't know those coriander was extra at first. My friend ordered the extra coriander only for good picture :O
Well, I didn't like coriander before, but I became like it before I realized 🙂
Ramen (ラー麺, 500 yen).
Simple soy sauce flavore was good.
I do want to eat boiled dumplings again soon !
After that, we spent time at karaoke shop until next shop open.
About Funawa Keisei-Tateishi (舟和 京成立石)
Address / 1-18-10 Tateishi, katsushika-ku, Tokyo
Station / Keisei-Tateishi station (Keisei main line)
Open / 10:00 – 18:00
Closed / Thursdays
About Ransyu (蘭州)
Address / 4-25-1 Tateishi, Katsushika-ku, Tokyo
Station / Keisei-Tateishi station (Keisei Main Line)
Open / 18:00 – 25:00
Closed / Mondays