Now is best season for sardines.
Sardines caught in Chiba area have high reputation.
And such a high-level sardine dish can be eaten here, "Funakko".
Well, I don't know whether they use sardines from Chiba or not.
Anyway, they prepare awesome sardines every time.
But
Um ?
Appearance of Funakko we visited before.
The apperance has changed ?
Yes, it has changed !
Not only its apperance. They moved in front of Higashi Funabashi station !

I love former house's wall 🙁
Lots of flowers for celebrating new shop are in front of the shop brilliantly.
Contrary to former house's atmosphere, it is bright ! The staffs are cheer ! Almost all staffs are not changed !
Ah, ladies staffs were not at the former house. Is it one of the reason ? Well, it's important thing for men 😛
But the quality of their foods are not changed !
Those were delicious as last time !
Otoshi. Sardines dressed with unohana. And Grape sour(ぶどうサワー, 480 yen)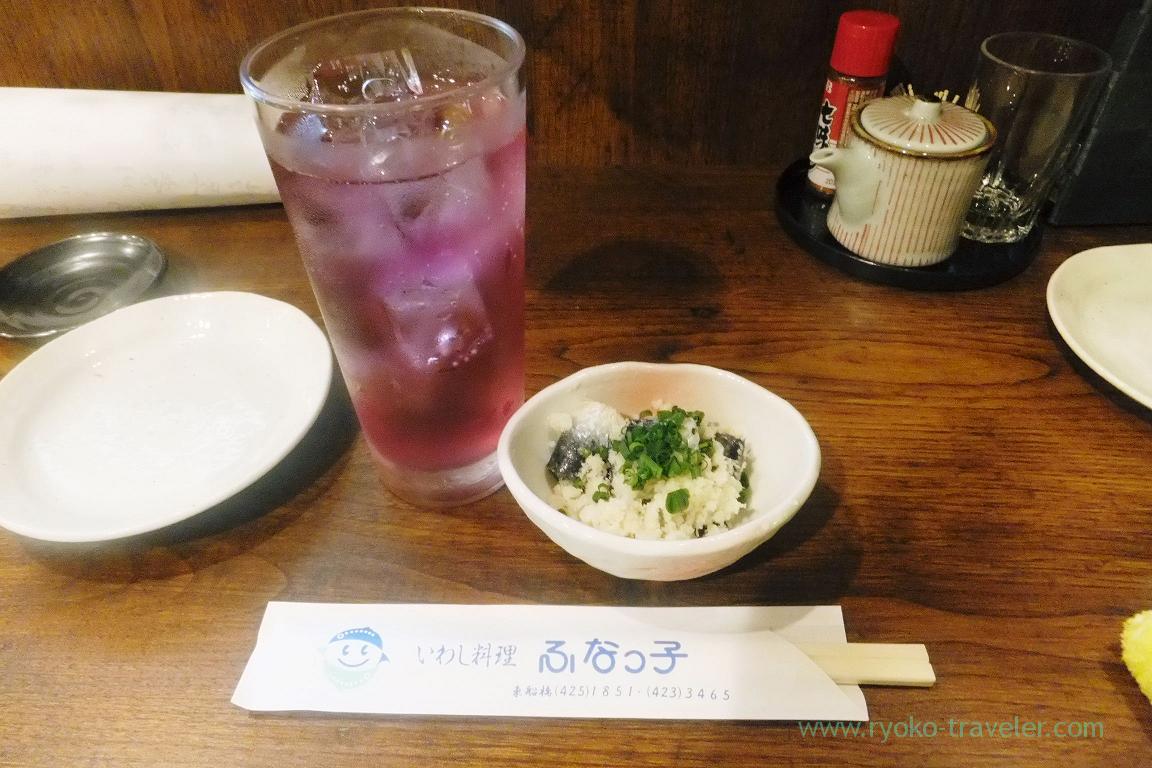 Sardines and another ingredients dressed with unohana (soybean fiber left after making tofu) and sesami. Though the grape color was beautiful, it didn't go with this shop's atmosphere 😛
Sashimi (刺身, 550 yen)
The most simple way of tasting awesome sardine is it all the same.
Namero (なめろう, 550 yen)
Namero is lightly minced raw sardine and mixed with green onions, ginger and so on. My mother often cook it at home. But she usually add much miso to save sardines 😛
Also horse mackerel is good for namero !
Yuhkke (ユッケ, 450 yen)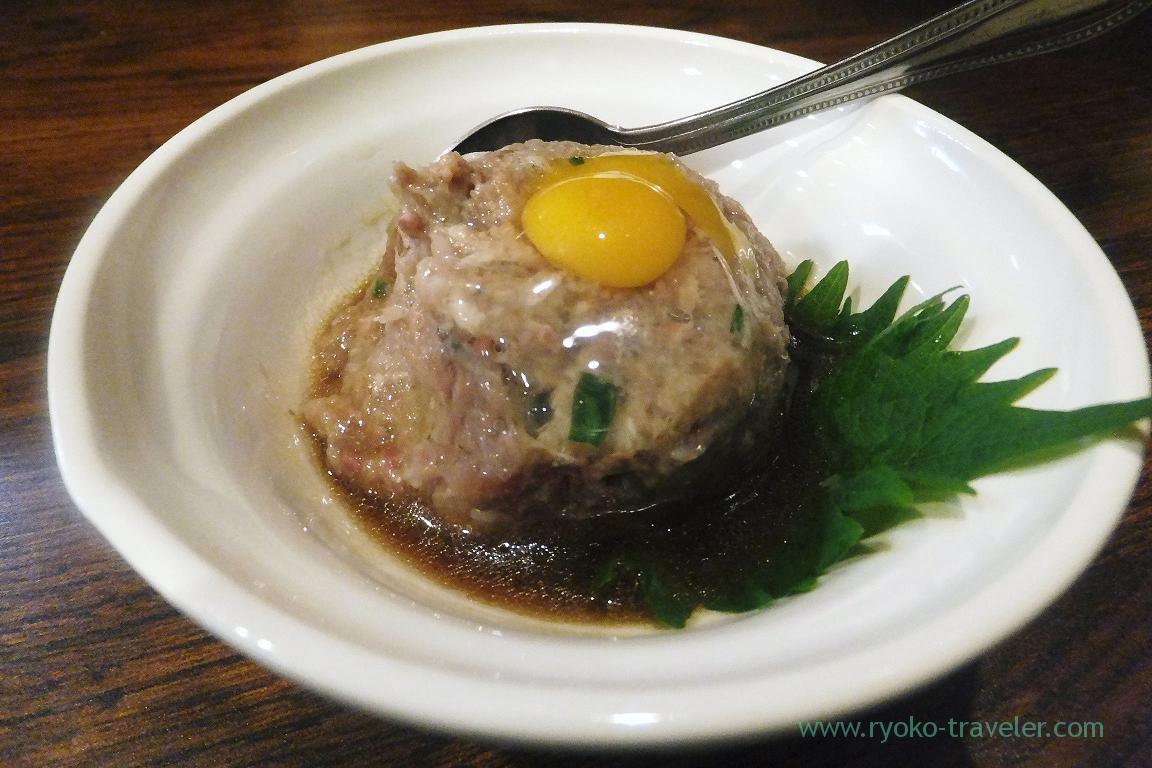 Grilled sardine with mentaiko (いわしの明太焼き, 650 yen)
It's my delight ! I love mentaiko !  The sardine was cut and removed its innards and then put mentaiko into it instead of the innards.
Then it was grilled well. If you love mentaiko, you should try it by all means !
Nama-nori tempura (生海苔天ぷら, 550 yen)
Raw seaweed tempura
Only it was not sardine when we ate at that time.
But seaweed is specialty of Funabashi. So, we couldn't help but order something seaweed.
Sardine sushi(寿司, 480 yen)
Sardine soba (いわしそば, 650 yen)
Sardine soba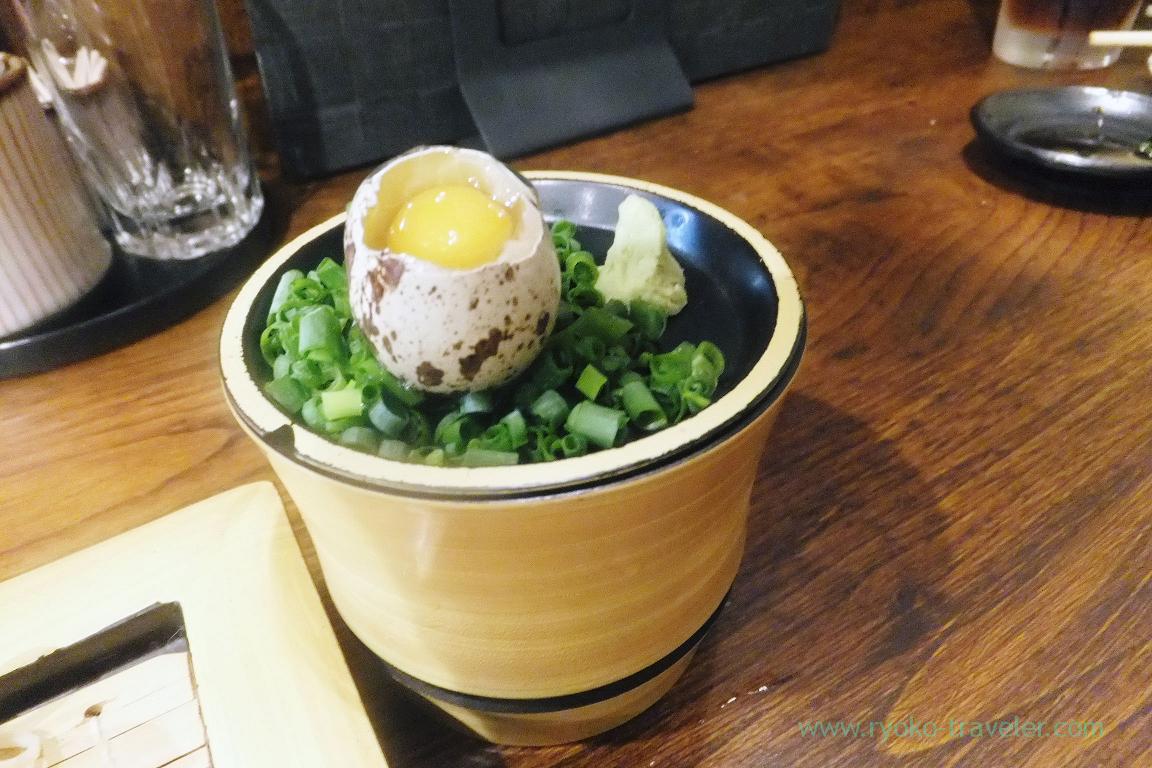 Its soba had powdered sardine.
It was hard just a little and it didn't have the flavor of sardine at all.
We were dissatisfied with it only.
Everything except raw seaweed tempura when we visited there that time contained sardine 🙂
It is the post that we ate at Funakko last time.
http://www.ryoko-traveler.com/funakko1/
It seems that I can visit there by myself  with such a comfortable atmosphere 😛
About Funakko (ふなっ子)
Address / 1-37-12 Higashi-Funabashi, Funabashi-shi, Chiba
Station / Higashi-Funabashi station (JR)
Open / 17:00 – 23:00
Closed / Mondays