Conger pike season has come !
I participated in conger eel dinner at Fujimura
that was reserved by my acquaintance, as same as this season of last year.
http://www.ryoko-traveler.com/fujimura3_tsukiji-82-ale-house1/
Fujimura is very close to Tsukiji metro station, but it is hard to find because it is on the underground of the small building and it is not outstanding at night.
2-14-12, Tsukiji, Chuo-ku, Tokyo
Almost as same foods as last year were served.
At first, otoshi and drinks were served. My drink was plum sour with soda (梅酒ソーダ割り).
Assorted sashimi (刺し盛り)
This side, left-over flesh on the spine of tuna (Nakaochi) was great. You will understand that it have top quality by this photo 🙂
And another, whelk, grilled mackerel, greater amberjack, red sea bream and boiled conger pike was good, too.
Not only those seafood but also seaweeds were fresh and tasty.
Pine tree was on the dish, but it can't be eaten 😛
Conger eel "Yuan-yaki" (ハモの幽庵焼き)
It was weaker than last year's in its seasoning. But I like it better. Some of paticipants agreed with me. 🙂
Eel's liver in it. Its bitterness was pleasant.
Deep fried wiener (ウインナーフライ)
Whenever my acquaintance reserve Fujimura, he order this deep fried wiener that is not on the menu 😛
Hamokyu (はもきゅう)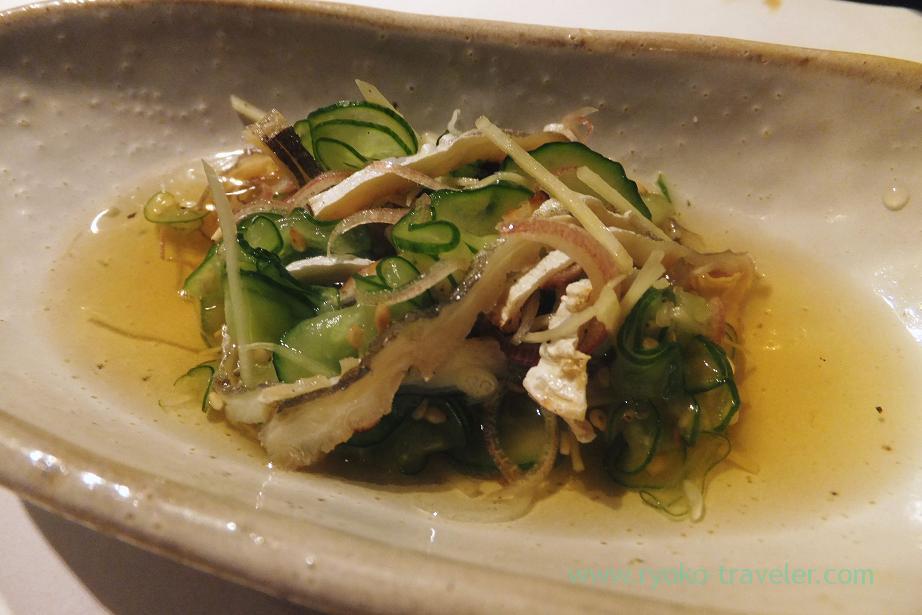 Hamokyu is vinegared skin of conger pike and cucumber.
Tempura (天ぷら)
Conger pike, zucchini, sweet potato and eggplant. With salt.
Yanagawa-style conger pike (ハモの柳川風)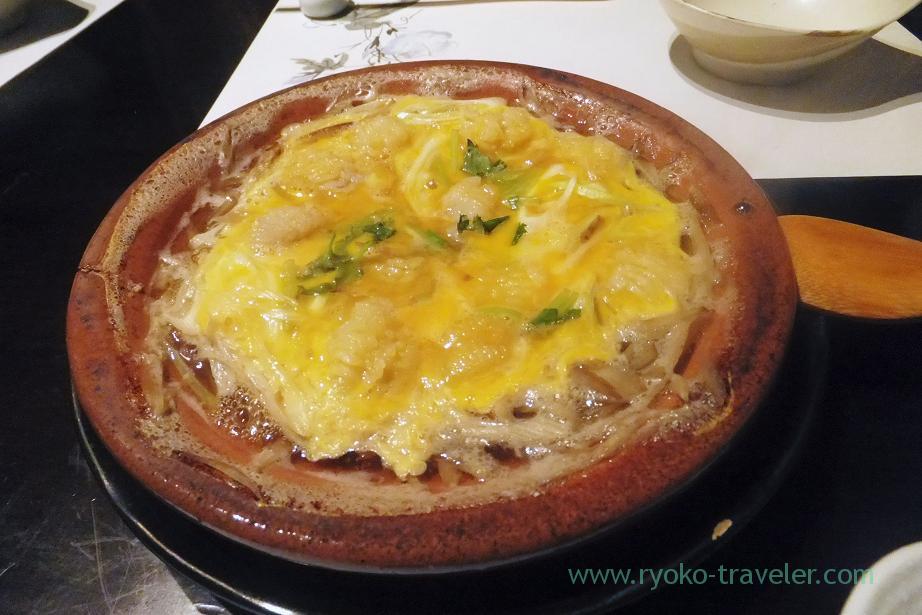 "Yanagawa" is boiled loaches and burdock with soy sauce covered with beaten eggs.
By using another seafood like eel and conger eel instead of loaches, the dish is called "Yanagawa-style" 🙂
Then the meal came.
Omusubi (おむすび)
It had sour pickled plum in it. This cute and simple omusubi was really tasty. Amazing.
Miso soup (みそ汁)
I was really enjoyed conger pike that time, too 🙂
Conger pike season is until the beginning of Autumn. But not many restaurants serve conger pike in Kanto region including Tokyo.
So you must confirm in advance if you visit restaurant for conger pike in Tokyo.
Around Tsukiji Market, I know Yachiyo serve deep fried conger pike 🙂
About Fujimura (ふじむら)
Address / EURO Bldg B1F, 2-14-12 Tsukiji, Chuo-ku, Tokyo
Station / Tsukiji station (Tokyo metro)
Open / 13:00 – 14:00, 17:00 – 23:00
Closed / Saturdays, Sundays and national holidays