Enjoying crab meat to our hearts' content
This might be the last hotpot on this cold season. Hotpot party was held !
My acquaintance who is regular costomer of Fujimura ordered gorgeous crab course specially in advance !
We were eight person.
At first, otoshi was served with beer.
Whelk, Pholiota nameko and taro.
Assorted sashimi. Because of such a good location close to Tsukiji Market, Fujimura serve good sashimi 🙂
Pacific bluefin tuna, yellowtail, red sea bream, whelk and lightly grilled mackerel.Of course, pine tree stand on the dish that day, too 🙂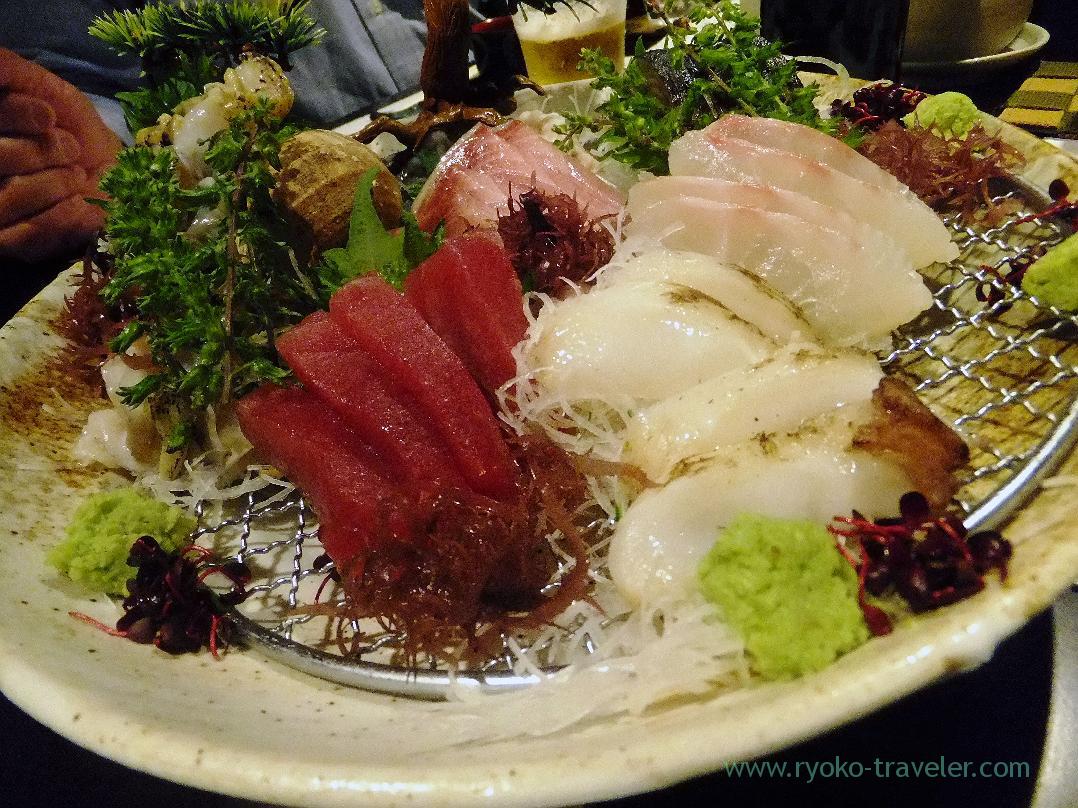 We thought hotpot is served soon. But the king crab came before that.
For grilled. By grilling, it tasted sweet !
The regular customer love this deep fried wiener. With deep fried oysters.
Well, also this would be the last time to eat deep fried oysters on this season… 🙁
And then steamed crab came.
Telmessus cheiragonus. A same kind of hairy crab that is my delight :):)
It is not well-known by people, so it is less expensive than hairy crab ! Though it was delicious enough ! I remember the name. So, I'll order it on the internet 🙂
People around me was already full. So, I occupied it after a while. Of course, the brown meat was mine 😛
And the manager showed it with saying "it is crab for hotpot !"
Snow crab ! Wow !
Snow crab for hot pot is best choice !
Four people shared one hotpot. Finally hotpot came ! Though we were already nearly full !
Also another people who shared hotpot with me was full, so I ate much of it. But I also felt full 😛
After finished eating ingredients of hotpot, the rice was put into the soup and ate as rice porridge.
I had dinner at Fujimura several times, but that day's dinner was the largest meal ever!

Tsukiji : Hotpot party at Fujimura

We enjoyed hotpot party to the full ! Fujimura has started to serve hotpot dishes, so we went to there to eat hotpot. ...


http://www.ryoko-traveler.com/fujimura3_tsukiji-82-ale-house1/
About Fujimura (ふじむら)
Address / EURO Bldg B1F, 2-14-12 Tsukiji, Chuo-ku, Tokyo
Station / Tsukiji station (Tokyo metro)
Open / 13:00 – 14:00, 17:00 – 23:00
Closed / Saturdays, Sundays and national holidays