Colorful muscats and grapes parfait !
My favorite fruits are grapes and peaches.
Shops and restaurants that serve seasonal fruits already stop serving peaches.
Now is best season of muscats and grapes !
(we can still buy peaches at supermarkets)
Well, Fruits cafe Frutas that offer seasonal fresh fruits serve muscats and grapes now.
Among them, my target that day was Three species of muscats and grapes parfait – Shine Muscat, Nagano Purple and Aurora 21 !
Surprising ! It cost 2700 yen !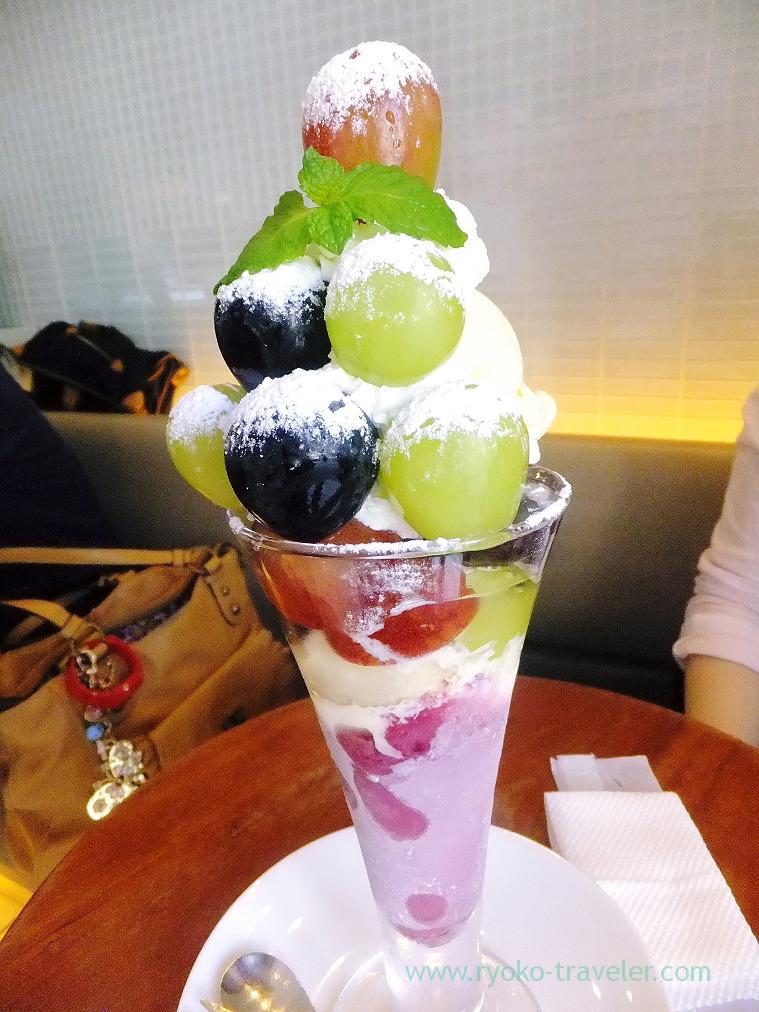 But it was worthwhile !
Green is Shine Muscat, purple is Nagano Purple and Aurora 21 is at the top !
Aurora 21 is so big grape. It is not known very well and there are only a few shops and restaurants have it.Scarcity grape !
I didn't know its existence until that day !
Not only those fresh grapes and muscats, muscat-flavor sorbet, muscat jelly and Kyoho grapes-flavor ice cream was splendid !
Though Peach parfait was already stopped serving at Frutas in this season, I ate it in this summer. And it was delicious !
http://www.ryoko-traveler.com/fruits-cafe-frutas7/
About Fruits cafe FRUTAS (フルーツカフェ フルータス)
Address / 1-24-6 Tomioka, Koto-ku, Tokyo
Station / Monzen-nakacho station (Toei subway, Tokyo metro)
Open / 11:00 – 19:30
Closed / Wednesdays (except national holidays)
Website / http://www.frutas.jp/(in?Japanese only)