Dessert at Kashigashira after tempura.
After getting out of Kurokawa, we had a drink at Four season as usual on Saturdays in Tsukiji.
Coke float (コーラフロート, 480 yen)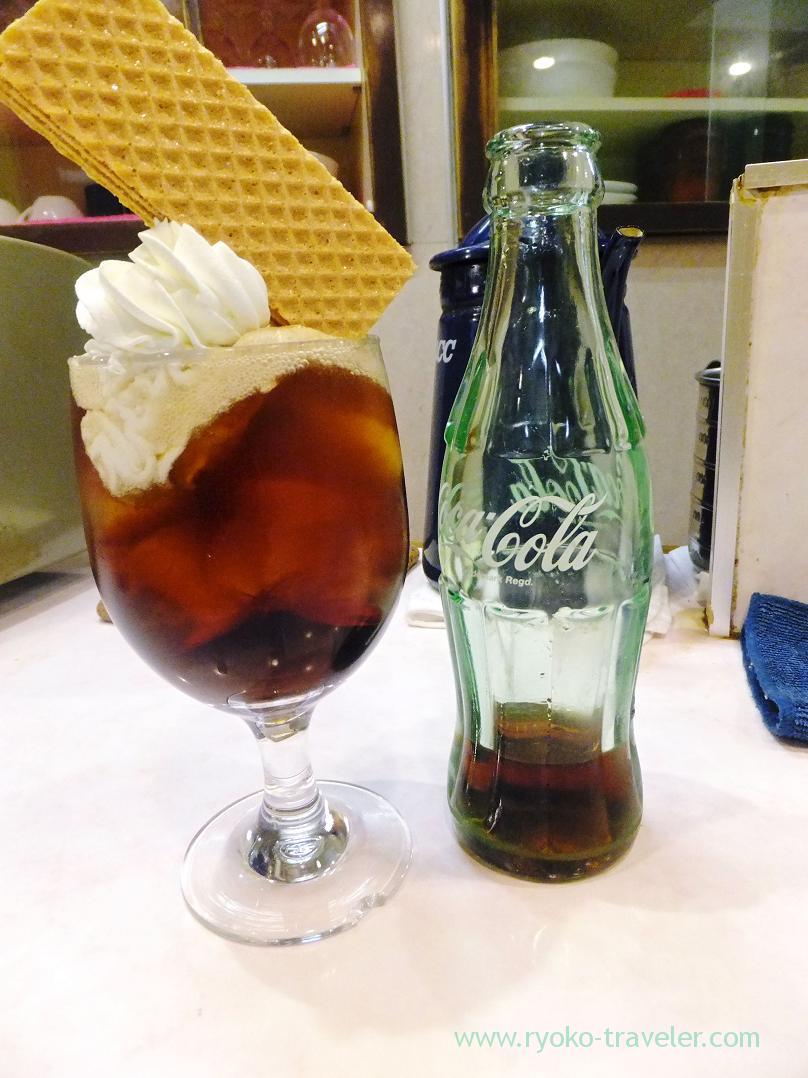 Four season's coke float was tasty as usual 😀
And we talked for a while and waited for our stomach having any space to have another foods 😛
After about 30 minutes, or more ? We got enough space to have sashimi in our stomach. So, we went toward Kashigashira !
A horse was in front of the counter table. This is the year of horse ! We heard that it have Japanese sake in it !
Miso soup (みそ汁). We didn't have any space in our stomach to eat rice.
Assorted sashimi (刺し盛り). Kashigashira's sashimi was dessert for us 😀
So huge pandalus nipponensis ! Sweet, sweet !
Its intestine had strong taste !
The tuna was thick and fatty !
After finished eating sashimi, the shopkeeper let us to eat such a fatty marinated Otoro !
Soooo fatty, tasty, but I got heartburn just a little because of its fat. Ummm. I used to love fatty foods like this. But recently…. nevertheless I still love them,  I can't eat much.
A, I told such a thing the other day, too 😛
Then we went to Tomisui, outer market to eat soft ice cream. No, I didn't eat soft ice cream because it was so cold. My friends ate.
I ate….this. Whale meat cutlet (鯨カツ, 200 yen).
Tomisui is whale meats shop. And they sell whale meat foods and soft ice cream in front of the shop.
I didn't like whale meats much because it is chewy. But this whale meat cutlet was sliced thinly and not so hard 😀
But my stomach was already over full all the same, so I didn't eat it up. My friend ate it up instead of me.
Feast for me that time was warm stove. It was very cold day 😛
About Kashigashira (河岸頭)
Address / Lions Mansion Higashi-Ginza Bldg B1F, 4-12-2 Tsukiji, Chuo-ku, Tokyo
Station / Tsukiji station (Tokyo metro)
Open / 11:00 – 14:00, 18:00 – 23:00
Closed / Sundays and another national holidays
Website / http://kashigashira.com/(in Japanese only)
About Four season (フォーシーズン)
Address / Bldg 2F, 4-14-4 Tsukiji, Chuo-ku, Tokyo
Station / Tsukijishijo station (Toei subway)
Open / 7:30 – 17:00
Closed / Sundays and another national holidays
About Tomisui (登美粋)
Address / 4-10-17 Tsukiji, Chuo-ku, Tokyo
Station / Tsukijishijo station (Toei subway)
Open / 10:00 – 14:00, Nighttime reservation only
Closed / No Scheduled
Website / http://www.e-kujira.net/(in Japanese only)