I'll be crazy for trip 😛
Because I had really wanted to go to Dogo Onsen. Dogo onsen was one of the best onsen spot that I had wanted to go for a long time.
But it had taken for years until finally I went to there.
First of all, last my flight was about 20 years ago. Though the procedure of the trip was very easy because of the tourist company, I had no idea what to do at the airport.
I went to Haneda airport and asked a woman with mobile phone that have two-dimensional bar code in my hand, "What should I do next ?"
She said to me, "You should go to safety inspection area"
What embarassing me was, of course, I didn't have ticket. When I got plane last time, flight ticket was provided.
So, I couldn't believe that no ticket person can be accepted.
I can't catch up with flow of time 🙁
I managed to pass throught the gate and departure gate.
The flight time was easy for me. Only I had to do is to be seated 🙂
When I got to Matsuyama airport, the bus to the center of Matsuyama city was waiting for us.
So, I got the bus.
After I got to Matsuyama station, I went to my hotel named JAL City Matsuyama and left my baggage.
And then I went to Koshinan.
I entered the Koshinan. Koshinan is an old house and the tatami creaked. I walked carefully.
To Matsuyama castle
What I wanted to see most at Ehime was, all the same, Matsuyama castle !
It is also called Katsuyama (勝山) castle and Kinki (金亀) castle.
The view from viewing platform of Matsuyama castle.
Entrance of Ninomaru Garden within the ground of Matsuyama castle.
Bansuiso
It's Western-style house and built in 1922 for vacation home of Hakushaku family. Also Showa emperor stayed here.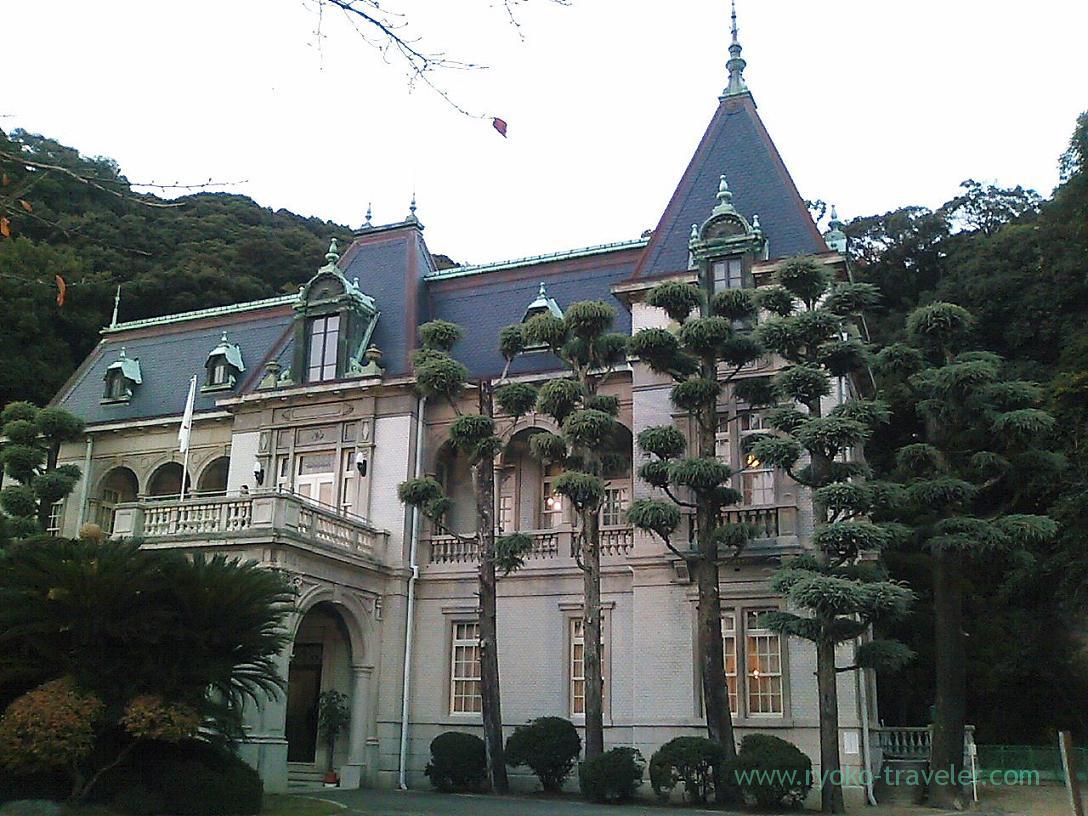 Stained glass at the stairs.
Model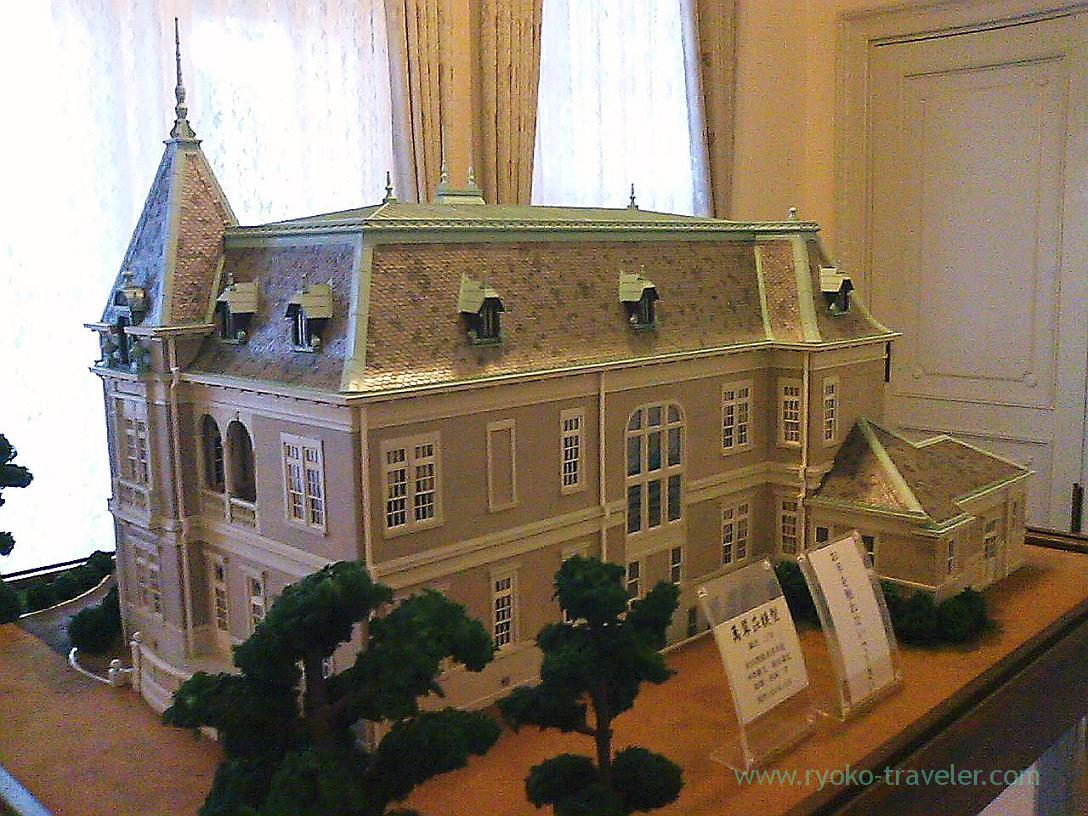 The ground floor. There are two halls.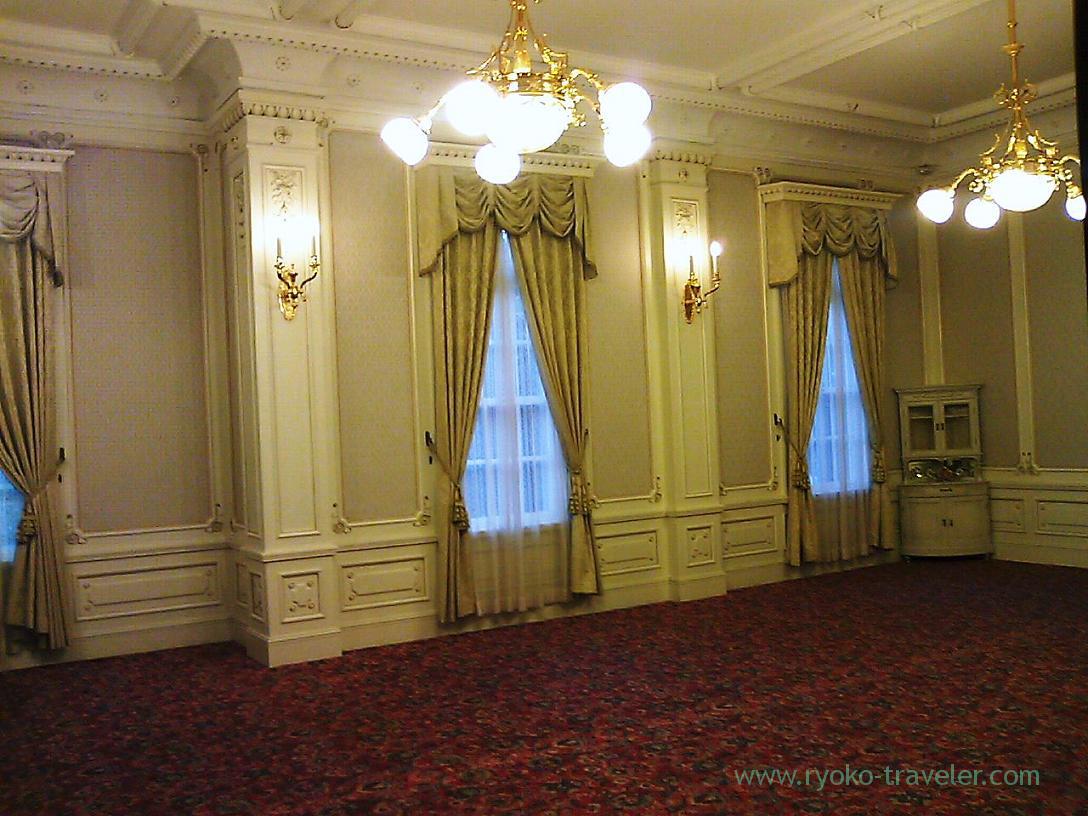 And then I saw the road to Gudabutsuan (愚陀仏庵) but, there was nothing.
To my great disappointed, Gudabutsuan was flowed because of pouring rain in July.
Everything was collapsed.
I had much time left because I couldn't visit Gudabutsuan, so I decided to go Sakano-ue-no-kumo Museum.
It was not large, but there are so many things to see. You should go there with plenty of time if you go there.
Puppet show was cheap, but it was fun. The architecture was interesting, too. It is in the shape of triangle.
I'm really interested in SHiki Masaoka, so this museum was very interesting !
I was a little disappointed with double JAL (flight plus hotel), but the night view was beautiful !
Cars along the main street,illuminations on the trees were brilliant, and
Matsuyama castle could be seen at left side, illuminations of Christmass tree in Shiroyama parke was beside of it, And Ferris wheel was right.
I couldn't take the photo well with my poor camera.
I was satisfied with my large room, too.
I didn't want to use small bathtub, so I went to sento a little far from my hotel.
They have hotspring from Oku-Dogo onsen. And also there's mist sauna ! It's only 400 yen for admission fee !
As same as ordinary sento fee ! Awesome !
http://www.ryoko-traveler.com/matsuyama-heiwa-onsen1/
About Koshinan (庚申庵)
Address / 2-6-7 Misakemachi, Matsuyama-shi, Ehime
Station / Matsuyama station (JR)
Open / 10:00 – 18:00 (from November to February 10:00 – 17:00)
Close / No scheduled
Website / https://www.city.matsuyama.ehime.jp/shisetsu/bunka/koushinan.html(in Japanese only)
Admission fee / free of charge

About Matsuyama Castle (松山城)
Address / 3-2-46 Okaido, Matsuyama-shi, Ehime
Open / around 9:00 – 16:30 (See website for the detail or ask me)
Close / No scheduled
Website / http://www.matsuyamajo.jp/(in Japanese only)
Admission fee / 510 yen for adult, 150 yen for child (fee of cable car is excluded)

About Bansuiso (萬翠荘)
Address / 3-3-7 Ichibancho, Matsuyama-shi, Ehime
Station / Matsuyama station (JR)
Open / 9:00 – 18:00
Close / Mondays (in case of national holidays, it is open)
Website / http://www.bansuisou.org/(in Japanese only)
Admission fee / free of charge