My friend got valuable coupon ticket at coupon site and she invited me to the restaurant with her tickets.
The restaurant is 12th floor of Marronnier gate and we saw a fine night view from the window.
My friend got coupon ticket at website that is named "Ponpare" in advance. The ticket fee was 1900 yen per one. And the time limit was 60 minutes.
Almost all guests had the same ticket then.
We could choice one drink, so I choiced a highball.
As soon as our drinks came, also our meal came.
It seemed to be already arranged. May be those were remains of lunchtime and they served those foods expensively.
That was my meal set 🙂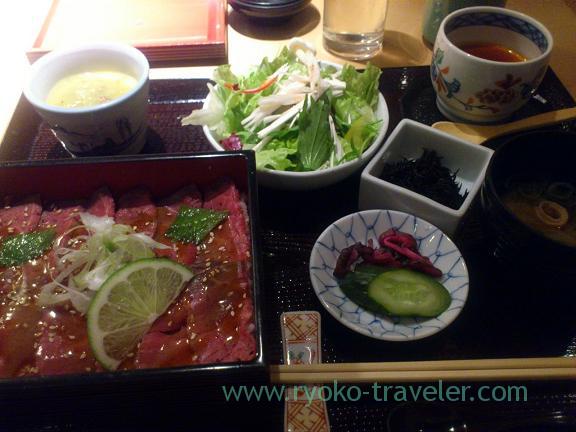 Roast beef box
Chawanmushi
Salads
Boiled hijiki with soy sauce
Pickled vegetables
Wasanbon pudding (Wasanbon is fine-grained Japanese sugar)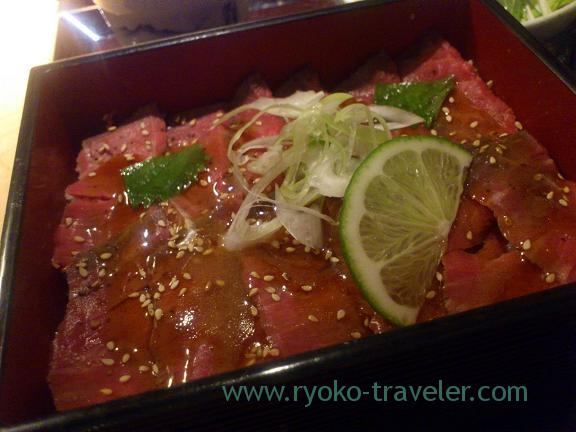 Lots of roast beef !!!!!
I was full with the meal ! And wasanbon pudding was so tasty 😀
If I find such a nice coupon ticket next time, I'll take without fail !
Edomae Niku-Kappo Miyashita (江戸前肉割烹 宮下)
Marronnier gate 12th floor, 2-2-14 Ginza, Chuo-ku, Tokyo
Open – from 11:00 to 15:00, from 17:00 to 23:00
Satudays, Sundays and national holidays – from 11:00 to 16:00, from 16:00 to 23:00
Holiday – Almost no holidays