Because I felt like eating so much sashimi, I visited Edo fuji (江戸富士) in Ochanomizu. They are sushi restaurant and they serve hearty sashimi bowl like Mt.Fuji on weekdays' lunchtime.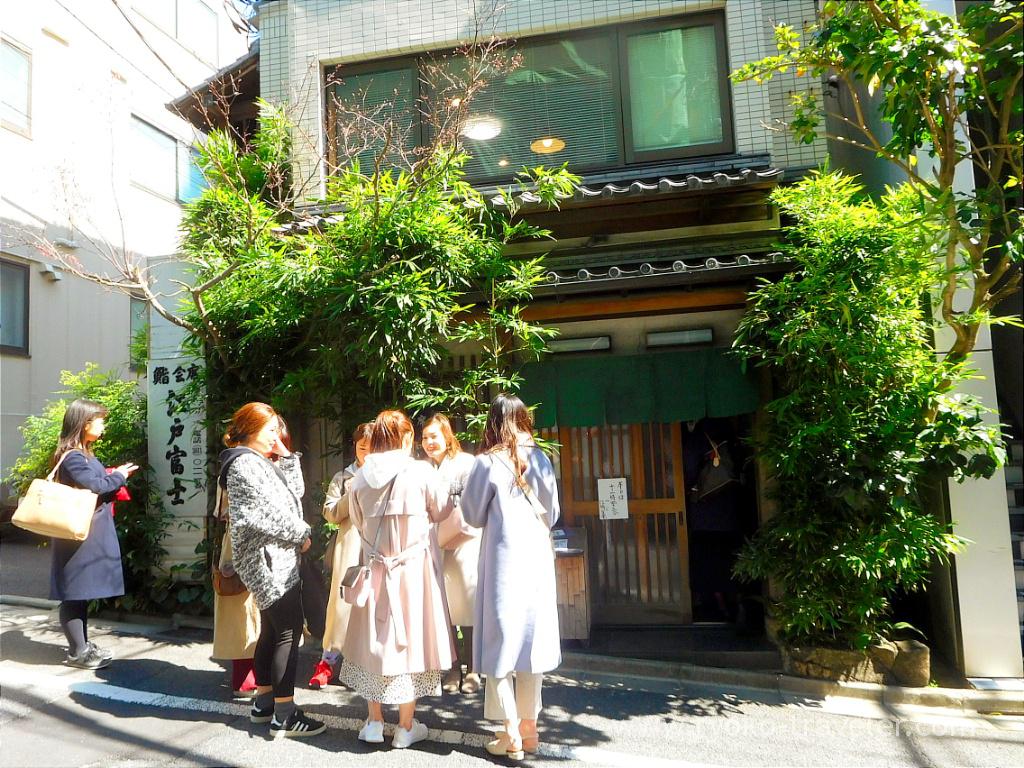 There's a lunch menu outside.
Kaisen-don (海鮮どん, 1600 yen), Kaisen-don with salmon roe (生いくらのせ海鮮どん, 1900 yen), Kaisen-don with sea urchin (うにのせ海鮮どん, 2000 yen). And Bara-kaisen (バラ海鮮), Bara-kaisen with salmon roe (生いくらのせバラ海鮮, 1800 yen) and Bara-kaisen with sea urchin (うにのせバラ海鮮, 1900 yen).
Kaisen-don is sashimi bowl. And Bara-kaisen is chirashi-zushi (barachirashi). Miso soup with (魚汁) is 250 yen.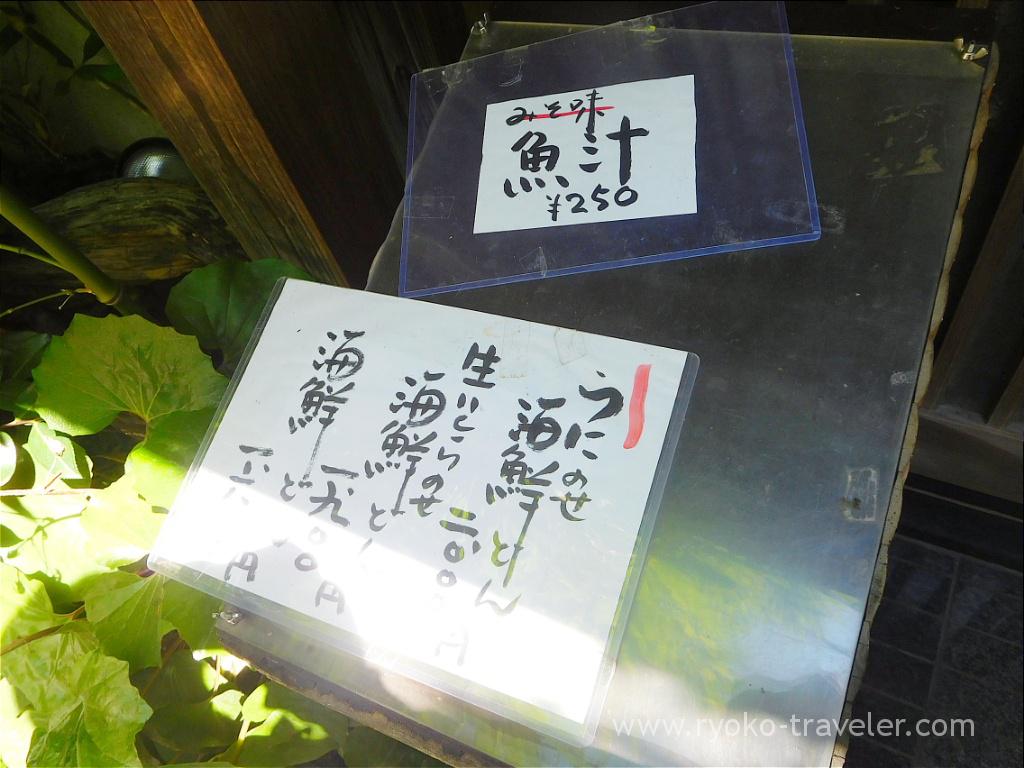 There're counter seats and tables without gap. About 20 seats. We have to share tables at lunchtime.
Though their opening time is 11:30 a.m., when I got to there around 11:30 a.m. that day, there was a notice that say "We are open from 11:45 today". But actually, they were open around 12 p.m.
I ordered Kaisen-don with sea urchin. Because I took the last seat just after the opening time, my kaisen-don took about 40 minutes to be served. And I was surprised at its appearance. Raw seafood was piled up like tower. I had no idea. How many kinds of seafood was piled up ? Shrimp, boiled oyster, yellowtail, kanpachi, tuna, salmon, scallop, raw baby sardines, swuid, herring roe on kelp (komochi-konbu), bonito, kasugo (young red sea bream)… And much sea urchin. Though I wanted to take the photo from horizen, a man in front of me was close. So, I gave up. It's really seafood mountain.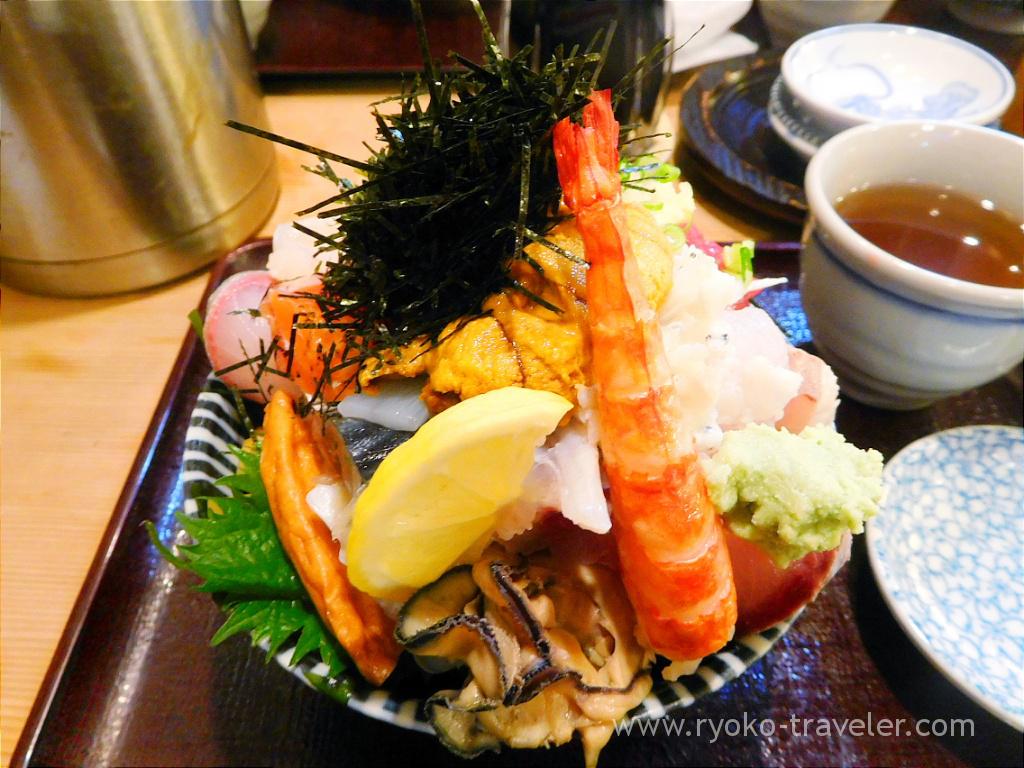 I couldn't reach rice at first. So, I ate some sashimi and moved some onto the dish. And I managed to get rice. All seafood was fresh and good. But there's no end of seafood…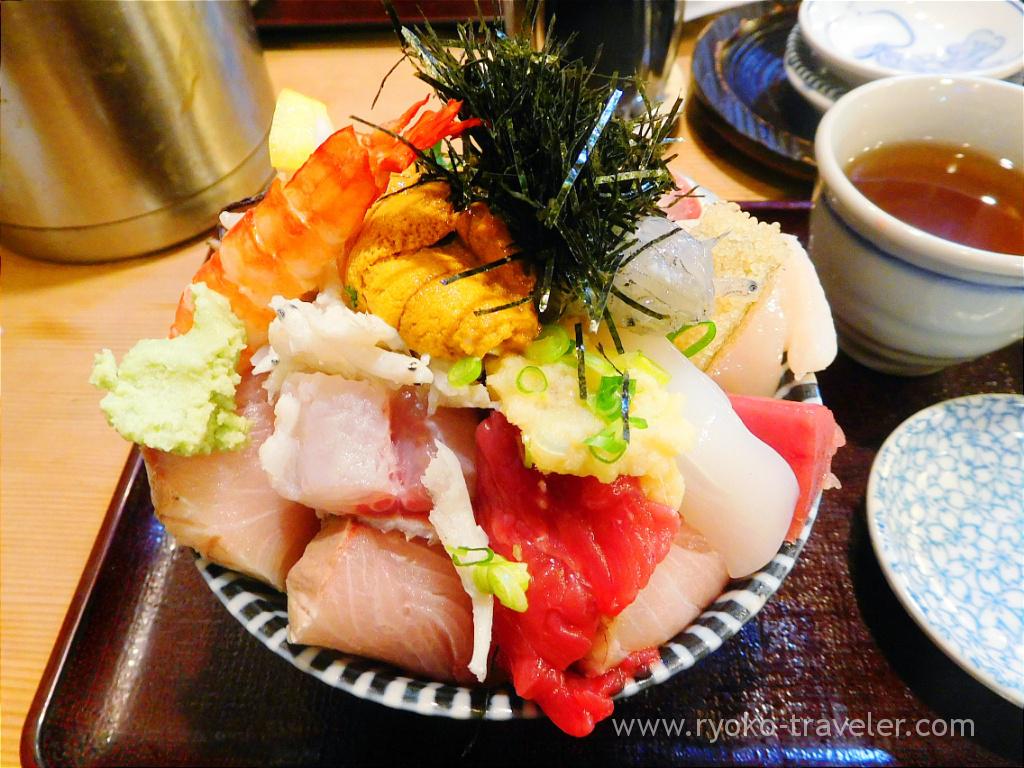 I felt full… but there still 2/3 of sashimi…. completely I felt full. Overflow. When I finished eating, I felt I don't want to see sashimi at least for a week. This was the first time to eat so much sashimi like this.
Well. I ate sashimi the next day, though :p
About

Name Edofuji (江戸富士)
Open Lunch, Dinner
Reservation Available for dinner time only
Credit card Available for dinner time only

Google Map