I took a morning bath at Dogo Onsen Honkan last morning of my trip to Ehime 2010.
I bought a ticket to took a bath at tamanoyu and take a rest at 2nd floor.
Because  of Monday morning, there were not many people.
So I could take a rest free and easy.
I took this picture at before night. (When I took a bath of Kaminoyu.)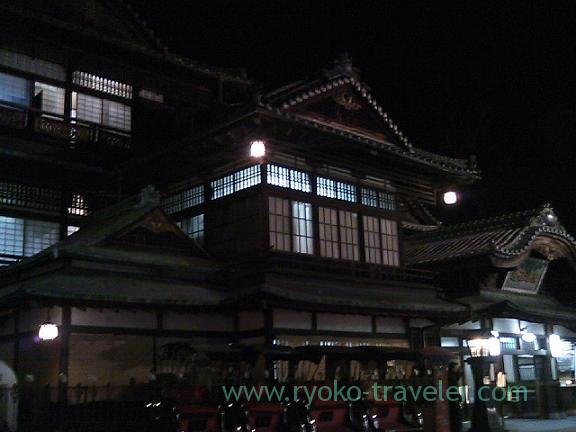 It may be fancy, there were more sulfur smells than Kaminoyu.
It might because the differences between morning and night.
I had heard that the bathtub is small. But there were only 1 or 2 persons except me.
So, I didn't feel close.
The bathroom is small, so there were much water vapor.
Other peoples went out from the bathroom, I opened the window for ventilation.
At Tamanoyu, hair dryer for free.
< About Dogo Onsen Honkan – Tamanoyu >
* name in Japanese / 道後温泉本館 霊の湯
* onsen / Alkaline simple hot spring
* bathtub / one (onsen)
* sauna / nothing
* address / 5-6 Dogo yunomachi Matsuyama-shi Ehime-ken
* closest station / Dogo Onsen station (Iyo Tetsudo)
* charge / 1200 yen for rest at 2nd floor, 1500 yen for rest at 3rd floor (private room)
* open / from 6:00 to 22:00
* holidays / end of year.
* locker / free locker (for shoes, for baggage)
* hair dryer / available (a charge for 20 yen)
* another facility / existence (free)