I met top quality meats again at Gracia !
I was really enjoyed great meats at Dining bar Gracia in Asakusabashi last time and couldn't forget the delicious foods, so I went to there again.

We were four and secured a table.
Beef, pork, chicken … meat party can be held at cozy dining bar ! I know there's popular restaurant in Asakusabashi that is posted by my acquaintance on Facebook so requently and I had wanted to go t...
I happened to meet someone who attended the dinner last time and I was very surprised. He said that he came there for eating Hayashi rice by himself.
Umm. Not only me but also some friends love the restaurant, too.
We orderd chef's choice course that time, too.
"Chef's choice" is not on the menu, but they accept the order around 5000 yen.
At first, we toasted with white wine !
Assorted Satsuma Jidori chicken sashimi (鹿児島直送さつま地鶏刺身盛り合わせ)
Sous vide of Sendai beef marbled short rib (仙台牛の霜降りカルビの低温ロースト)
Steamed and boiled shank (すね肉の蒸し煮)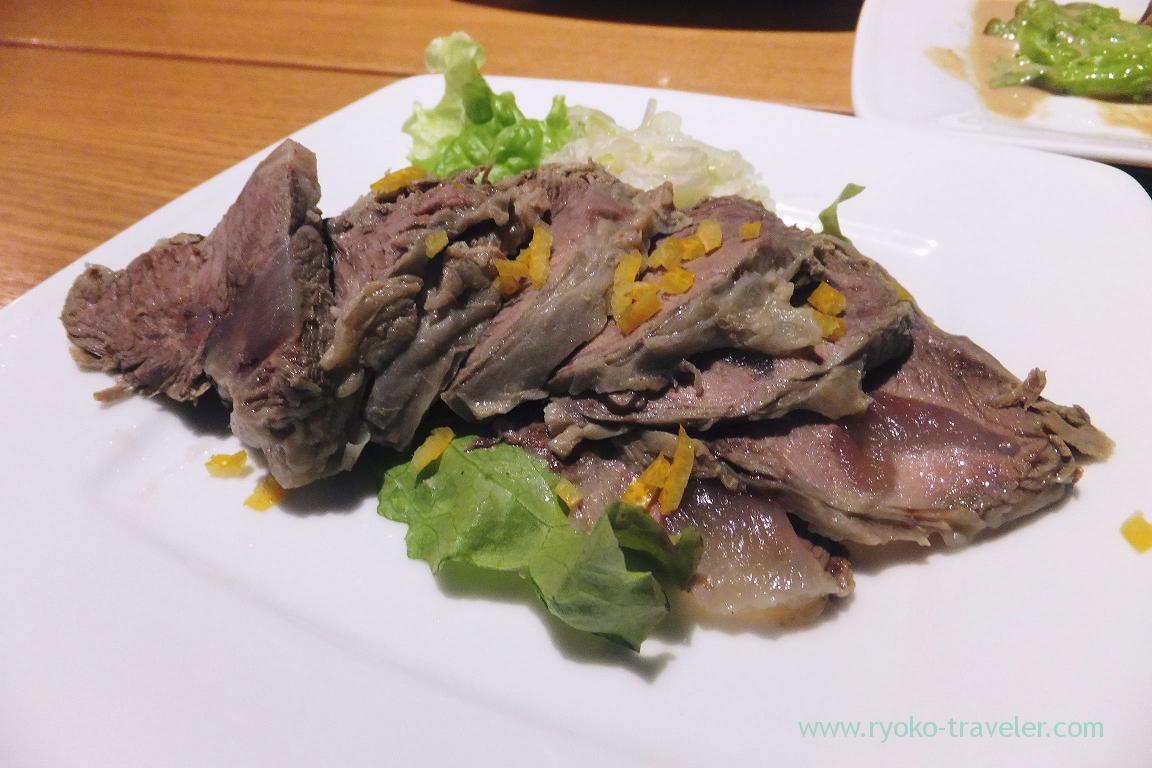 Liver steak (レバテキ)
Maybe the liver was served as raw before …. Delicious.
Fummus (フムス)
The chef serves light foods for refreshing at the perfect time.
Root of beef tongue with sald (タンもと塩)
Tonteki (トンテキ)
Tonteki is pork steak. It is specialty of Gracia !
Sauted Shinsyu shimeji, hiratake and maitake with garlic butter (信州しめじ、ひら茸、舞茸のガーリックバター)
Mushrooms I usually see in  supermarkets are grown inside factories and small, so those wild mushrooms attracted me.
Pickled daikon radish with mustard (大根の辛し漬け)
I ate it last time, too and I was so glad that I could eat it again ! It is simple, but delicious !
Potato au gratin with wagyu beef(和牛のポテトグラタン)
Spare rib (スペアリブ)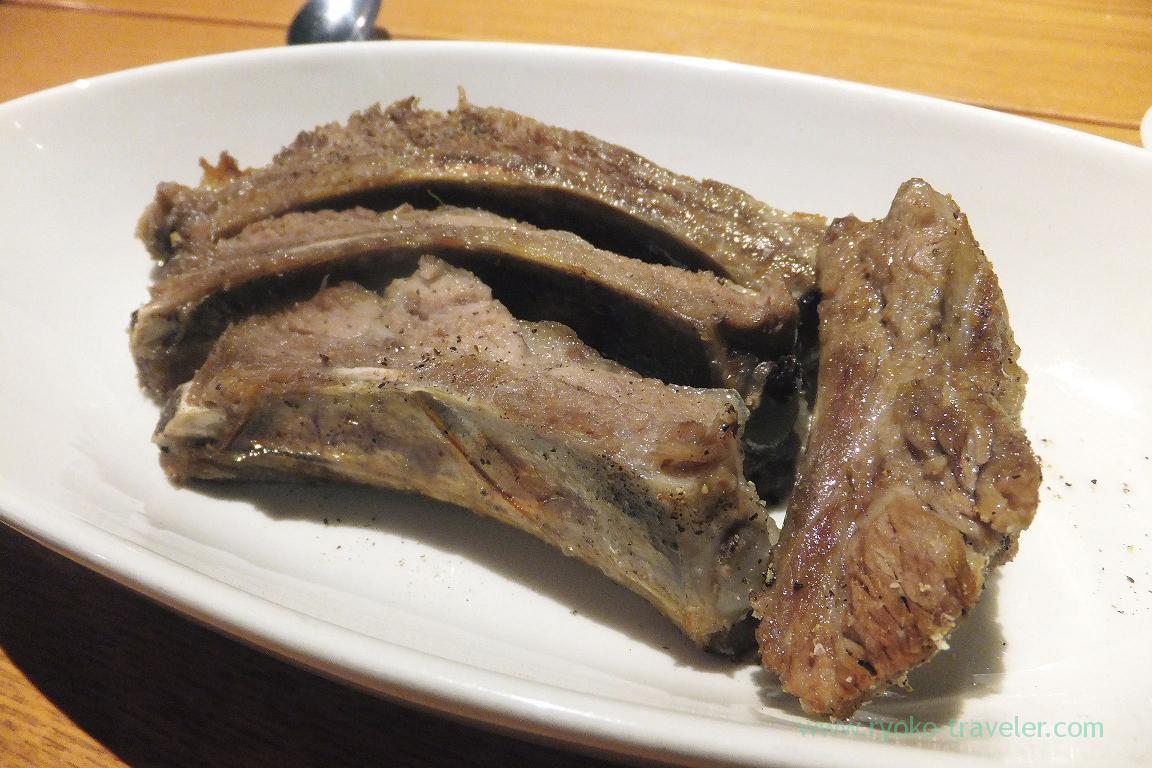 Hayashi rice with A5 rank of Sendai beef (仙台牛A5ハヤシライス)
It was for four people, so it was big like mountain 😛
Hayashi rice isn't served every time.
Cold ramen (かけラーメン)
I hadn't eaten such a delicious ramen ! I want to eat it every day ! Why isn't it on a regular menus ? Why isn't this restaurant a ramen shop !?
Dessert after the meal. As same as last time.
Honey croissant with Shinsyu apple and vanilla ice cream (信州りんごとバニラアイスのハニークロワッサン)
They serve only one dessert and there aren't much foods on the menus. But everything on the menu is their best recommendation.
So you'd better leave everything to the chef 🙂
Now they serve biryani trained from a Bangladeshi curry restaurant that is named "Asia curry house" close to Kinshicho station.

My first Bangladeshi curry. A new Bangladeshi curry shop has been open. Asia Curry House It's in an old building, but this is new curry shop. There are only five seats along the long tabl...
Asia curry house don't use very good meat, so if you want to eat high quality biryani, I recommend you visit Gracia now.
(Gracia don't prepare such menus everyday. Also Hayashi rice isn't served now)
*I said now Asia curry house don't use high quality meat. But Asia curry house serve local Bangladeshi foods as it is in a local atmosphere and it is precious thing. So, I like the restaurant, too 🙂
About Dining Bar Gracia (食堂酒場グラシア)
Address / 2-27-5 Asakusabashi, Taito-ku, Tokyo
Station / Asakusabashi station (JR, Toei subway)
Open / 16:00 – 23:00
Closed / Mondays, third Tuesdays
Twitter / @gracia_2011