Notice : Dilani's Sri Lankan Curry quit her business and went back to Sri Lanka. (May, 2014)
---
Dilani-san's curry is gentle to sick person 😛
I went to hospital today, and then, I went to eat curry as my lunch.
Eh ? I have enormous appetite though I don't feel well yet.
Because I was exhausted by much sneeze and cough.
But to my disappointed, I can't feel the taste of the thin-tasted foods well.
So, I wanted to eat something strong foods.
But I didn't want to eat stimulating foods.
And I remembered the restaurant that is named "Dilani-san's Sri Lankan curry" in Monzen-Nakacho.
Dilani-san's curry is spicy, but also mild because of much beans and vegetables in.
Dilani-san (Ms.Dilani) prepare only one lunch set (800 yen) at weekdays.
The lunch set have three kinds of daily curries (daal curry, vegetable curry and soup curry) , salads and one drink.
After entering the restaurant, I took mushroom curry, daal curry and rice at the table.
Like this.
Also salads.
And then Ms.Dilani let me select my soup curry, Spicy or not spicy. I chose spicy one. (Nevertheless I'm sick ! :O)
I tasted the soup curry a bit. It was spicy and good. And, I put it on my dish.
Those pieces of chicken were big ! But it was so soft, I could cut them by my spoon and fork with easily.Quail eggs were good, too.
Ms.Dilani said to her guests to mix all together and eat, so I did, too.  By mixing them all together, one spicy but mild curry is completed.
That curry was good for my bad-conditioned stomach 😀
My drink was ginger milk tea. We can choice our drinks from ginger tea, mango juice and ginger milk tea. But ginger milk tea cost extra 100 yen.
But it was worth paying extra charge ! It was so sweet and tasty 😉
To my great sorrow, Ms.Dilani will go back to Sri Lanka. So, the restaurant will be closed last of this February 🙁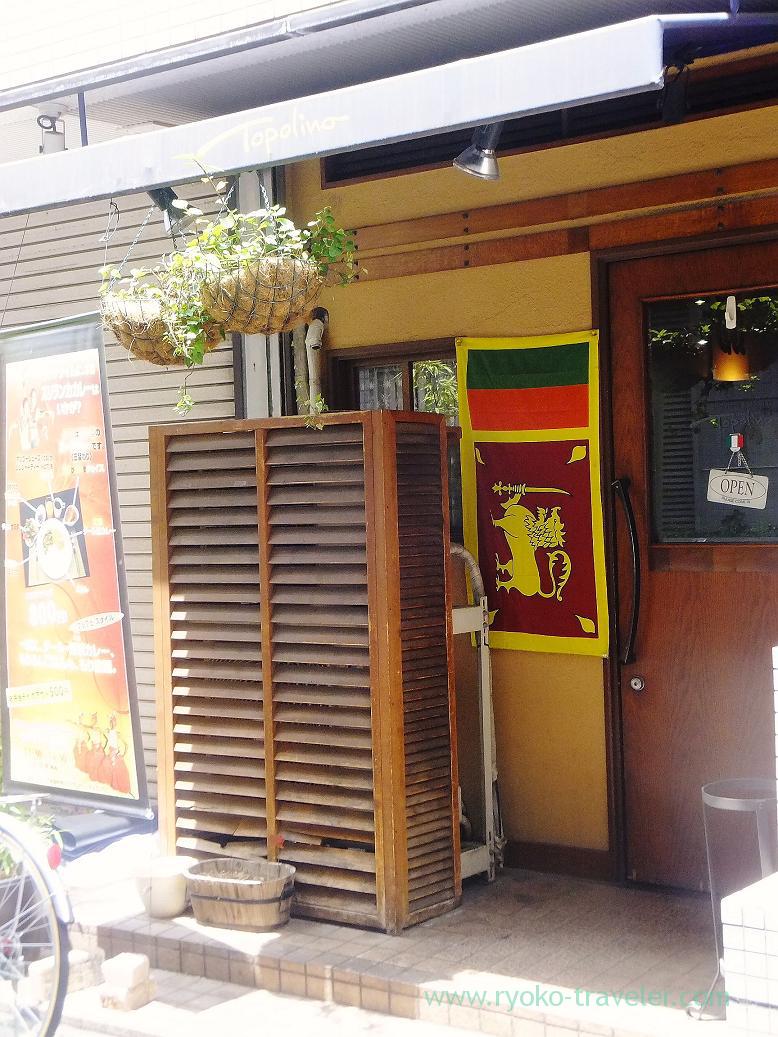 (Closed) Monzen-nakacho : Ms.Dilani's Sri Lankan curry
Notice : Dilani's Sri Lankan Curry quit her business and went back to Sri Lanka. (May, 2014) Sri Lankan curry buf...
About Dilani's Sri Lankan curry (ディラーニさんのスリランカカレー)
Address / Monzen Bldg. 1F, 1-5-11 Tomioka, Koto-ku, Tokyo
Station / Monzen-nakacho station (Tokyo metro, Toei subway)
Open / 11:30 – 14:30
Closed / Saturdays, Sundays
Website / http://srilankacurry.web.fc2.com/(in Japanese only)