Old sento close to Nishi Ojima station.
This is near the Nishi-Ojima station.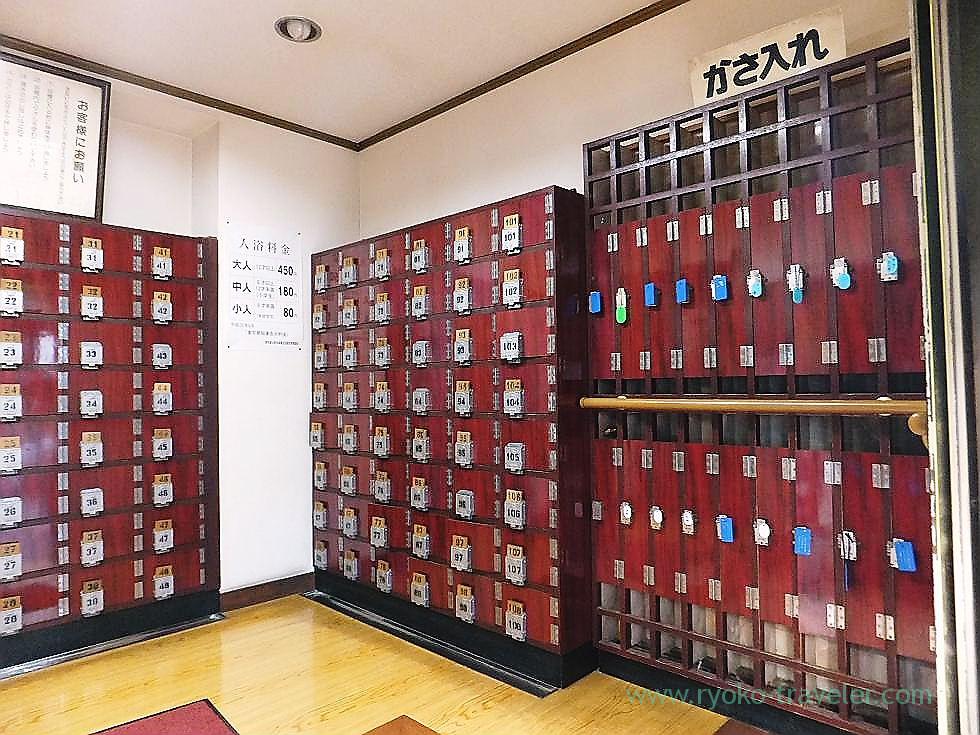 The biggest bathtub is very hot. Bubble up from the bottom and giving out steam. It looked like simmering.
I'm cooked 🙁
Second hottest bathtab is sitting bath. For two persons.
"Mist" (bath powder) was good temperature.
No, it was not hot enough.
Umm. I think the baths that I had taken before it was so hot that I couldn't satisfy the temperature of the water.
This bathtub is for about four persons.
The bathtub had milky-white hot water, so "Mist" is a suitable name for it.
Bubble up from the bottom, too.
Bath powder changing as a special of the day.
A lot of sentos have a bubble bath these days.But I don't like bubble bath.I want to take a quiet bath.
I hate the water splash onto my face by surprise.
There were many guests.
Lockers are not big one, so I used two lockers.
I was anxious about there are not enough available locker.But it was OK.
Mt.Fuji was painted on the wall.It's a royal road.
It's fresh yet. Fishes are painted under the Mt.Fuji.
These fishes are look like eatable fishes,
At first, I thought these are carps and goldfishes.(Was I hungry ? :P)
This is a small sento, but there is a sauna and cold water bath. Showers, too.
Spacious parlor. Many kinds of drinks. There is a TV, too.
About Daini Hisanoyu (第二久の湯)
type of entrance / front-style
onsen / nothing
bathtub / one ( have jacuzzi spot)
sauna / one
address / 1-36-6 Ojima Koto-ku Tokyo-to
closest station / Nishi-Ojima station (Toei Shinjuku Line)
charge / 450 yen (Sento FIxed Charge in Tokyo-to)
open / from 15:00 to 23:0
holidays / every Thursday
locker / free locker (for shoes, for baggage, for umbrella)
hair dryer / available (a charge for 20 yen)
another facility / nothing