I explored two new shops unexpectedly !
I intended to eat Dandan noodles at Aun and went to Yushima in a hurry after work finished.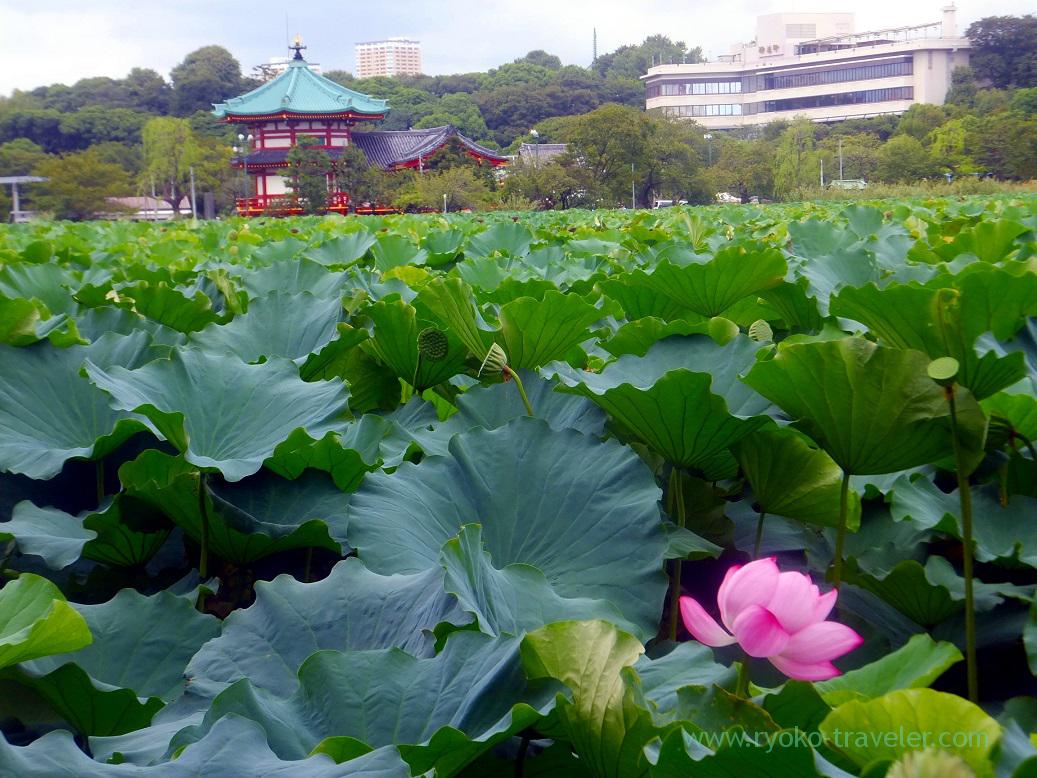 Ueno, Yushima : Ueno Onshi park, Iwasaki garden and Sichuan dandan noodles

About my weekend. I went to Ueno last Sunday, three-day weekend. I walked in Ueno Onshi park. I thought this arc...


Aun is so popular and more, they were temporarily closed until the first of June, so lots of people gathering for eating.
But. But ! Sadly, it was closed because of regular holiday !
Alas !!! I'd forgotten !!!
I was at my wit's end, but I searched an alternative shop. "Well, I knew there's so famous ramen shop around here…."
And I confirmed the map with my smartphone and went to there.
Daiki
Green colored signboard seems to be unusual for ramen shops.
This shop had some people waiting in front of the ticket vending machine. But there were many vacant seats in the shop.
This shop serves some kinds of ramen soup, even out of those, I ordered a Chicken broth ramen (鶏そば, 850 yen) that may be the most popular in the shop.
It had much toppings on it even it was basically ramen. (Special chicken broth ramen cost 950 yen)
At first, I tasted the soup. The refined soup was so flavory with chickens fat.
Next, I ate the noodle. Umm ? It looked so soft and weak.
They make their own noodles. Narrow, smooth and straight noodle. The soup was quite weak for ramen, so If the noodle were more strong and wide, it won't be able to go with the soup.
I'll never tired of having the soup everyday. Well, I want to have it instead of my miso so up every morning 😉
I drunk the soup up, and then I went to Mitsubachi Honten for dessert 😛
Fresh Lemon Kakigori (生レモン氷, 650 yen)
I wanted to eat anmitsu, but I couldn't decide whether I order my anmitsu with soft ice cream or without. Afterall, somehow, I ordered a kakigori 😛
Mitsubachi is about 100 years old and one of traditional Japanese confectionery shop. "Mitsubachi" means honey in English.
I expected that kakigori have slightly sweetness. But no sweetness !! That was very sour !!! It had really fresh lemon !!!
At first the waitress said, "Do you want to put ice cream or shiratama for an extra charge ?"
But I thought lemon don't go well with both. But now I think I should have ordered it with ice cream 😛
But in Summer, it's good for us to get vitamins 🙂
About Daiki (大喜)
Address / Shiraki Bldg 1F, 3-47-2 Yushima, Bunkyo-ku, Tokyo
Station / Yushima station, Ueno Hirokoji station (Tokyo metro), Ueno Okachimachi station (Toei subway)
Open / 11:00 – 15:00, 17:30 – 22:00
Saturdays / 11:00 – 15:00, 17:30 – 21:00
Sundays / 11:00 – 16:00
National holidays / 11:00 – 20:00
Closed / No scheduled
Website / http://www.daiki1999.com/(in Japanese only)
About Mitsubachi Honten(みつばち本店)
Address / Honey Bldg 1F, 3-38-10 Yushima, Bunyo-ku, Tokyo
Station / Yushima station (Tokyo metro)
Open / (STORE) 10:00 – 21:00, (EATING SPACE) 10:30 – 20:00
Closed / No scheduled
Website / http://www.mitsubachi-co.com/(in Japanese only)