My delight mapo tofu and gyoza.
One Friday evening, I stopped over at Keisei-Nakayama station impulsively.
The reason was ….
Cyujitsudo
Sorry. This picture is last time's 😛
I had bad stomatitis, and I had kept from eating spicy foods for a while. And I got better little by little. Then, I felt like eating Cyujitsudo's mapo dofu very much.
I knew my meals come late, so I ordered a coke and waited with drinking it. I went to there by myself.
A, soft drinks like coke are 200 yen. Inexpensive 😀
But my meals came sooner than I had thought. About 20 minutes waiting.
I ordered a mapo tofu bowl and two portions of gyoza.
The bowl have soup. This soup was so tasty.
We can choice our gyoza from two portions and four portions. I ordered two portions of gyoza (餃子2個, 240 yen).
It is good amout for me. I can't eat so much 😉
Those gyoza tasted good. The filling was seasoned well, so I didn't need any soy sauce and vinegar.
I ate one without anything, and I ate another with vinegar.
That's mapo tofu bowl (麻婆豆腐丼, 880 yen).
At first, I intended to order mapo dofu and rice separately, but I decided to order the mapo tofu bowl because it is cheaper.
The mapo tofu was excellent as usual, but the rice was covered with freshly-cooked hot mapo tofu and the rice got soft by soaking in damp.
So, it'd be better to order them separately all the same 😛
Cyujitsudo's mapo tofu is not crazily hot like Manzan's. But it is enough hot. And enough good.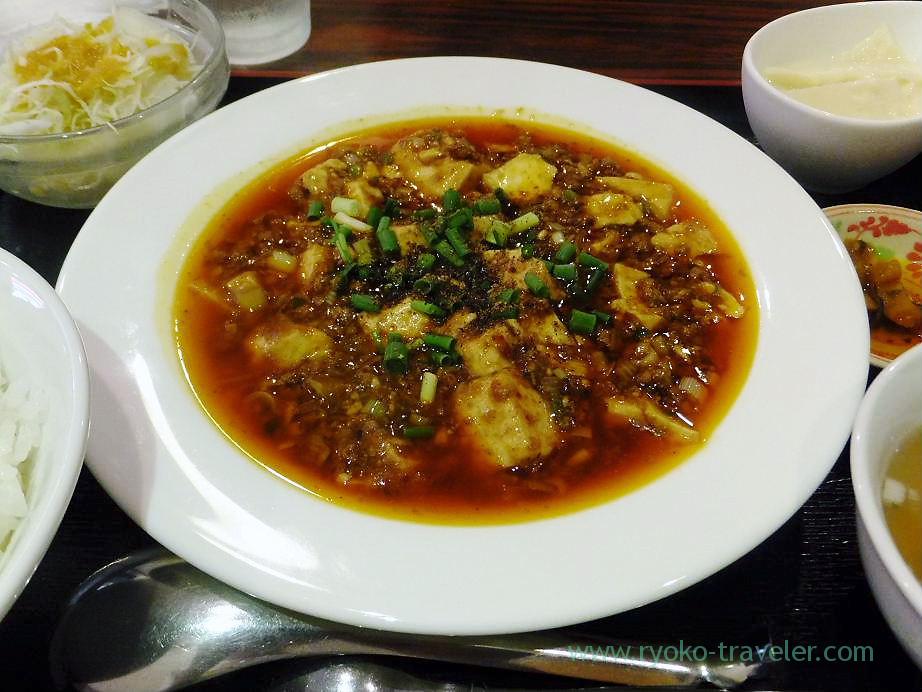 Makuhari-Hongo : My delight Sichuan foods restaurant

Whenever I feel like eating hot foods,,, I wanted to eat spicy mapo doufu, so I went to Chinese cuisine restaurant th...


Ah! Those pictures make me feel like eating it again !
I'll go to there again when cherry tree in Hokekyo-ji temple site blossoms 🙂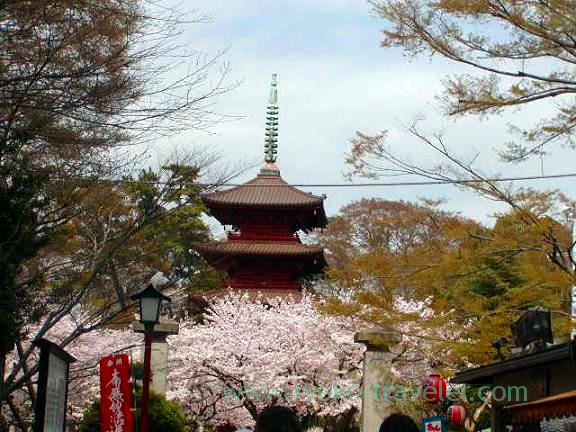 Shimousa Nakayama : Cherry blossoms in Seicyuzan Hokekyo-ji temple

Beautiful cherry blossoms festival 2011. I went to Hokekyo-ji temple for the first time in cherry blossoms season of...


Still, cherries don't start to bloom yet. Forecast says cherry trees will be  in full bloom at  April 1st.
Far from in full bloom, no cherry tree have flowers around me…
Though I heard cherries started to bloom in Tokyo on TV… Where in Tokyo ? Yasukuni ? Ueno Park ? I want to go there this weekend….
"http://www.ryoko-traveler.com/yasukuni-cherry-blossoms2012/
About Cyujitsudo(忠実堂)
Address / 1-15-23 Moto-Nakayama, Funabashi-shi, Chiba
Station / Keisei-Nakayama station (Keisei main line)
Open / from 11:30 to 22:00
Closed / Wednesdays