Cutlet dinner after peach parfait
After eating parfait at Fukunaga, we went toward Yotsuya station for dinner.
Well, you think dinner after dessert is reversed order. Yes, I think so, too.
But we had no choice but to do so.
Fukunaga close at 7 p.m. and I would be great disappointed if peach parfaits already sold out.
Yotsuya is far from my office and my town is the opposite direction.

This season has come this year, too ! Now is summer. I hate muggy summer. But there is only one thing that makes me excited. That's peach ! Summer is peach season ! I went to Fukunaga Fruits Parlor ...
So we visited Cutlet Yotsuya Takeda after Fukunaga.
By the way, Yotsuya sanchome close to Fukunaga Fruits Parlor is far from Yotsuya that is the closest station of Cutlet Yoshoku Takeda nevertheless those names are similar. About 20 minutes walk on my foot (slow..).
It was light excercise after the parfait 🙂
Please visit last post for about the origin of Takeda. It is recent post, so
maybe people who remember it well don't want to see the long sentences again 😛


Two long-established and popular shop within Yotsuya area I awared of myself not going to Fukunaga Fruits Parlor for a long time. So, I went to there. Before that I had lunch at this shop. Cutlet...
We found beef cutlet on the menu. When we visited there last time at lunch hour, it was sold out. So, my friend ordered it. Though I wanted to eat it, too, I ordered different set for blog.
Of course, I expected he exchange some 😛
This is the beef cutlet set (ビーフカツレツ定食, 1500 yen) and crab cream croquette (カニコロ, 320 yen) and putting small amount of curry on the rice (カレーちょいがけ, 100 yen).
Wow….He also ate parfait before it….
Pool of brown sauce !
My pork fillet cutlet and deep fried shrimp set (ヒレエビ定食, 1050 yen)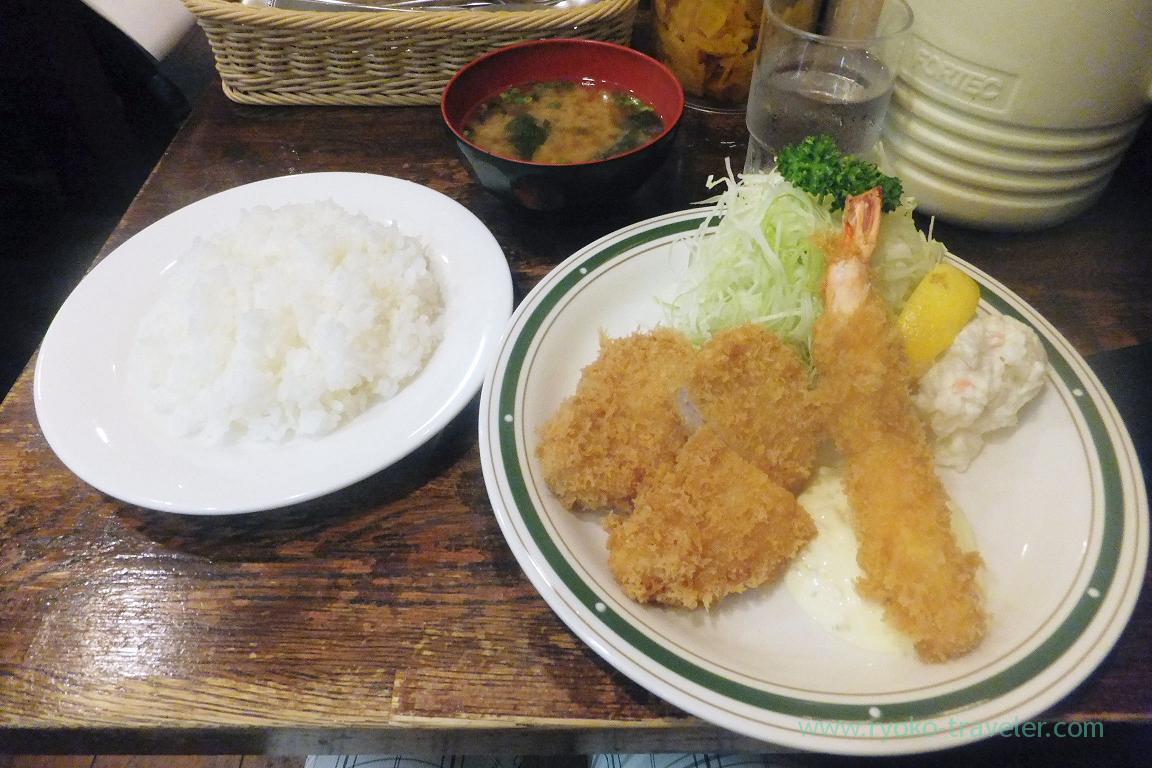 Basically, I like eating tonkatsu with mustard. So, at first, I put much mustard on my dish.
I have to apologize. I was disappointed when I saw it at first. The fillet cutlet was small and the meat looked dry from its section. And the coating looked not delicious 🙁
And I get used to seeing big shrimp at Tsukiji, so the shrimp seemed to be small.
But this fillet cutlet was soft and juicy contrary to my expectation. The fat was not too much. But the degree of fat was just for me ! Delicious.
Also the shrimp of the deep fried shrimp (ebu-furai) was springy texture ! Both had crispy coating !
Contrary to its looking, I was very satisfied with its quality !
Now I said mustard is best seasoning for tonkatsu, but the rock salt on the table is good, too.
I can't understand why popular restaurants recommend us to eat their meat with rock salt because I think rock salt is salty and tasted too strong and I can't taste the meats itself. But this rock salt didn't disturb the taste of the meat 🙂
While I wanted to taste beef cutlet, he offered me to exchange some 🙂 Yaaay !
My beef cutlet 🙂
The meat was rather tough, But we can't eat beef cutlet at another restaurant at such a low price !
The knife and folk is needed for this beef cutlet. Well, I used chopstick and knife 😛
Such a strange way of eating is allowd in Japanese-Western cuisine shop. That is nice 🙂
About Cutlet Yotsuya Takeda (かつれつ四谷たけだ)
Address / Minemura Bldg 1F, 1-4-2 Yotsuya, Shinjuku-ku, Tokyo
Station / Yotsuya sation (Tokyo metro, JR)
Open / 11:00 – 15:00, 17:00 – 21:00
Saturdays / 11:00 – 15:00
Closed / Sundays, another national holidays