Two long-established and popular shop within Yotsuya area
I awared of myself not going to Fukunaga Fruits Parlor for a long time. So, I went to there.
Before that I had lunch at this shop. Cutlet Yotsuya Takeda.

It stand close to JR Yotsuya station. This shop is occupied by counter table mainly.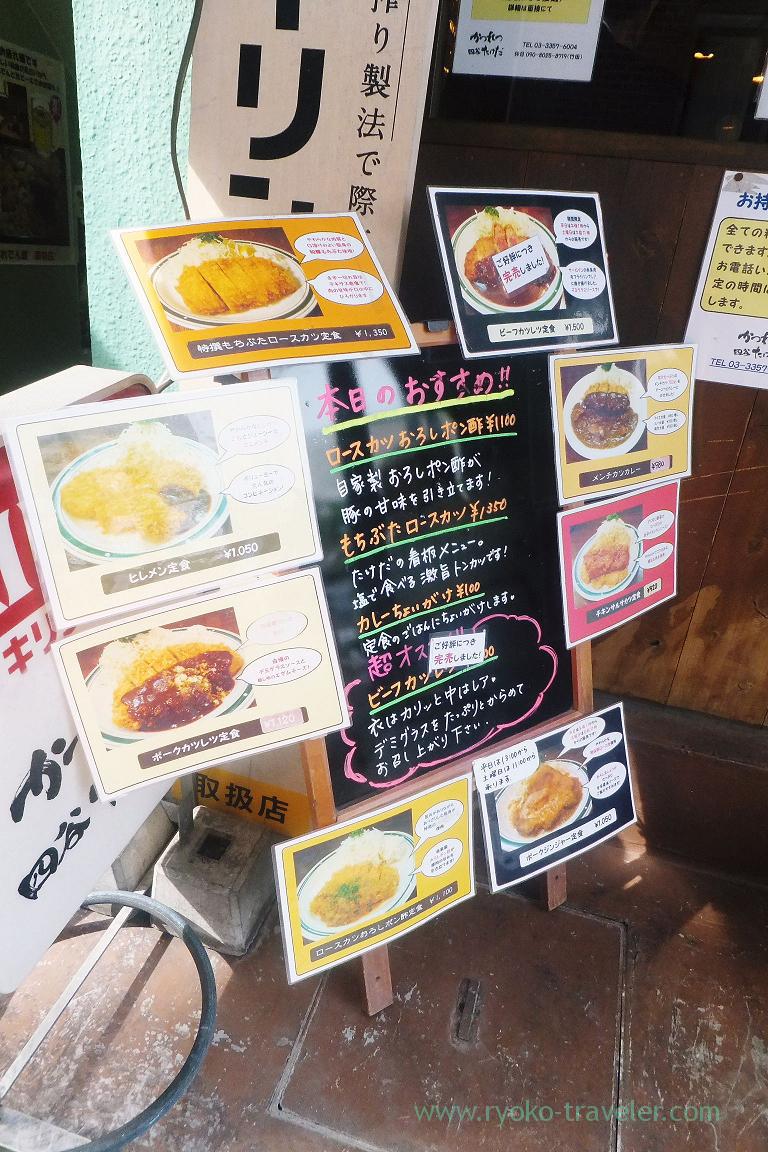 There used to be a legend of Japanese Western cuisine restaurant named "Elise".
Elise quit their business though there were so many regular customers and then Takeda started as cutlet and deep fried foods specialty shop with Elise's recipe.
By the way, this shop inherit the taste of "Takeda" that used to be in Tsukiji Market. (Now Torito is there), too.
I wanted to eat beef cutlet, but it was already sold out. So, I ordered a
Special Mochibuta pork sirloin set (特選もちぶたロースカツ定食, 1350 yen) that is recommended on the menus.
This pork is Wabuta Mochibuta pork that is so popular and many of pork meat
specialty shop use it.
The shop recommend it with rock salt from Texas.
Rice dished up on the flat dish
miso soup
tonkatsu
either chopsticks and folk on the table
Traditional Semi-Western style is good ! The Yoshoku style !
The tonkatsu had crisp coating, and had crunchy texture. Though its meat was not too fatty but enough juicy.It was good. Salt made the tonkatsu more flavory.
My friend ordered it. Pork cutlet set (ポークカツレツ定食, 1120 yen).
Demi-glace sauce and edam cheese on it.It was also good, but it was too thick for me. I enjoyed two slices of this cutlet a lot. But maybe I can't eat up this dish by myself.
After that my target, Fukunaga Fruits Parlor!
From Yotsuya to Yotsuya-sanchome, it takes near 15 minutes.
About one year passed since I had been there.
http://www.ryoko-traveler.com/fukunaga-fruits-parlor8
Fukunaga's point card.
There are every name of fruits parfaits that they serve there.
When it is completed, the shop give us a gift.
I heard they give us fruits-pattern glass now.
Well, when I get all stamps on this card, it might be changed 😛
They prepare some colors of point cards like pink, green and so on. It is the color of seasonal fruits when point cards are handed to customers out.
My point card is purple. Purple is …. yes grape ! Grape color !
What parfait I ate at Fukunaga for the first time was grape parfait !
I remember I was so impressed with the taste that time !
When we got to the shop, there were about 5 groups waiting along the stairs.
There were fewer than usual in summer daytime.
Basically, after people finish eating, almost all people get out of the shop quickly.
It has a steady flow of customers like ramen shop 🙂
Frutas that is so popular as fruits parfait as same as Fukunaga need long time
to serve parfaits and there are only 7 seats or so.
So if you want to delicious fruits parfait quickly, I recommend Fukunaga.
(Only one man cook foods at Frutas slowly because especially Frutas parfaits are like tower)
http://www.ryoko-traveler.com/fruits-cafe-frutas3/
By the way, I eat nothing but seasonal parfait at Fukunaga and I don't eat parfaits that is sold all year around.
So, I decided to eat melon parfait (メロンパフェ, 950 yen). Violet ball is grape !
Sandwiches were already sold out. So, I ate parfait only 😛
Ripe mango was so sweet.
Fukunaga's parfaits are small, so people eat two parfaits often.
But now the shop is so crowded all time and some of fruits parfait are sold out past noon (Especially seasonal parfaits) so, there's a rule we can order only one parfait each.
Of course, if you are there at evening and there are enough stocks, you can order two or three or more parfaits 🙂
Anyway the rule is for every customers to eat at least one parfait.
Well, I'm not affected by the rule at all. I can't eat two parfait 😛
My stomach is weak.
My friend ordered watermelon juice (スイカジュース, 600 yen). 100% fresh watermelon going down smoothly !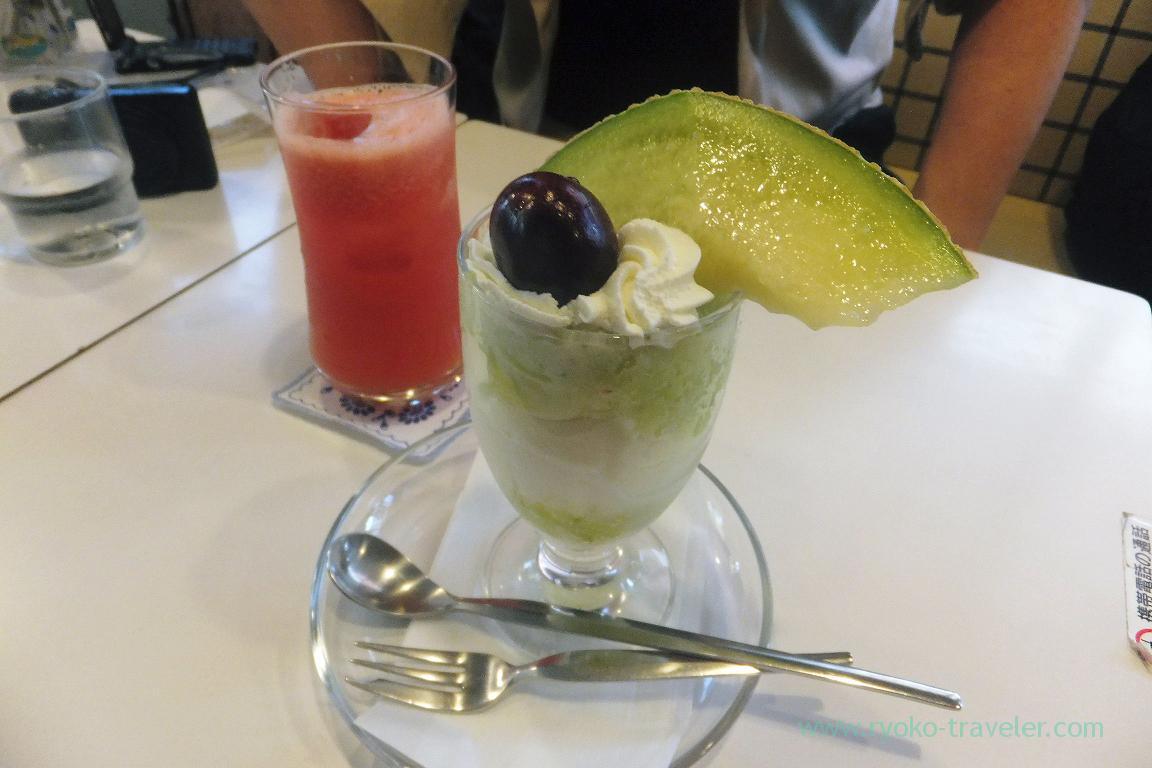 When we got out of the restaurant, there were about 10 groups !
About Cutlet Yotsuya Takeda (かつれつ四谷たけだ)
Address / Minemura Bldg 1F, 1-4-2 Yotsuya, Shinjuku-ku, Tokyo
Station / Yotsuya sation (Tokyo metro, JR)
Open / 11:00 – 15:00, 17:00 – 21:00
Saturdays / 11:00 – 15:00
Closed / Sundays, another national holidays
About Fukunaga Fruits Parlor (フクナガフルーツパーラー)
Address / F-Bldg. 2F, 3-4 Yotsuya, Shinjuku-ku, Tokyo
Station / Yotsuya-sanchome station (Tokyo metro)
Open / 11:30 – 20:00
Wednesdays / 15:00 – 20:00
Saturdays / 11:30 – 18:00
Closed / Sundays and another national holidays
Twitter / @fruits_fukunaga