Udon in Spring.
You might feel strange about the title of this post :p
I went to Gotanda to eat special curry that is served by Curry shop Udon
during May only.
I went to there at ten times or so, but this was the first time to visit there during warm season.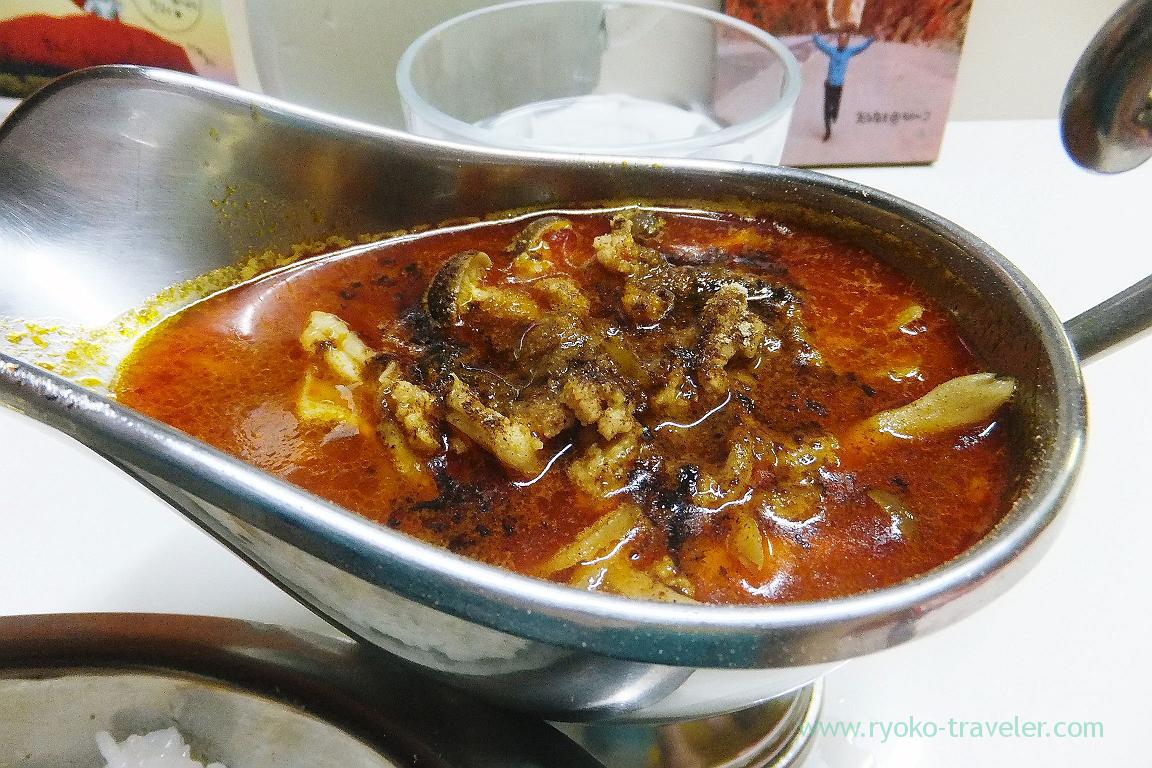 Gotanda : Kinoko no sakebi, October-limited curry !

Within this month ! Don't miss out if you're in Tokyo now ! I ate awesome curry at Gotanda this year, too ! October-...


http://www.ryoko-traveler.com/curry-shop-udon6/
Around 6:30 p.m, when I got to Udon, it was still bright and warm. I felt strange a bit 🙂
They serve "Spring night curry"(mild spring night curry, spicy spring night curry) in April and May. And they also serve SPECIAL spring night curry called PREMIUM just in May.
In short, Spring PREMIUM (春のプレミアムかれー, 1400 yen) have more ingredients than normal one.
Because it have much ingredients, regular curry pot can't accept everything. So, the chef serve it in the deep dish.
They show how to eat this soup curry on their offocial website. So, I did as they show.
1. The chef put much spicy seasonings on the curry, so mix it well.
2. Put vegetables in the curry onto the rice.
3. Eat rice and drink soup separately as usual.
It was very spicy curry and I felt satisfied. Delicious.
It had tomato, cellery, puprica, asparagus, scallop, spicy minced meat and so on. Because of tomato and another seasonings, this curry was sour a bit. Its sourness was comfort.
I ate it up ! Delicious.
When I feel like eating something very spicy foods, I usually go to this "Udon" or "Aun" in Yushima.
http://www.ryoko-traveler.com/sichuan-dandan-noodles-aun4/
*Though its name is "Udon", they don't serve udon. If you want to eat delicious udon around Gotanda area, go straight to Oniyanma 🙂
http://www.ryoko-traveler.com/oniyanma1/
About Curry shop Udon (かれーの店 うどん)
Address / 2-31-5 Nishi-Gotanda, Shinagawa-ku, Tokyo
Station / Gotanda station (JR, Toei subway)
Open / 11:30 – 15:00, 17:30 – 21:00
Closed / Sundays and national holidays
Website / http://www7b.biglobe.ne.jp/~udon/(in Japanese only)