Oyster season has come !
December.
I have waited December for a year !
Long-awaited December !
This is the season of precious soup curry !
Finally, I could eat long-awaited curry this year, too.
At "UDON", soup curry shop in Gotanda.
As I say every time, this shop is named "UDON" but is a curry shop. And he doesn't serve udon !
If you want to eat udon in Gotanda, go to Oniyanma 😛
http://www.ryoko-traveler.com/oniyanma1/
Well, we entered the shop and confirmed the menu. OK. Our precious curry that is named "Oyster God" is on the menu.
This year, it cost us 1650 yen. (Current price)
By the way, you'd better reserve it in advance if you want to eat it because it have lots of oysters.
You can reserve curry only, not your seats.
If the shop is full, you have to wait for taking your seat. No problem. Your curry never run away.
Only one chef cook all guests' curries, so it takes much time. But somehow I don't hate waiting in the shop. Maybe I'm convinced of the quality of his curry.
Well, first of all, our rice came.
Fried cheese, oysters and minced meat with plenty of spice is on the rice !
Of course, the curry was excellent, but this fried oysters were also tasty ! Great spicy smell !
Those oysters were rare and its innards had rich taste.
And curry. Lots of basil ! As you see, it also had much oysters.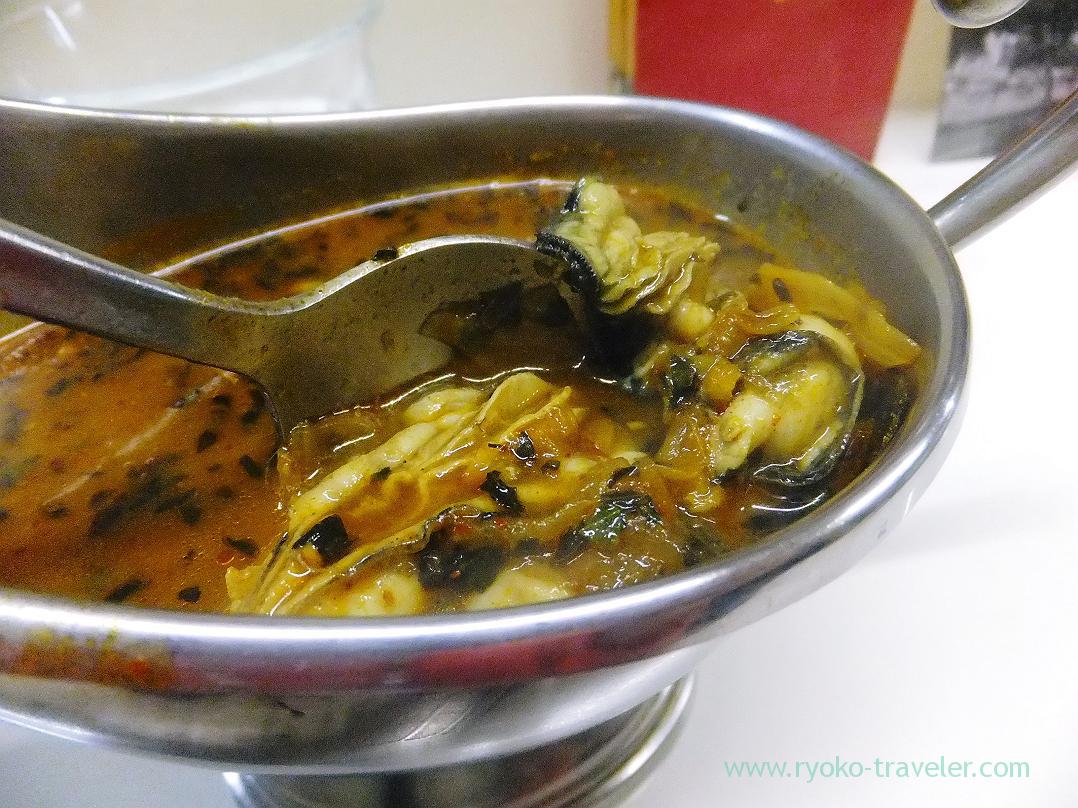 Those were well-cooked and had springy texture !
At least I want to eat it twice, or I can't welcome next year 😛
About Curry shop Udon (かれーの店 うどん)
Address / 2-31-5 Nishi-Gotanda, Shinagawa-ku, Tokyo
Station / Gotanda station (JR, Toei subway)
Open / 11:30 – 15:00, 17:30 – 21:00
Closed / Sundays and national holidays
Website / http://www7b.biglobe.ne.jp/~udon/(in Japanese
only)