I ate Oyster God twice this year !
Sorry, this post is about my last December.
I was so impressed by the foods that is named "Oyster God" last season.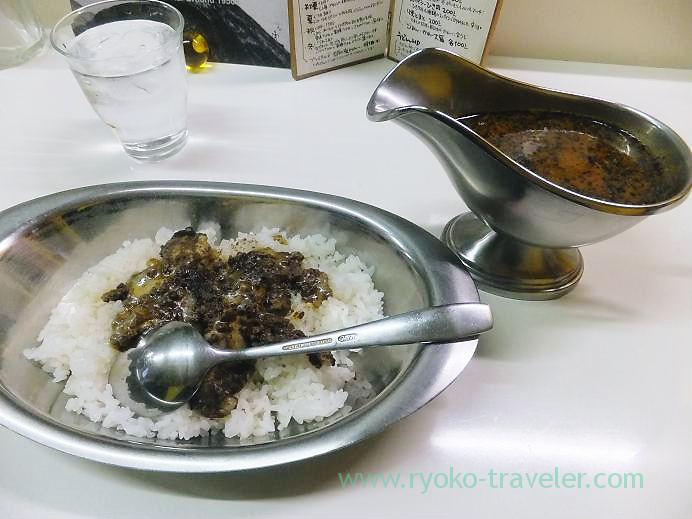 Gotanda : Oyster God at Udon

Oyster ! oyster !! oyster !!! My friend took me to a curry shop that is named Udon last of December. Well,it isn't a ...


Oyster God is served by Curry shop Udon in Gotanda only in Decembers. Udon is not name of food. It's curry shop's name 😛
So I was waiting for December come for a year.
Finally, I could eat oyster god last year, too ! Twice ! 😀
Its appearance was gloomy as usual. I took this picture closely,so this picture don't looks so gloomy by the lights of the inside, but this shop looks like closed shop at a distance.
Needless to say, I ordered a Oyster god (オイスターゴッド, 1600 yen).
Fried oysters and cheese on the rice.
There were two types of Oyster god, Chinese herbal medicine type and basil type. I ate a basil type one last year, so, that time, I ordered  a herbal medicine type one. And my curry soup was large helping (+100 yen). The quantity of oysters were same.
But just the soup was tasty.
Much oysters in it 😀 I was exciting !
And, just before the end of the December, I visited again. That time I ordered a basil type.
I prefer basil type to Chinese herbal medicine type. I like the flavor of the basil 😀
And, Udon served Kinoko-no-sakebi (きのこの叫び) 1500 yen last November. Kinoko-no-Sakebi means "The scream of mushrooms". It's a strange name 😛 The curry had much mushrooms.
On the rice,
And in the curry. So much mushrooms !
Udon serves such a seasonal curry like that and I'm always looking forward to it.Especially, I have no will before oysters 😀
Udon serves oysters curries this month, too. "Dried plum and oyster curry", "Oyster queen" and "Oyster God"
Eh ? Udon says he serves Oyster god this month, too on his homepage.
But he doesn't show its price and this month's oyster god seems not same as Decembers'. It seems drastic curry 😛
About Curry shop Udon (かれーの店 うどん)
Address / 2-31-5 Nishi-Gotanda, Shinagawa-ku, Tokyo
Station / Gotanda station (JR, Toei subway)
Open / 11:30 – 15:00, 17:30 – 21:00
Closed / Sundays and national holidays
Website / http://www7b.biglobe.ne.jp/~udon/(in Japanese only)