Now Oysters can be eaten at Choseian, too !
The weather is getting colder and colder, especially earlier morning and night.
December is coming, so it's the matter of course. It was too warmer until last week !
So, I'll be unable to across Kachidoki bridge so frequently as now. There are many foods that I want to eat at Tsukiji before mid-winter come.
I went to Choseian to eat one of that 🙂
I visited Choseian for breakfast before, but I found that Choseian is also good during my lunch break and now I use Choseian for lunch.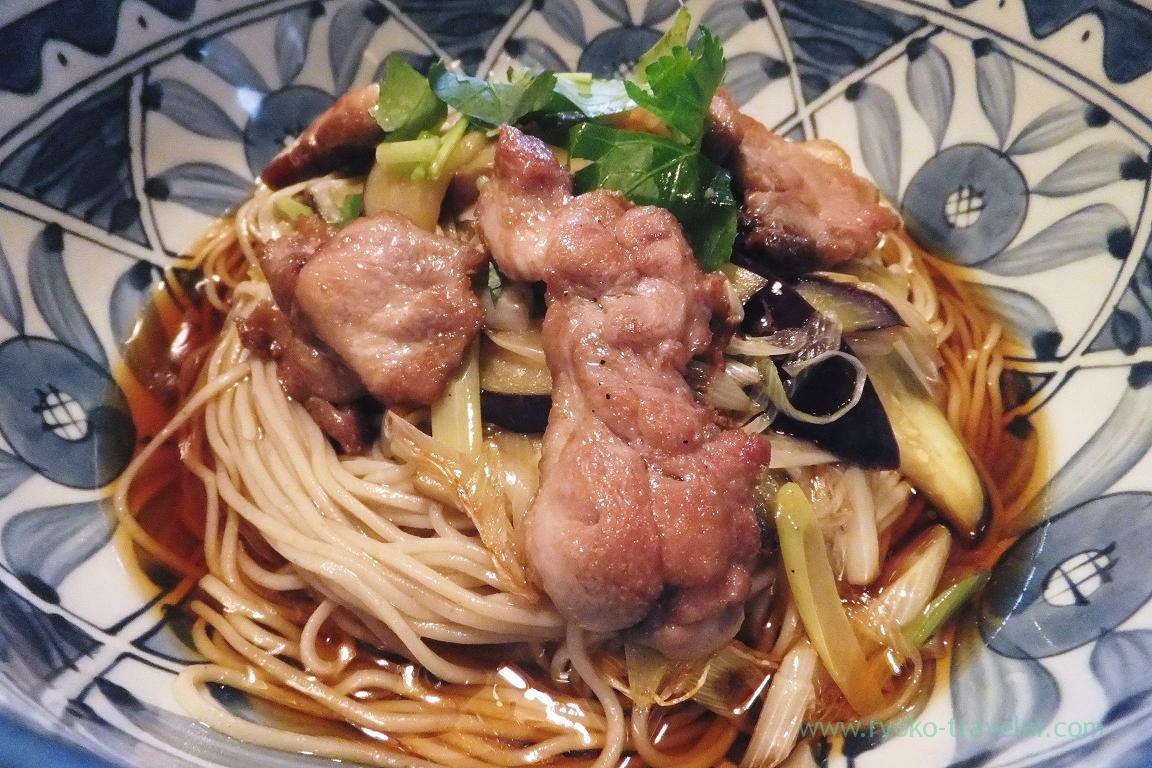 Tsukiji : Cold duck meat nanban soba at Choseian

Still it is good season for cold soba This is a sequel of last post about breakfast at Yonehana. After Yonehana, o...


I visited there because I wanted to eat Curry soba with oysters tempura, but the paper at the door attracted me.
"Today's recommendation, Soba with round greeneyes and Kyo rape blossoms tempura"
I didn't know Kyo rape blossoms. "Kyo" is Kyoto. Yes, it is rape blossoms originated in Kyoto. (But it is said that most of Kyo rape blossoms served around Kanto region come from Chiba.)
I thought I'll be unable to meet this food at Choseian if I miss this chance because such a seasonal soba is changeable. But curry soba with oysters tempura might be served until March.
Umm. I couldn't decide soon. But finally, I decided.
Curry soba with oysters tempura (かき天かれーそば, 1500 yen)
This curry soba is loved throughout years. But of course, curry soba including oyster tempura is eaten during winter only !
There was plenty of curry, so, it was very hot until I ate it up and it took much time.
There were two pieces of oysters only. But those were large !
You can imagine… large oyster and its coating that absorbed in much curry was so heavy …. it was hard to hold it up with my chopsticks.
I like such a narrow soba 🙂
Ah, I want to soba with round greeneyes and Kyo rape blossoms tempura all the same. I'll go there soon. I wish they still serve it.
About Choseian (長生庵)
Address / Monteberde Bldg 1F, 4-14-1 Tsukiji, Chuo-ku, Tokyo
Station / Tsukiji station (Tokyo metro)
Open / 7:00 – 15:00, 17:30 – 21:00
Saturdays / 7:00 – 14:00, 14:30 – 21:30 (from 14:30 reservation required)
Closed / Sundays and national holidays
Website / http://www.tsukiji.or.jp/search/shoplist/cat-d/cat-14/290.html(in?Japanese only)