「 Seafood 」一覧
Sashimi bowl shop having the longest line I had breakfast at Kaisendon Oedo, inside Tsukiji Market. But I couldn't take picture because they forbid taking pictures. Truthfully speaking, I wanted...
I visited Tsukiji on Saturday for the first time. It was fully packed ! I had something to do at Ginza, so I had stopped at Tsukiji. I had heard the Tsukiji Market on Saturdays is crowded surprising...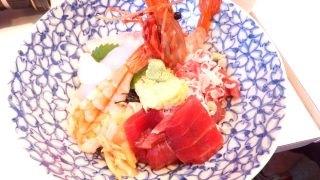 No kidding. Tsukiji Market is closed! I went to Tsukiji by first train to eat at "Sushidai", but Tsukiji Market is closed! Tsukiji Market is always closed on Wednesday. I forgot! I wonder if whe...