Spicy, or not spicy ?
I felt like eating ramen at Asyura after a long absence, so I went to there.
Asyura is quite far from Funabashi station. I could hardly go there.
About 20 minutes or so by walk. Is it not far for you ? :p
I bought a ticket at ticket vending machine outside the shop and opened the door as usual.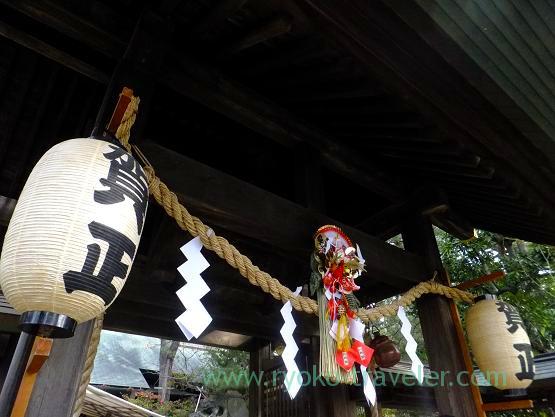 Funabashi : Hatsumode 2014
My first visit to a shrine and eat out 2014 This post is about my New Year holiday. I thought I should upload this post...
Because it was late for lunch, there was few people in the shop. So, our ramen was served soon.
My ramen was
Very spicy sesami dandan noodles (かなり辛い胡麻担々麺, 900 yen).
Though I like ordinary sesami ramen that isn't spicy, but I like spicy noodles better all the same 🙂
Especially, this shop's this spicy ramen was great. Of course, the sesami soup is creamy and have lots of sesami, it also have plenty of spice. I feel like drinking the soup up every time, but I always stand because ramen soup have much salts. But I drink half of it every time :p
If you don't eat ramen so frequently, you don't need to care about that, but I eat ramen at least once in every month. Especially, in Winter. In cold Winter, ramen is feast.
My friend's ordinary sesami ramen with ajitsuke tamago (あじ玉胡麻らーめん, 820 yen). They proud of their sesami ramen. Certainly it is very good. As you see, sesami on it
And also he ordered it, too.
Small roasted pork bowl (炙りチャーシュー丼, 200 yen)
I think every time. I want to eat small bowl like this with ramen. But it's large for me 🙁
I need larger stomach.
It was tasty, I want to eat it up by myself, too !
About Ramen Asyura (拉麺 阿修羅)
Address / 2-7-3-101 Minatocho, Funabashi-shi, Chiba
Station / Funabashi station (JR), Keisei Funabashi station (Keisei main line)
Open / from 11:30 to 15:00, 18:00 to 22:00
Closed / no scheduled
Twitter / @ramen_ashura
Website / http://www.ramen-ashura.com/