My first visit to a shrine and eat out 2014
This post is about my New Year holiday. I thought I should upload this post within January 😛
My first visit to a shrine of the New Year was Funabashi Daijingu Shrine. Truthfully speaking, I wanted to go to Narita-san (Shinsho-ji Temple). But it is a little far from my house, so I decided going to Funabashi Daijingu Shrine.
Nevertheless I went to there so early in the morning, but there were already lots of people there.
I consulted an oracle (omikuji) and the written oracle said that I would have the slightly good luck.
Many people tied the written oracle to trees in the precincts of the shrine, but I didn't. I want to take my written oracle to home.
After that we moved to the ramen shop far from the station.
This was the my first eating out of this year 😀
Ramen Asyura
Ramen Asyura
I already visited the ramen shop several times. But this was the first time to eat their regular ramen.
Funabashi sauce ramen, No soup sesami ramen and extremely spicy ramen…. everytime I ate special limited ramen at there.
Toppings and small foods can be bought with cash.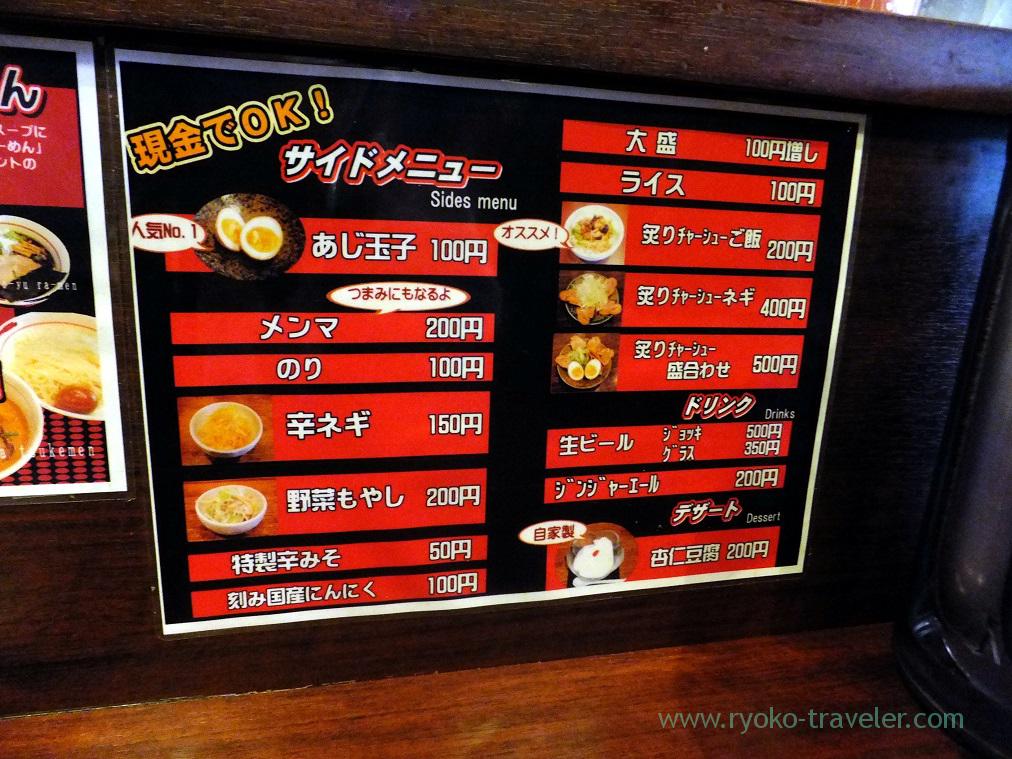 Sesami ramen with boiled egg (あじ玉胡麻らーめん, 800 yen)
Soy sauce-based ramen.
The boiled egg had dark colour. Its taste was strong as its looking.
The noodles were thin and lots of sesami in it.
About Ramen Asyura (拉麺 阿修羅)
Address / 2-7-3-101 Minatocho, Funabashi-shi, Chiba
Station / Funabashi station (JR), Keisei Funabashi station (Keisei main line)
Open / from 11:30 to 15:00, 18:00 to 22:00
Closed / no scheduled
Twitter / @ramen_ashura
Website / http://www.ramen-ashura.com/