I had strong impact when I visited Asia Curry House in Kinshocho area for the first time. The inside is dimgloomy. Merchandises from Bangladesh are piled up on the shelves without gap.There're only 5 seats.All staffs there couldn't speak Japanese. As soon as I was seated, they served water, and then served foods in order. I thought here is Japan, but not Japan ! I'm in Bangladesh ! I like such an atmosphere !
But there was Only one thing that make disappointed me.
They were open 8 p.m. (Now they are open from 7:30 p.m.). Umm. It's late for my dinner. So, it was hard for me to visit there so often.
BUT ! Finally, they have started to open at lunchtime on Saturdays and Sundays only !
I found now there're some Bangladeshi restaurants in KInshicho area, but the atmosphere of Asia Curry House is overwhelming !
They have started their business for Bangladeshi people who live around there. So, staffs didn't need to speak Japanese. But because of their high reputation by curry lovers, now many Japanese visit there. So, now they speak Japanese frequently and prepare Japanese menus ! Wow !
Where?
It stands at the back of Marui building close to Kinshicho station.
Saturdays and SUndays lunch menu
They are open from 11 a.m. to 3:30 p.m. on Saturdays and Sundays lunchtime.
There're three lunch sets on the menu, but the staff inside said "1 and 2 only.Nothing is different between those two except the amount."
Interior
Those chairs are hard and not comfortable. And narrow. But I didn't hate it 🙂
Our dishes were soon served just after a few minutes.
Biryani and curry set
This is large set. Special mutton biryani, egg and chicken roast curry set (スペシャルマトンビリヤニとエッグ&チキンローストカレーのセット, 1200 yen).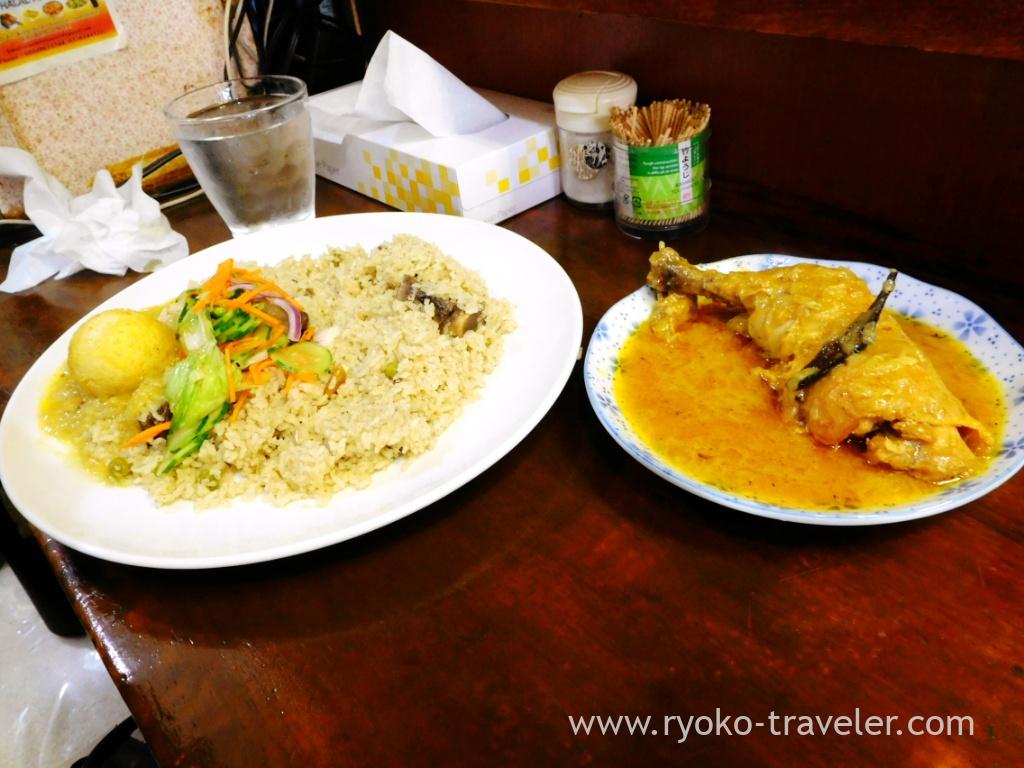 It have whole leg of chicken in the curry.Because Bangladeshi people eat foods with their hands, all foods are lukewarm.
And this is small set. Less mutton biryani, egg and chicken curry (少なめマトンビリヤニとエッグ&チキンカレー, 890 yen). Basically it is as same as large set, chicken was half size of large set, and less curry and biryani.
Biryani had mild tastes, but it had much spice, for example, cardamom and so forth.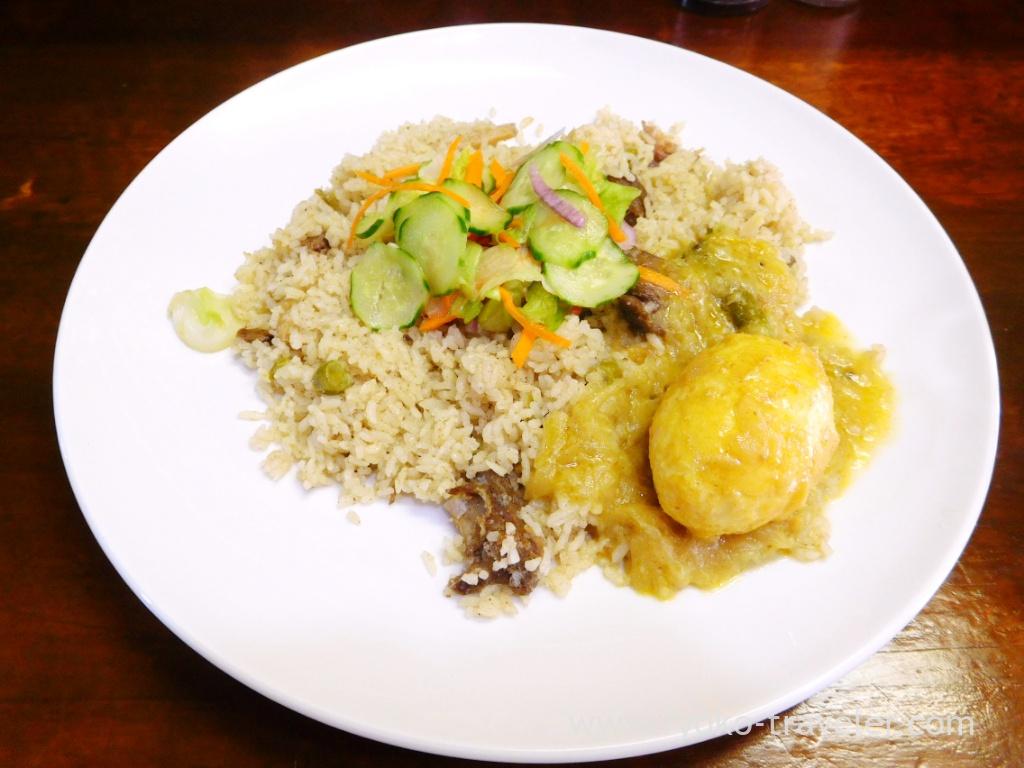 The curry was like soup and the dish is flat, it's hard to eat with spoon. so I put them on biryani.
Those curry was rather mild. Not so spicy. And the chicken was soft and tasty.
I think it's tastes of Bangladeshi homemade cooking.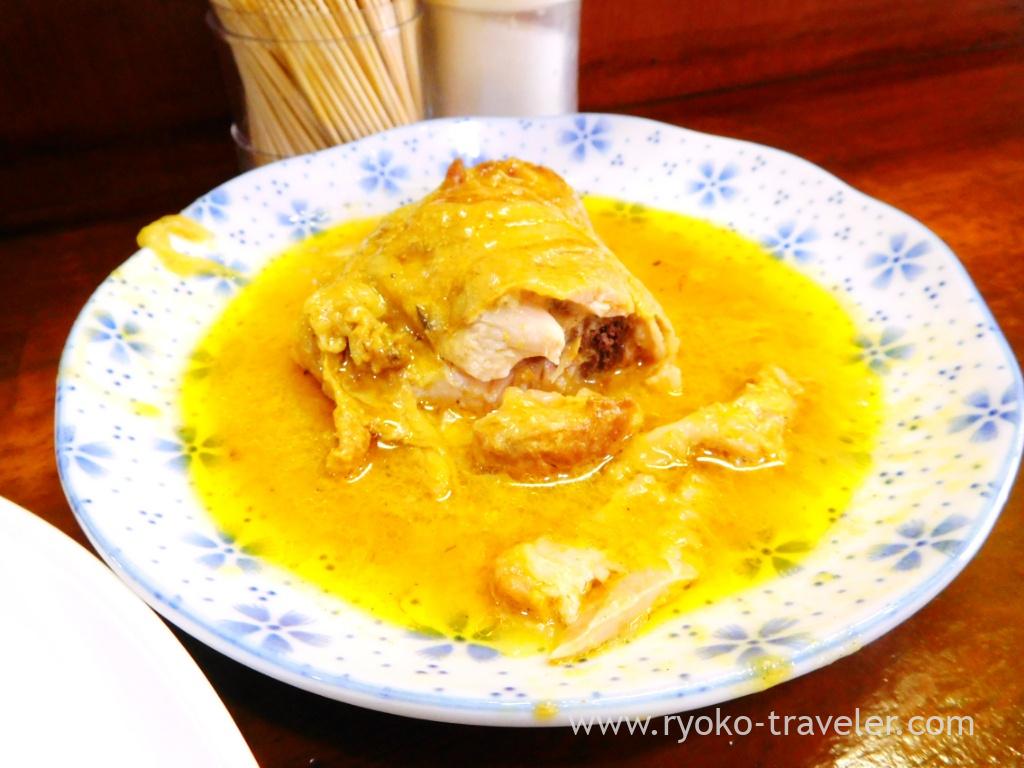 All set have one drink. Fanta Orange, coke and lassie. I ordered coke, he served coke with normal temperature without ice. But it was enough cold for me. But if you like cold drink, you must be dissatisfied.
About Asia curry house (アジアカレーハウス)
Address / 3-9-24 Koto-bashi, Sumida-ku, Tokyo
Phone / 03-3634-4522
Open / 7:30 p.m. – 4 a.m. (Saturdays and Sundays 11 a.m. – 3:30 p.m.)
Closed / No scheduled
Reservation / Unavailable
Credit card / Unavailable
Smoking / Not permitted