Just saury season !
I said I haven't eaten saury these days.
But here at Anjuna, I ate curry set that have much saury thanks to my friend.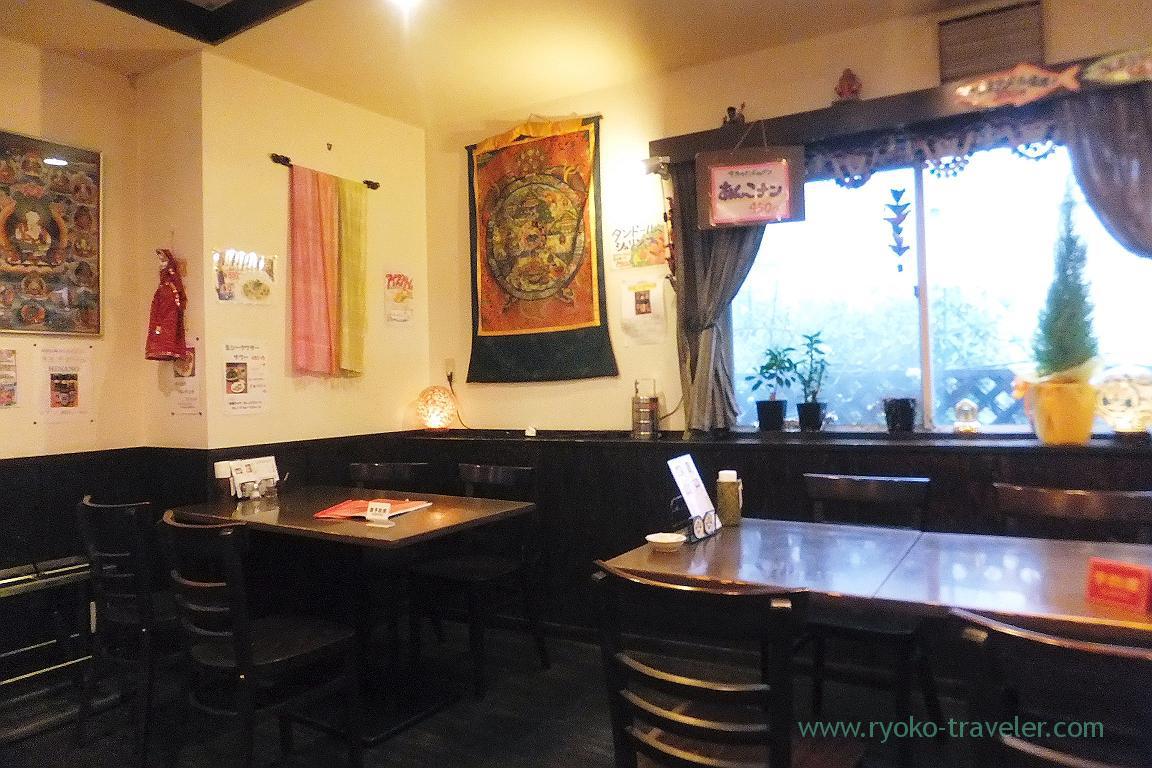 He said, "Ganesh serve saury curry set only this season !"
I joined barbecue at Harumi dock in the daytime and then went to Takahatafudo with nearly packed stomach and my friends.
Takahatafudo is very far from Harumi dock. It took more one and half hour or so.
Ganesh serves two kinds of saury curry sets. Saury set for 3000 yen and whole saury set for 4000 yen.
The chef said 3000 yen set is good for woman as its size. So, I ordered it.
And another three friends all ordered 4000 yen set.
At first, we ordered our drinks.
Everyone who can drink alcoholic drinks ordered this. Me, too.
Sudachi sour (すだちサワー)
This sudachi was grown up by the chef. We squeezed and put juice into the glass by ourselves.
We ordered shrimp rassam, too.
We like Anjuna's shrimp rassam 🙂
And also our saury set have saury rassam, too.
The soup seemed as same as shrimp rassam. But by fat of saury being added, this rassam had rich taste and smooth texture 🙂
It was delicious. I'm satisfied ! I'm full ! Bye-bye ! (I said so in my mind…)
….. But finally our sets came.
Left is Grilled whole saury set (さんま姿焼きターリー, 4000 yen) and the right is Saury set (さんまターリー, 3000 yen)
I was delighted and anxious….
Huge….
My saury set seems to be not large because large grilled whole saury set is next to it.
But the chef said the rice was twice as large as ordinary amount…"I have no idea…. X("
From white rice (with pol-sambol) as a clockwise, smoked saury salad, pickles, meen kuzhambu (fish curry), saury curry, confit-style saury, marinated saury. And saury biryani in the center.
Pickles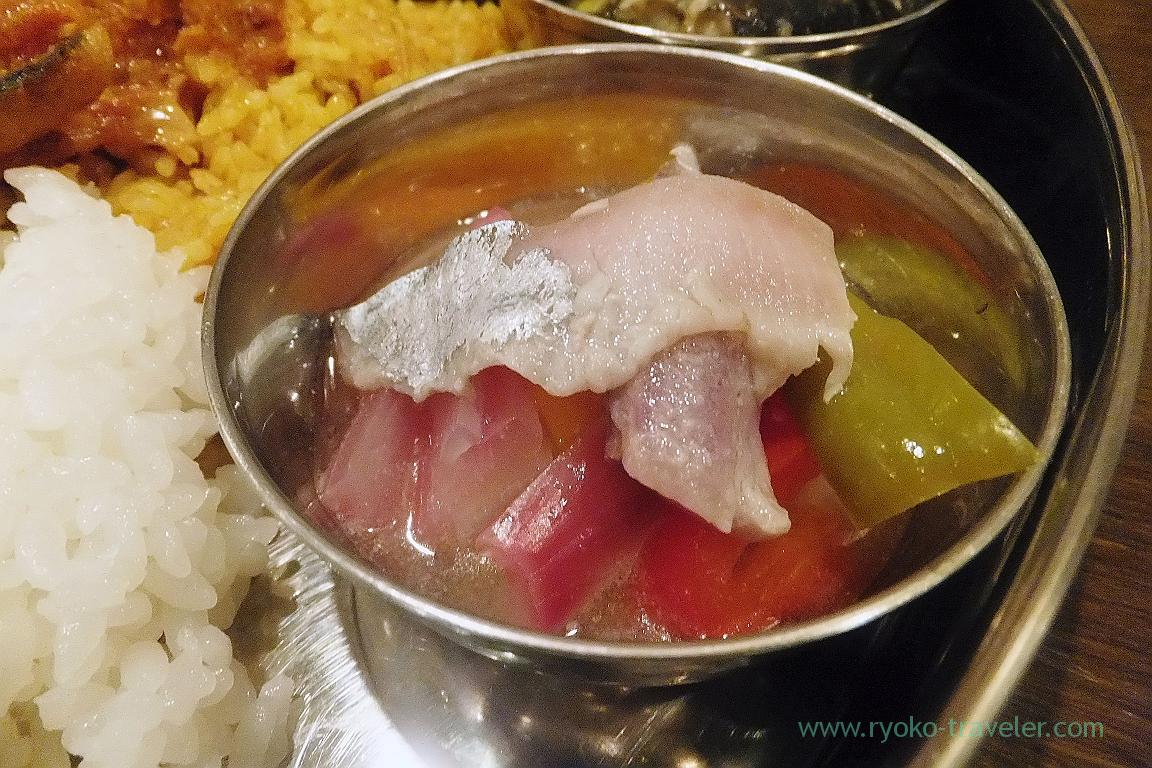 Saurry curry. Coriander was good 🙂
Confit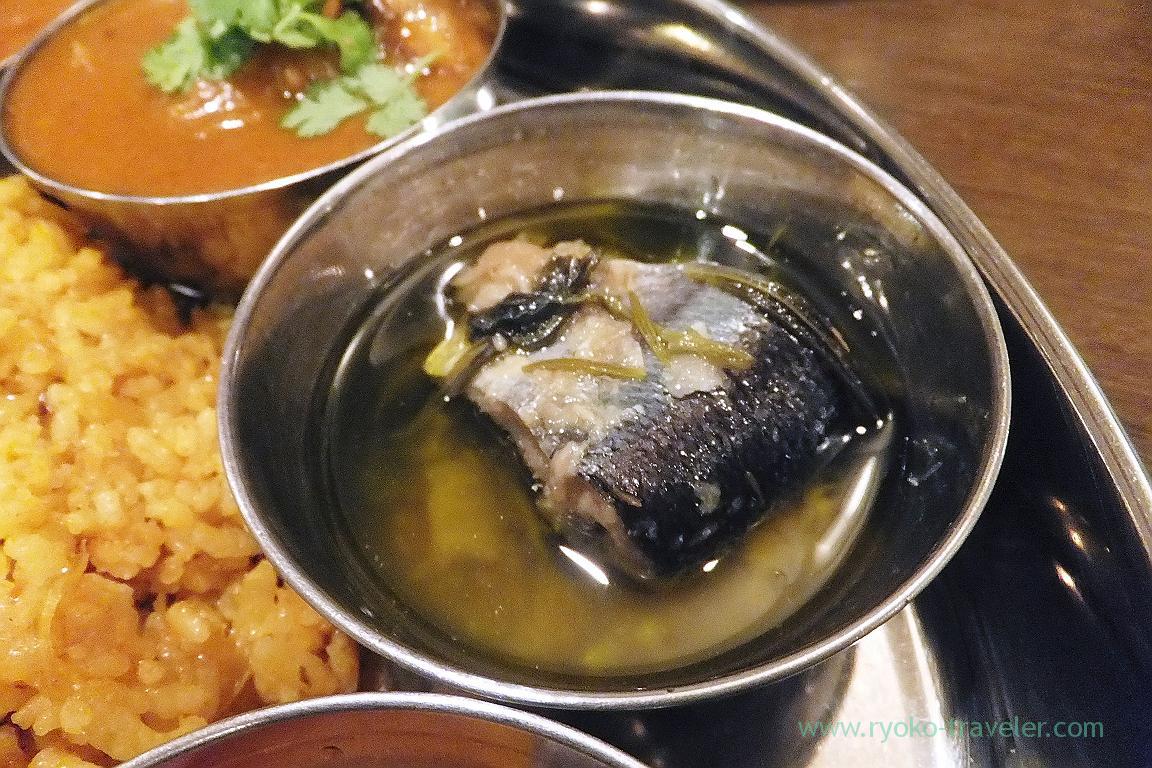 Anyway I started eating. It was delicious. Every foods had saury !
But. Well ! Eating, eating, eating, but it wasn't decrease !
My friend said to me, "If you can't eat it up, you can take it to home :)"
I left half of it and asked the chef. The chef packed it into box.
I ate the remain as next day's brunch.
Last, papad was served. But I didn't (couldn't) eat it.
By the way, my brunch the next day was splendid !
And I felt it was more delicious than I ate it at the restaurant.
I couldn't feel much spice that time.
Empty stomach is the best spice all the same…. 😛
I should have taken everything to home !
The chef said to us that many people share one with two person or so 😛
Anjuna (アンジュナ)
Address / Universal Bldg 1F, 3-7 Takahata, Hino-shi, Tokyo
Station / Takahatafudo station (Keio dentetsu, Tama Toshi Monorail)
Open / 11:30 – 14:30, 17:00 – 21:00
Closed / Mondays
Website / http://anjunacurry.blog.fc2.com/
Twitter / @anjuna18