Your breakfast is ready !
I'm always posting about my breakfast at Tsukiji, but you know there're so many seasonal foods included.
You might think, "What can I eat now at Tsukiji ?"
So, I'll show you 10 foods that you can order now from regular menus and seasonal menus 🙂
1. Sushidai (寿司大)
Category / Sushi
Open / 5:00-14:00
You may know, Sushidai is the most popular eatery in Tsukiji. Yes, they have the longest line every day.
If you want to enter the shop just after the opening time, you have to get to there at 0 a.m.
And if you get to there after the opening time, you have to wait over three hours 🙁
But still, it's well worth waiting. And I recommend you order Omakase set.
Omakase set have 11 sushi, miso soup and one sushi can be chosen from the menus.
Mostly the set have kuruma prawn, tuna, conger eel and sea urchin.
Omakase set (おまかせセット, 4000 yen)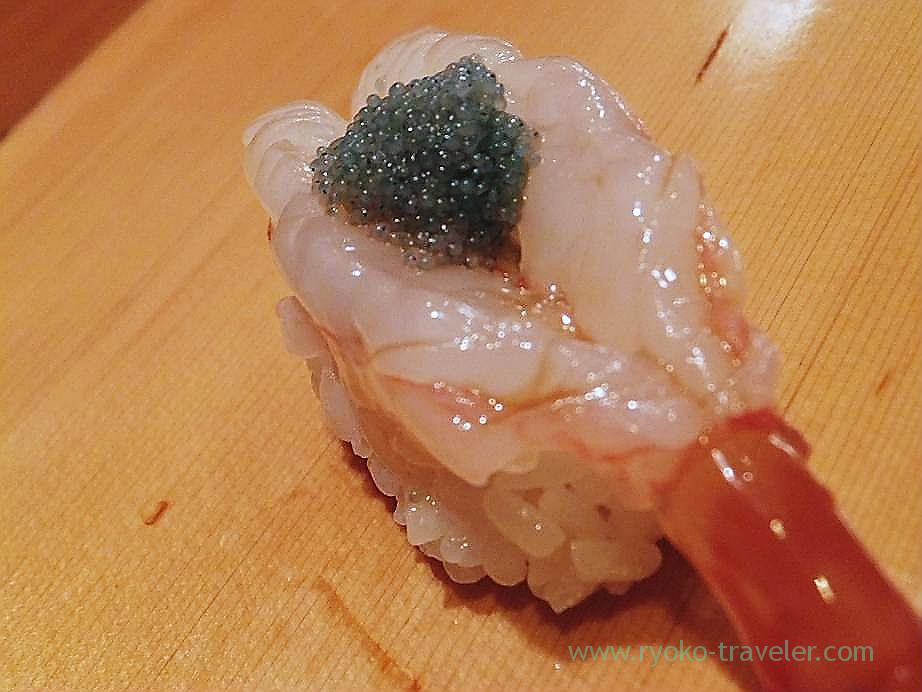 Tsukiji Market : Sushidai
I took first train only for Sushidai ! I went to Sushidai at breakfast Tuesday. I took the first train after about 6 ...
2. Yonehana (米花)
Category / Teishoku
Open / 6:30 – around 12:00
Kaisendon (Assorted sashimi bowl, 海鮮丼) 2500 yen
Their sashimi bowl have tuna, shrimp, abalone and another seasonal seafood like salmon roe, firefly squid, scallop and so on. I recommend their sashimi bowl best if you want to eat sashimi bowl in the market. They sometimes close before 11 a.m because they run out of ingredients. So you'd better go there earlier.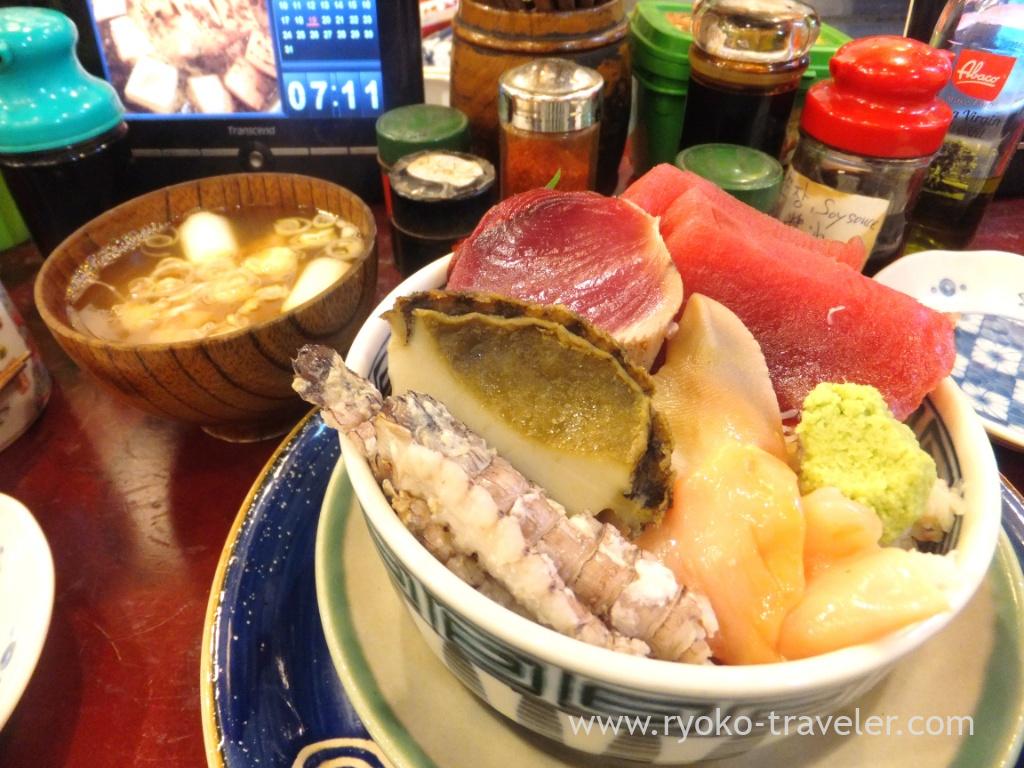 Tsukiji Market : Great sashimi bowl at Yonehana
Yonehana is best choice if you want to eat sashimi bowl at Tsukiji ! The first day I went to Yonehana, I ate Sashimi...
3. Takahashi (高はし)
Category / Teishoku
Open / 8:00 – 13:00
Grilled sweetfish with salt (鮎の塩焼き) 1500 yen
Sweetfish is seasonal fish that can be eaten Spring and summer. Yes, now is the best season for eat it 🙂 Only Takahashi serve grilled sweetfish with salt at Tsukiji.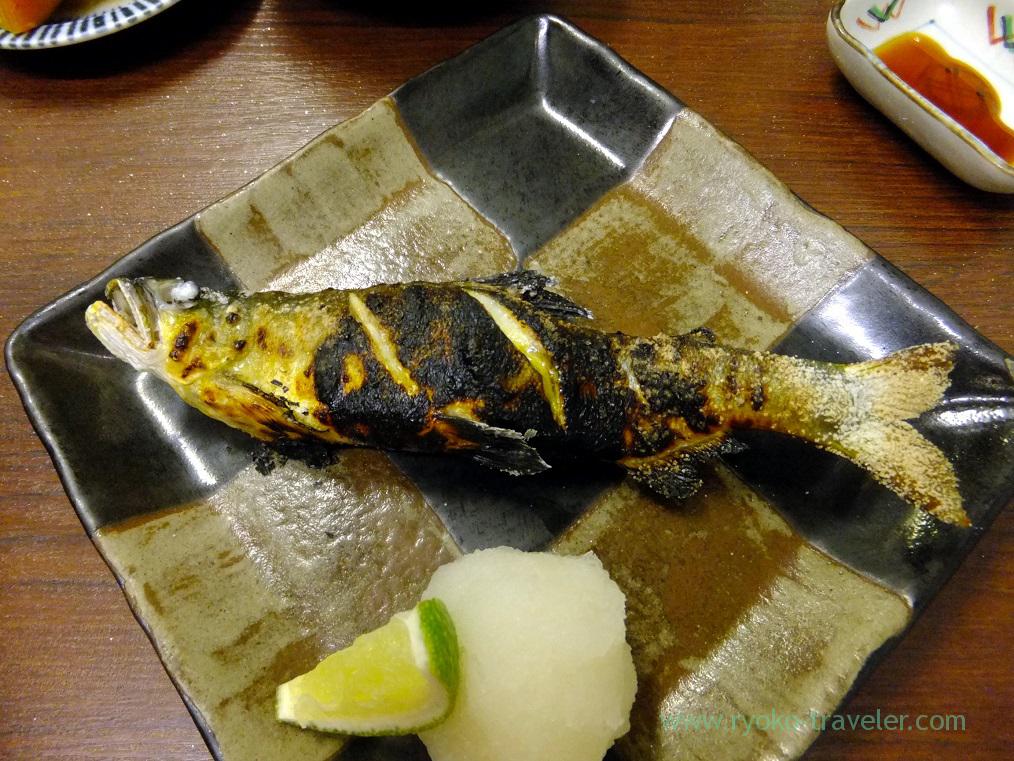 Tsukiji Market : Grilled ayu at Takahashi (高はし)
Takahashi opens earlier these days. I had a breakfast at Tsukiji Market the other day. At first I intended to go to Y...
4. Tenfusa (天房)
Category / Tempura
Open / 7:00 – 14:00
Tendon (Tempura bowl, 天丼) 1200 yen
Ingredients of tempura bowl of today is shown at the door. Mostly it have shiba prawn and shrimp. Now young sweetfish is frequently included in the tendon.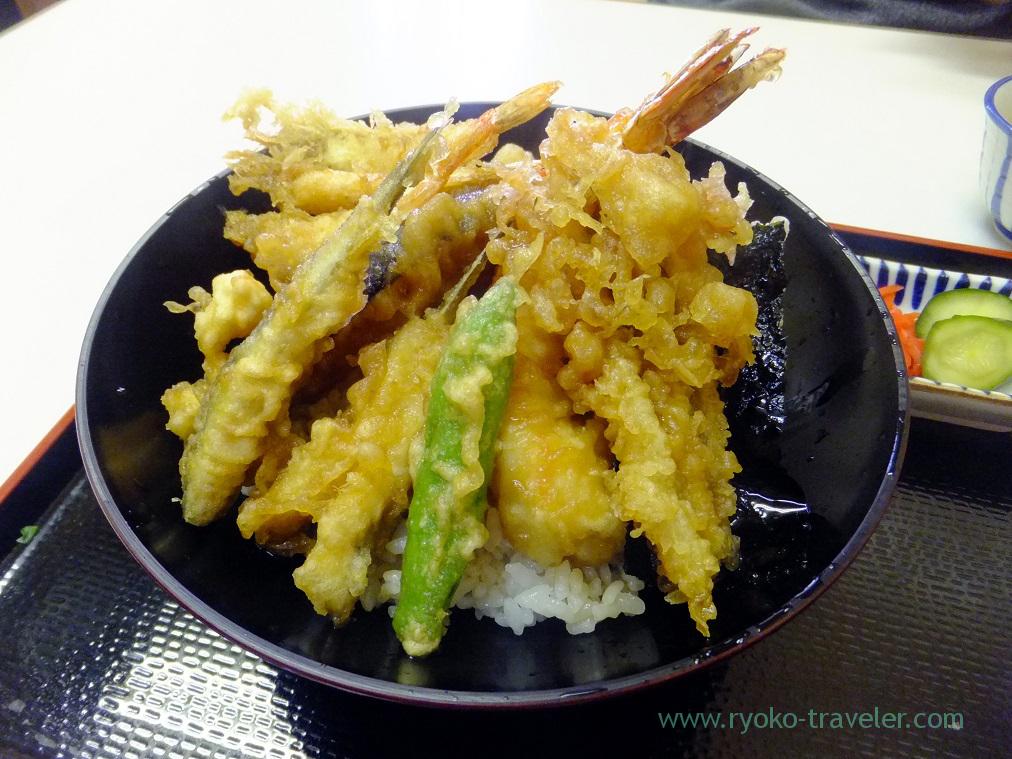 Tsukiji market : Young sweetfish at Tenfusa (天房)
Young sweetfish in tendon bowl. Young sweetfish is precious fish and eaten only this season. I didn't know the exist...
5. Tonkatsu Yachiyo (とんかつ八千代)
Category / Deep fried foods
Open / 5:00 – 14:00
Sea eel, scallop and kuruma prawn fry (ハモ, 帆立, 車海老) 1800 yen
Sea eel (called Hamo in Japanese) is seasonal food that can be eaten during warm season. Yachiyo serve sea eel until end of September.
They have just sea eel fry set, but their kuruma prawn and scallop is tasty, so I recommend you order this set 🙂
Tsukiji Market : Sea eel at Yachiyo
At last, I ate deep fried sea eel It is the post about 23th August. I expected that Yachiyo serves sea eel yet, and I ...
6. Toritou (鳥藤)
Category / Chicken
Open / 6:00 – 14:00
Shio Oyakodon (しお親子丼) 800 yen
Half-boiled beaten egg on it. Not only shio oyakodon but also they have about 8 species of oyakodon.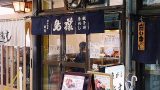 Tsukiji Market : Tempura and oyakodon !
This week's breakfast at Tsukiji ;)I felt like eating fresh raw fish, I went to Kato 2nd, August.But I passed throu
7. Choseian (長生庵)
Open / 7:00-15:00, 17:30-21:00 (Saturdays 7:00-14:00, 17:00-22:00)
Cold duck meat Nanban soba (冷やし鴨南蛮そば, 1350 yen)
It's lukewarm because it have fried duck meat and green onion. It's good for me in the air-conditioned room.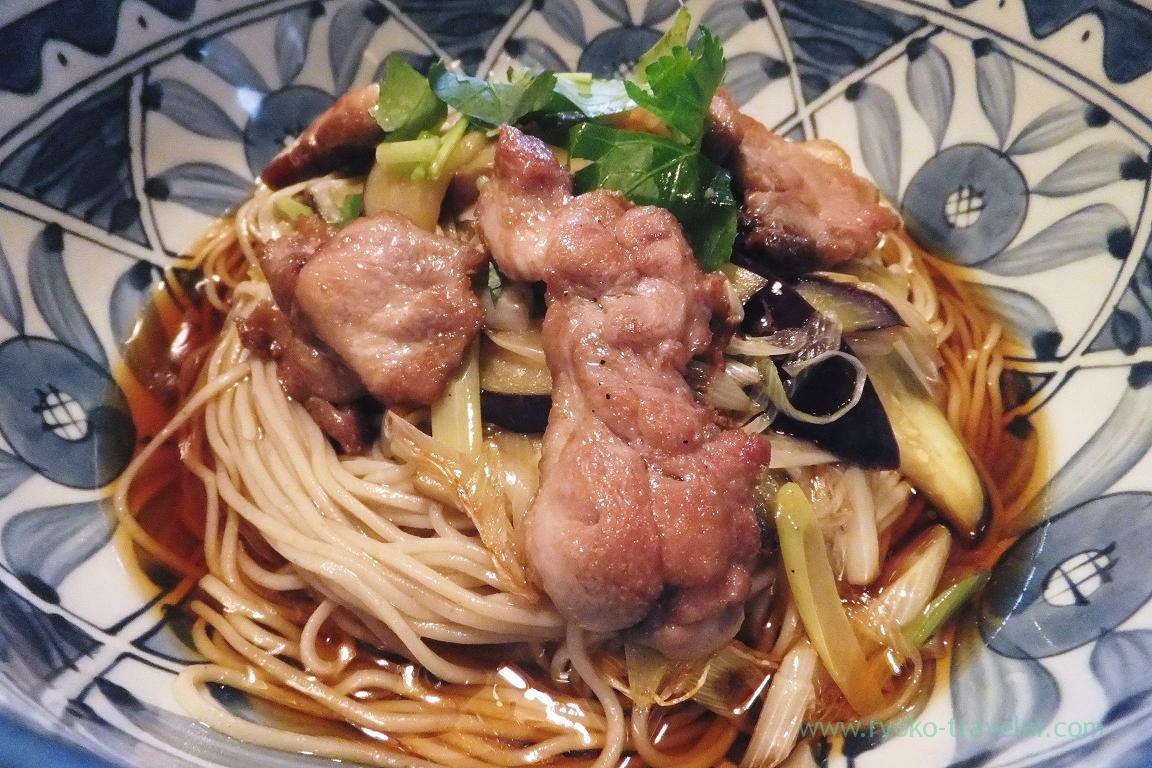 Tsukiji : Cold duck meat nanban soba at Choseian
Still it is good season for cold soba This is a sequel of last post about breakfast at Yonehana. After Yonehana, o...
8. Odayasu (小田保)
Category / Teishoku
Open / 4:00 – 13:00
Ebi-don (deep fried shrimp bowl and beaten egg, エビ丼) 1200 yen
If you hate raw egg, you need to say "Tamago Katame (卵硬め)" when you order it.
Tsukiji Market : Ebi-don at Odayasu (小田保)
Finally, I met Ebi-don Recently the most favorite eatery at Tsukiji is that eatery. Odayasu I had wanted to ...
9. Yajima (やじ満)
Category / Chinese foods
Open / 4:30 – 13:00
Asari clam ramen (あさりラーメン) 1200 yen
In winter, they serve oyster ramen, but now they serve it instead of oyster. The ramen have about six large asari clams. The soup have salted flavor and the butter add it more rich flavor.
Tsukiji Market : Limited asari clam ramen at Yajima (やじ満)
Asari clam noodles until this month ! Though recently I can't wake up early, but I managed to get up and went to Tsuk...
10 Kitsuneya (きつねや)
Category / Meat
Open / 7:00 – 13:30
Horumon-don (Simmered giblet bowl, ホルモン丼) 800 yen
Horumon-don can be eaten all year around. But… This horumon-don's smell make us bad because of muggy air under the brazing sun.
So I recommend you eat it before muggy summer.
If you want to eat simmered giblet separately, you have to order rice or beer.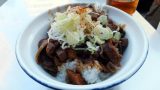 Tsukiji : Simmered giblet bowl at Kitsuneya along Monzeki street (きつねや)
Before summer coming...There's a shop in Tsukiji that I had wanted to go for a long time.That's not a seafood